Howdy from Water Dog,
Water Dog is so thankful to report that our floating studio fared well in Hurricane Harvey and we are back to holding regularly scheduled classes and events. We hope that after the storm, all of you, our customers, family, friends and the community are safe and well. Our hearts and thoughts go out to those across Texas as they deal with the damage and flooding from Harvey. We look forward to seeing all of you as we start to rebuild and come together as a community.
September Schedule:
Our September schedule is attached and can be viewed on the "Calendar" section of our website. We begin holding regular Deck classes this month and will continue our Tuesday evening SUP Yoga and Friday Sunrise SUP Pilates classes. We're also continuing to rotate in fun classes and events on the weekend like SUP Fit and our Intro style workshops.
We've had lots of interest in our Full Moon events and our next one is scheduled for September 6th. Our second DOGA event with Gulf Coast Humane Society is at the end of the month and we are hosting SUP Yoga classes at the Surf and Yoga Festival at Port Royal on Sept 30th & Oct 1st.  Last but not least our Paddle Level 2 Workshop with Josh Newton that was postponed due to the storm will be rescheduled soon, so please check back!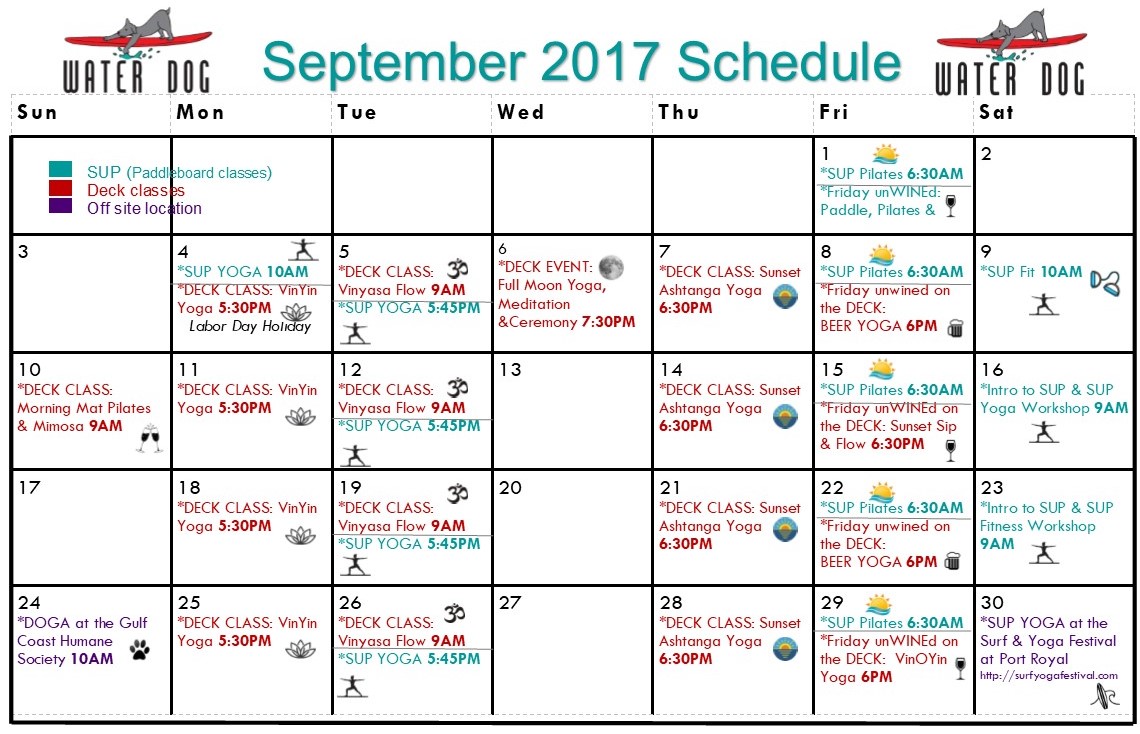 New Deck Classes:
We are excited to be offering regular classes and events on the floating DECK! Our regular 60min weekly deck classes include:
*Monday 5:30pm: VinYin with Nadine;
*Tuesday 9am: Vinyasa Flow with Stacie;
*Thursday 6:30pm: Sunset Ashtanga Yoga with Stacie.
*We are also introducing a special "Friday unWINEd on the deck" series this month! These classes are 75mins and include complimentary drink.
For more information about these classes and events, check out the "Info" section for each class on the booking page. Or check out our class descriptions on the website under "What We Offer".
Pricing, Prepaid Packages & Discounts:
Starting in September we are offering special referral rewards for referring your friends through social media! After you book, you'll be presented with an option to post on Facebook or Twitter. When your friends book though that link you will receive a credit on your account…and to make it even sweeter they will also receive a discount on their class! It's a Win-Win all around!
We have also created prepaid packages for both SUP and DECK Classes. Our regular rate is a great price at $17 for a regular Deck class, but with a package, you can take classes for $16 a class! And our SUP packages include 4 classes for $100 or $25/SUP class (saving $20!). The packages can be purchased at the bottom of our website in the "Customer Area". All packages are all good 6 months from the date of purchase.
Groups and Private Classes, Including Paddle Lessons
Did you know that Water Dog offers private, semi-private and private group lessons or events, including paddling lessons and tours?  Experiences are often more fun with a group of friends, so get a group of 3-8 friends together and give us a call to book a class or event - we can even include balloons on the SUP boards or deck for Birthday events! You can also book our houseboat for events. For rates and more information, go to "Groups & privates" under the "What We Offer" tab. Or let us know your unique idea!
New Equipment for SUP Classes:
Water Dog now has resistance bands to use for SUP Pilates and SUP Fit classes! Resistance bands allow you to perform strength training exercise without weights. With resistance bands, you can get a full body workout and add variety and intensity to your training.
DOGA with the Gulf Coast Humane Society:
Water Dog's first DOGA event with the Gulf Coast Humane Society was a success. During Doga, humans perform simple yoga poses and stretching while adoptable dogs roam around them. This is a great socializing experience for the dogs and it creates a bonding experience with us humans. Our Doga events are held at GCHS's dog park (or inside if the weather isn't cooperating). This event is family friendly for adults and kids- just bring your own mat and a water bottle! Our next event will be Sunday September 24 at 10am at the GCHSS on Cabaniss road. Water Dog loves our furry friends!
Water Dog Featured in The Bend Magazine
The September issue of The Bend Magazine Features Water Dog Floating Yoga in their Health and Be Well section! We are honored to have this local publication recognize and recommend our new business. Some of you may have attended classes with photographer, Rachel Benavides, who was not only taking class, but also taking beautiful photos which are featured in the article. Following the link to read the article: http://thebendmag.com/Health/bewell/sup-dog/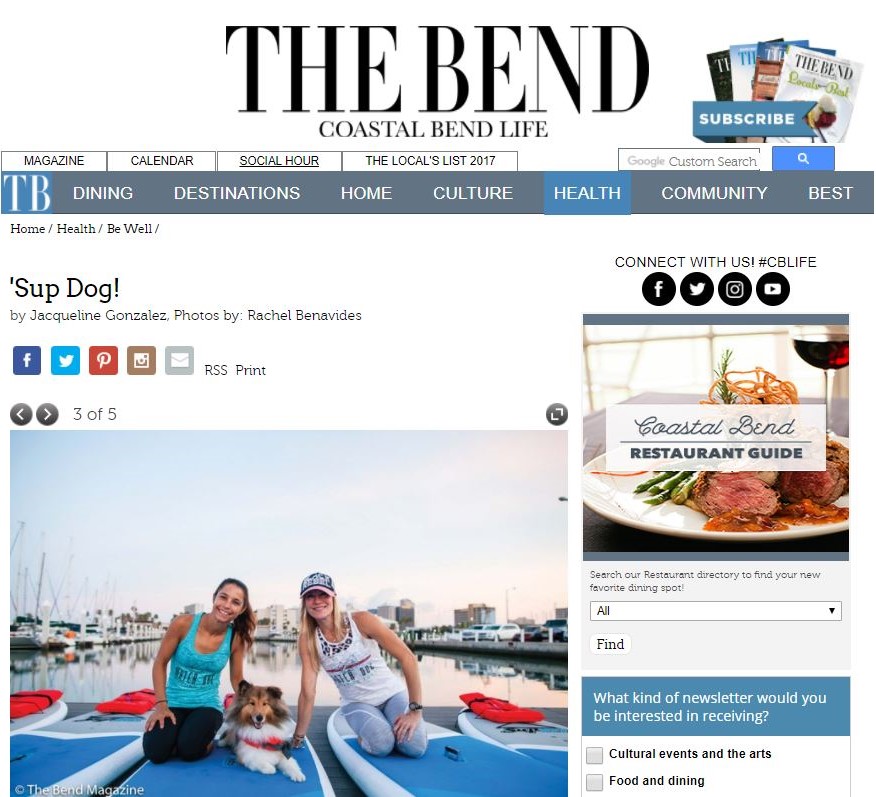 Please check us out or come back to visit us!
Thank you again for all of your support of Water Dog!
Namaste,
Stacie & Josh Richline
Water Dog Floating Yoga