Howdy from Water Dog,
Water Dog is excited to continue its SUP and DECK classes into the fall as the weather cools down. We'd like to thank you all for your support for our first three months in business!
October Schedule:
Our October schedule is attached and can be viewed on the "Calendar" section of our website. We are really excited about some new themed classes and events including "Spooky SUP Fit" with Anastasia (wear your costumes!), an evening "SUP GLO Paddle", and an "Intro to Pilates and Barre Workshop" on the Deck with Heather McVay and lots more! The Full Moon events continue to be popular as well so make sure you book early as they are likely to fill up! We have scaled back our calendar slightly so note that not all classes during the week are scheduled every week.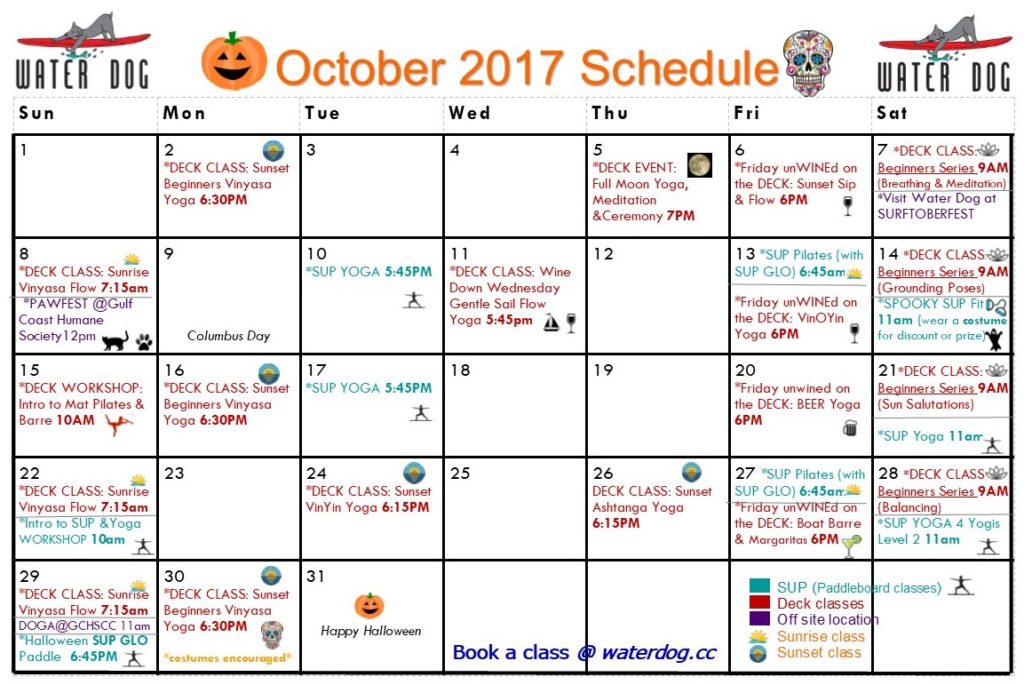 New Deck Classes:
We are excited to be offering many deck classes and events, especially as the weather cools down. As requested, we have added a Sunday Sunrise classes and a Beginner-friendly Vinyasa style classes every other Monday. The top deck has a perfect "Barre" railing and we will be introducing "Boat Barre" classes! We will also be continuing our special "Friday unWINEd on the Deck" series this month! These classes include complimentary adult beverages. For more information about these classes and events, check out the "Info" section for each class on the booking page. Or check out our class descriptions on the website under "what we offer".
New Beginners Series with Nadine Bartelli
Each Saturday in October and the first Saturday in November will be dedicated to those new to yoga or those wanting to improve on the basics. Nadine Bartelli will lead this series with a different focus each week. Each class will include information about the focus area and a short discussion will take place to deepen your understanding and your practice! The following topics will be covered each week:
Breathing & Meditation  (10/7)
Grounding Poses  (10/14)
Sun Salutations (10/21)
Balancing & Arm Balances (10/28)
Intro to Inversions (11/4)
This series is perfect if you are new to yoga, but it will also be beneficial for those with experience - it is always good to refresh on the basics to build a deeper awareness and understanding of your practice. There is no need to attend all 5 classes - just come when you can, however if you purchase a Beginner's Series Package you will receive a discount. The price $20 each class or all five for $90.
KIII Features our Houseboat Studio as the first ever!
KIII News Anchor and Yogi, Heather Gustafson, visited our houseboat studio on her last day with news station, making Water Dog her last story in Corpus Christi! This is the second time we have been featured with KIII. Our first story came out in May as we were just starting Water Dog with Paddleboard classes. Since then, we've added the Floating Studio and have been offering Deck Classes starting in August. This story was the culmination of those efforts and the follow up to the first story.
Holding Yoga, Pilates & Barre classes in the marina is truly a unique concept. The top deck sits high enough that you can see the entire Marina, Downtown Corpus Christi and the Bay! Working out under the sky, with the wind and waves can really help you connect with nature and your surroundings, especially if you are normally stuck in an office during the day! Our Deck can hold up to 10 students and we can also hold classes at night under the moon and the stars. There are calming blue lights around the entire deck. We will also be adding festive Halloween and Holiday lights to use as the days become shorter and it gets dark earlier.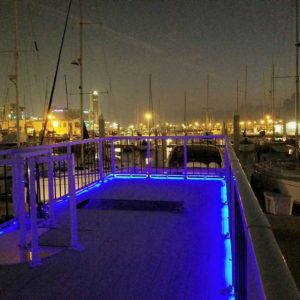 Groups and Private Lessons, including paddle lessons
Did you know that Water Dog offers private, semi-private and private group lessons or events, including paddling lessons and tours?  Experiences are often more fun with a group friends, so get a group of 3-10 friends together and give us a call to book a class or event - we can even include balloons on the SUP boards or deck for Birthday events! You can also book our houseboat for events. For rates and more information, go to "Groups & privates" under the "What We Offer" tab Or let us know your unique idea!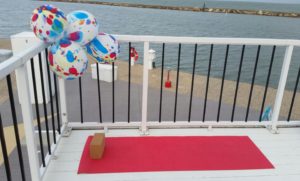 Water Dog, DOGA and the Gulf Coast Humane Society featured in the Caller Times
Water Dog's DOGA events with the Gulf Coast Humane Society have been a tremendous success! All the dogs from the first event have been adopted! DOGA is a great way to interact with adoptable dogs. This event is family friendly for adults and kids- just bring your own mat and a water bottle! Our next event will be Sunday, October 29th at 11am. This will be Halloween themed bring a costume or bandanna for a pup! It is located at the GCHS on Cabaniss Road. Water Dog loves our furry friends!
The Surf & Yoga Festival comes to Water Dog
In the wake of Harvey, this year's Surf Yoga Festival was displaced and moved partly to the downtown area. Water Dog Floating Yoga hosted SUP and Deck classes for the festival participants. Stacie Richline taught SUP Yoga on the paddleboards and Nargiza taught classes on the top deck of the houseboat studio.
*Look for Water Dog at some fun local events in October including SURFTOBERFEST--Saturday October 7th. This event is downtown and it will be benefiting the Surf Museum and The Port Aransas Education Foundation.
We will also be doing Cat Yoga at Pawfest at the Gulf Coast Humane Society October 8th(sorry, pups…the cats were jealous). And we will be doing another DOGA event Sunday October 29th at 11am.
Please check us out or come back to visit us!
Thank you again for all of your support of Water Dog!
Namaste,
Stacie & Josh Richline
Water Dog Floating Yoga