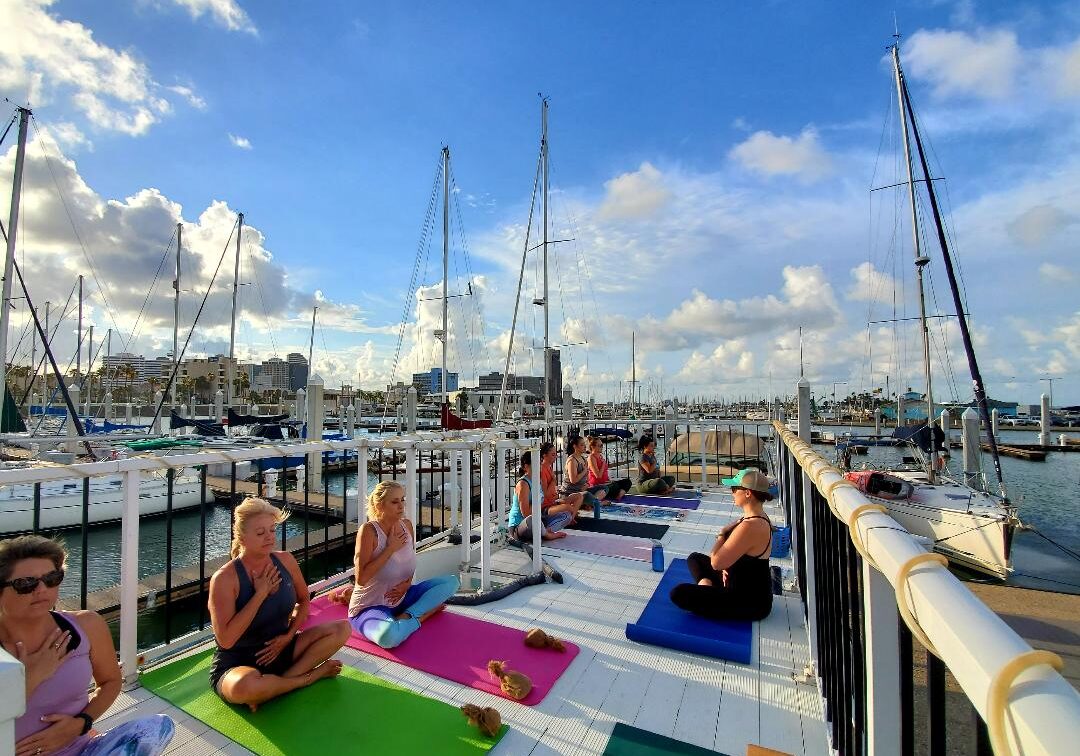 Floating Deck: Yoga, Pilates & Fitness
Yoga, pilates & fitness classes are held on the boat's top deck over- looking the water and the Corpus Christi Marina
Choose from different class options, but all classes are modified for everyone from beginner to advanced
Enjoy a beautiful sunrise or spectacular sunset yoga class!
Plan to arrive 10 minutes early and check the Policies & FAQ page about entering the marina gate
See our Deck Class Descriptions page more more information
More about the "Floating Deck":
The yoga studio is on a unique house boat. The top deck is engineered to be stable and hold up to 30 people (however, yoga classes can only hold 10 people). A small reception and bathroom are located on the first floor of the boat.The railings along the top deck are for safety, but still allow for a gorgeous view of the water, sky, marina and city.
Paddleboard: SUP Yoga, SUP Pilates & SUP Fit
The SUPs (stand up paddleboards) are your "floating mats"
All SUP classes start with brief water safety instruction and basic paddling techniques
Classes include paddleboards, paddles and PFDs (lifevests)
Although we try to stay on the boards, falling in is a possibility so you should be able to swim and be comfortable in the water
Plan to arrive 15 minutes early and check the Policies & FAQ page about procedures for entering the marina gate
See our SUP Class Descriptions page for more information
More about SUP Yoga, SUPilates and the "Floating Mats":
SUP Yoga & SUPilates are exciting, new fitness activities that anyone can do. Classes start with grounding poses to get you comfortable on the boards and then gradually build to more difficult poses and flows.
The boards Water Dog uses for class are beautiful SUP ATX Viking Fitness boards that are specifically designed for doing yoga and fitness on the water. The entire board is covered in EVA memory foam which is a grippy material for your floating mat.
Mesquite Street Indoor Studio
Our new indoor studio is located less than 5 mins from the Houseboat in the heart of Downtown Corpus Christi! We are located at 114 N. Mesquite Street in the Richline Technical building next to Mama Mia's restaurant.
Check our Schedule for classes at Mesquite Street
In cases of inclimate weather, our classes will be moved to this location
Special Events, Private lessons and Groups
Check the Booking page to see upcoming events & workshops or call to book a private lesson or event!
Some Special Events Include:
Beginner's Series yoga
Beer Yoga at Nueces Brewing Co.
Groups & private group events: You can book either a
Paddle Board Yoga event OR
Yoga event on the Floating Deck
Private and Semi-Private Lessons
Book a Private or Semi-private lesson with your friend on either the floating deck or SUP boards
*You must call to schedule a time for your lesson or event
Schedule a class
Book a class on the Floating Deck, a SUP yoga session or a private lesson and check out our special events!