We have 2 studio locations:
Outdoors on the Deck & Boat Deck
Our primary studio is outdoors. It is located in the marina in downtown Corpus Christi on a one-of-a-kind houseboat. Yoga classes are held on either the upper or lower deck. You can enjoy a gorgeous view of the marina, the sky, & the city along with catching a sunrise or sunset! A small reception and bathroom are located on the inside the boat.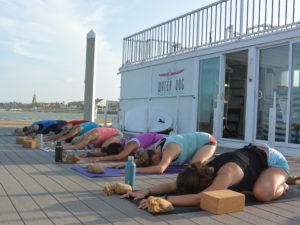 Mesquite Street indoor studio space
Our second indoor location is 5 minutes from the boat deck at 114 N. Mesquite Street. This studio is inside the Richline Technical building. We hold regular classes here in the winter and its a back up studio for in-climate cold or rainy weather. During the transition months in the fall & spring, registered participants will receive a text about the class location.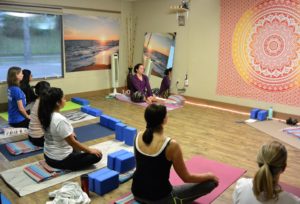 Indoor SUP Classes
Are you ready to challenge your balance & core from the safety of land? Balance/stability cushions are placed under the boards to simulate being on the water without the fear of actually falling in! We offer indoor SUP Yoga & Yogilates most Fridays at 6:30am and Saturdays at 10:30am at our Mesquite St studio during the winter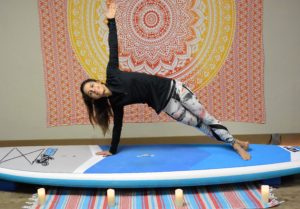 Full Moon Gentle Yoga, Meditation & Ceremony
**Class will be back on the schedule in March 2020***
Enjoy the meditative qualities of the moon, the wind & the waves and the water and join us on the deck for a special Full Moon event. We will have a gentle yoga flow that includes moon salutations in honor of the moon and its energies along with a short meditation, intention setting & Ceremony. Gift bags and custom macron from "Moonlight Macrons" is included.
CLASSES ON THE FLOATING DECK & MESQUITE STREET INDOOR STUDIO
*All classes must be reserved online through our Booking tab
Note: We aim to make our all of our classes accessible for all-levels whether you are a beginner or experienced yogi!
Yin Yoga (Beginner friendly)
Yin yoga is a slower, more meditative approach to yoga. Poses will be held longer (typically 3-5mins), getting into the deeper connective tissue of the joints & bones, increasing circulation and improving overall flexibility. Myo-Yin Yoga adds myofascial release techniques (working on knots and tension spots) using props like therapy balls.
Vin Yin & Core Yoga
The first part of class is Vinyasa style, incorporating movement with breathe. Sun salutations will be part of the flow, adding on poses and sequences while including some core exercises. The second part of class is Yin yoga which is slower and more meditative. Poses will be held between 3-5 minutes. Class will finish with a blissful savasana or relaxation.
Ashtanga-based Yoga
Flowing movements and breathe are at the heart of this vinyasa based class. Be prepared to move and build some internal heat! The particular set of poses used in this class are based on the Ashtanga Primary Series. Although this is a Power Yoga based class, like all classes at Water Dog, options and modifications will be given for all levels.
Yogilates
Yogilates is an all-levels class combining elements of both Yoga + Pilates focusing on strengthening the entire core. A strong core will help with proper posture and improving balance along with preventing injuries and lower back pain. We will also strengthen and stretch the arms and legs using light weights or body weight and the barre as a prop.
Beginners Mat Pilates (Jan 2020)
These classes will focus on the basics of Mat Pilates, strengthening the core and the entire body, working small muscles groups to make them burn while improving muscle tone and flexibility. No experience is necessary, come wherever you are.