Outdoors: Land deck yoga +beach barre
Our primary studio is outdoors in the marina in downtown Corpus Christi on a one-of-a-kind houseboat. Beach Barre is on North Padre Island & downtown. We also have an indoor space on Mesquite St for cooler & rainy weather Click here for LOCATIONS. 
All classes must be reserved online through our Booking tab. Note: We aim to make our our classes accessible for all-levels whether you are a beginner or experienced!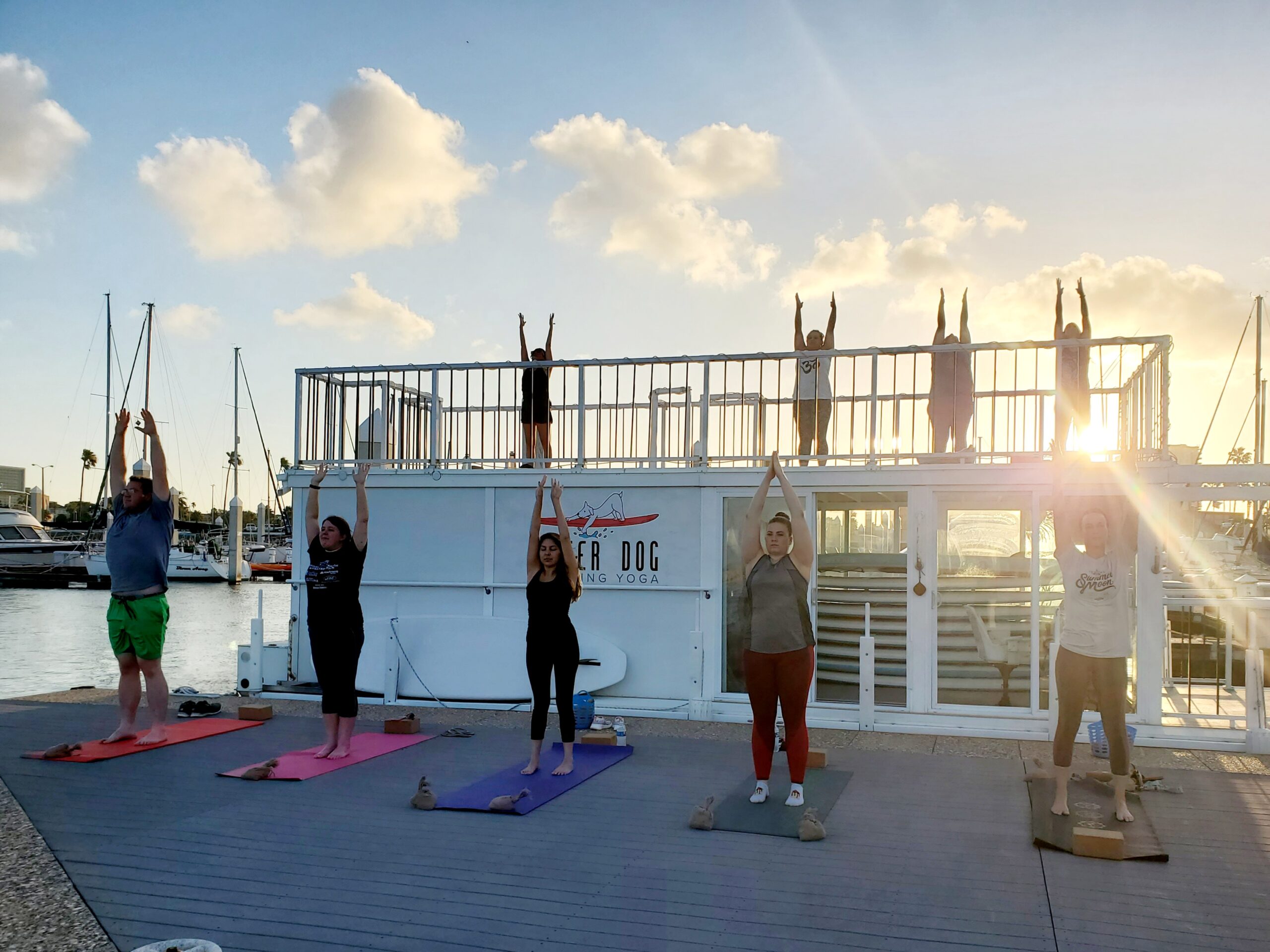 Yin Yoga (most beginner friendly)
Yin yoga is a slower, more meditative approach to yoga. Poses will be held longer (typically 3-5mins), getting into the deeper connective tissue of the joints & bones, increasing circulation and improving overall flexibility. Myo-Yin Yoga adds myofascial release techniques (working on knots and tension spots).
Hatha Yoga
This class will connect you with your breathe, body and mind. It's a balanced class involving mindfulness, movement, balance, flexibility and strength. The poses are practiced more slowly than a vinyasa flow class, but not held as long as in Yin yoga. Typically this class is at sunrsie Wednesdays and the Third Thursday at the Art Museum.
Beach Barre Fitness
Beach Barre is full-body barre fitness and standing Pilates workout with a focus on sculpting & toning along with posture & cardio. This all-levels class also includes mat work and arm strenth along with stretching. Classes are on the beach downtown and on North Padre Island.
Yogilates
Yogilates is an all-levels class combining elements of both Yoga + Pilates focusing on strengthening the entire core. A strong core will help with proper posture and improving balance along with preventing injuries and lower back pain. We will also strengthen and stretch the arms, legs and our entire body.
Ashtanga-based Yoga
Flowing movements and breathe are at the heart of this Vinyasa based class. Be prepared to move and build some internal heat! The particular set of poses are based on theAshtanga Primary Series. This is a power yoga based class, but like all Water Dog classes, options & modifications will be given for all levels.
Beginners Series Yoga
We try to make all our classes beginner-friendly, but we offer a Beginners Series a few times throughout the year. This is not just for beginners either! Each class has a different focus & theme.
Reserve your spot
All classes must be reserved online. Note: We aim to make our our classes accessible for all-levels whether you are a beginner or experienced!