UPCOMING SPECIAL EVENT DECK CLASSES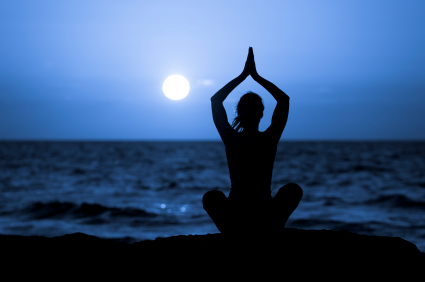 Full Moon Gentle Yoga, Meditation & Ceremony on the Deck!
Enjoy the meditative qualities of the moon, the wind and the waves at Water Dog Floating Yoga.
Join us each month on the deck of Water Dog Floating Yoga's houseboat studio for this special Full Moon event.
Calming blue lights on the deck will guide you during this gentle candlelit yoga flow that will include moon salutations in honor of the moon and its energies along with a short meditation and a special Full Moon Ceremony and gift. *Custom Macron included from "Moonlight Macrons"
Like all of Water Dog's class this is all levels, modified for beginner to advanced.
*Bring your own yoga mat, water and a small towel 
CLASSES ON THE FLOATING DECK & MESQUITE STREET INDOOR STUDIO
Yin Yoga (Beginner friendly)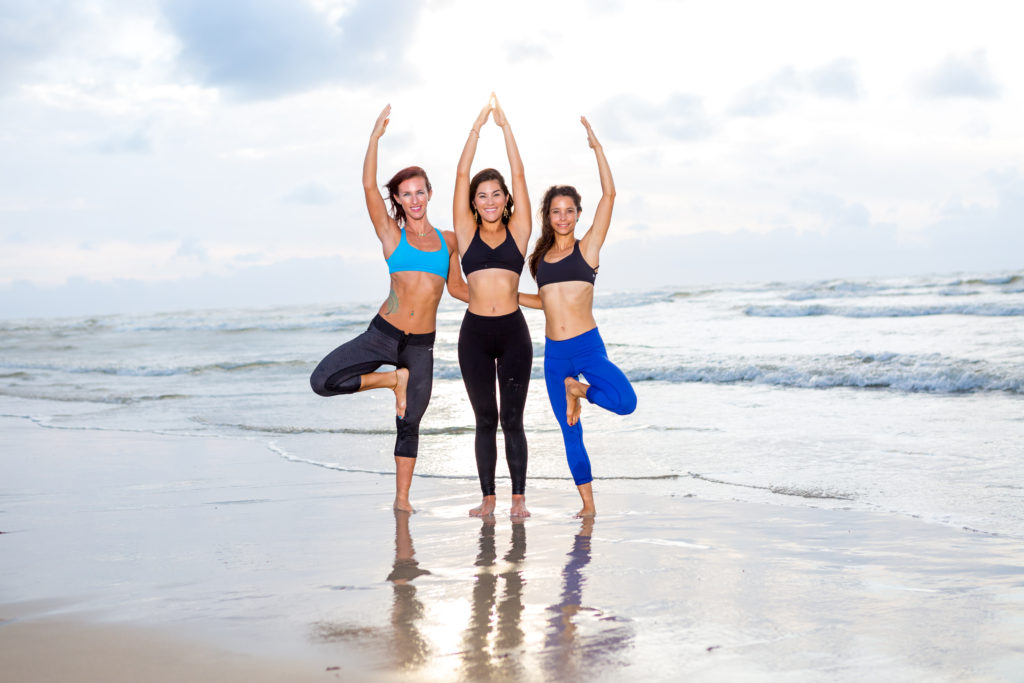 Yin yoga is a slower, more meditative approach to yoga. This is class will focus on fundamental Yin poses including basic breathe work. Poses will be held longer (typically 3-5mins) getting into the deeper connective tissue of the body, increasing circulation in the joints and improving flexibility.
The slower pace is ideal if you are new to yoga or trying to improve on the basics.  You don't need to be flexible to do this class! Start wherever you are, working on improvement.
This class is for all levels with modifications for beginners to advanced yogis.
Ashtanga-based Yoga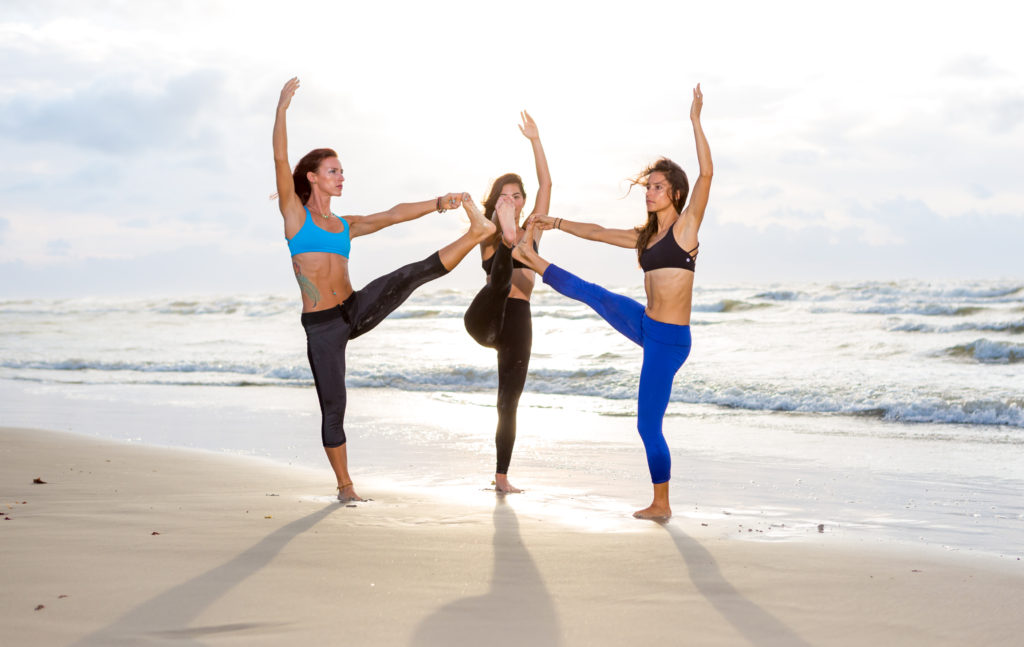 The goal of this yoga practice is to bring you strength, flexibility and inner peace.
Flowing, athletic movements and breathe work are at the heart of this vinyasa based class. Be prepared to move and build some internal heat!
The particular set of poses used in this class are based on the Ashtanga Primary Series. This style of yoga is practiced by the popular and well-respected yogi, Kino MacGregor.
Although this is a Power Yoga based class, like all classes at Water Dog, options and modifications will be given for all levels.
Beginners Yoga & Fundamentals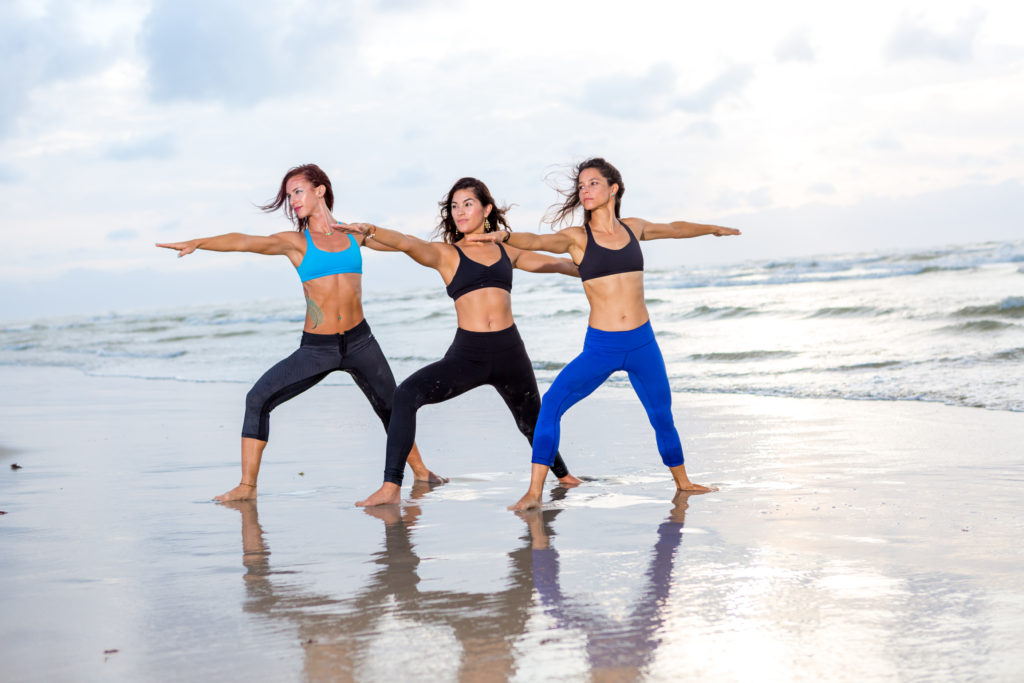 This class is geared for beginners and getting you comfortable on a yoga mat in your own body. Start wherever you are at and work on improving. We will focus on the fundamental in this class like yoga breathing and sun saluations and going over basic yoga poses and alignment.
You don't have to be flexible! We will work on improving overall flexibility, balance and strength through deep stretching, basic balancing and body weight strengthening moves.
Although this class is geared for beginners, it will be modified all levels.
Mat Pilates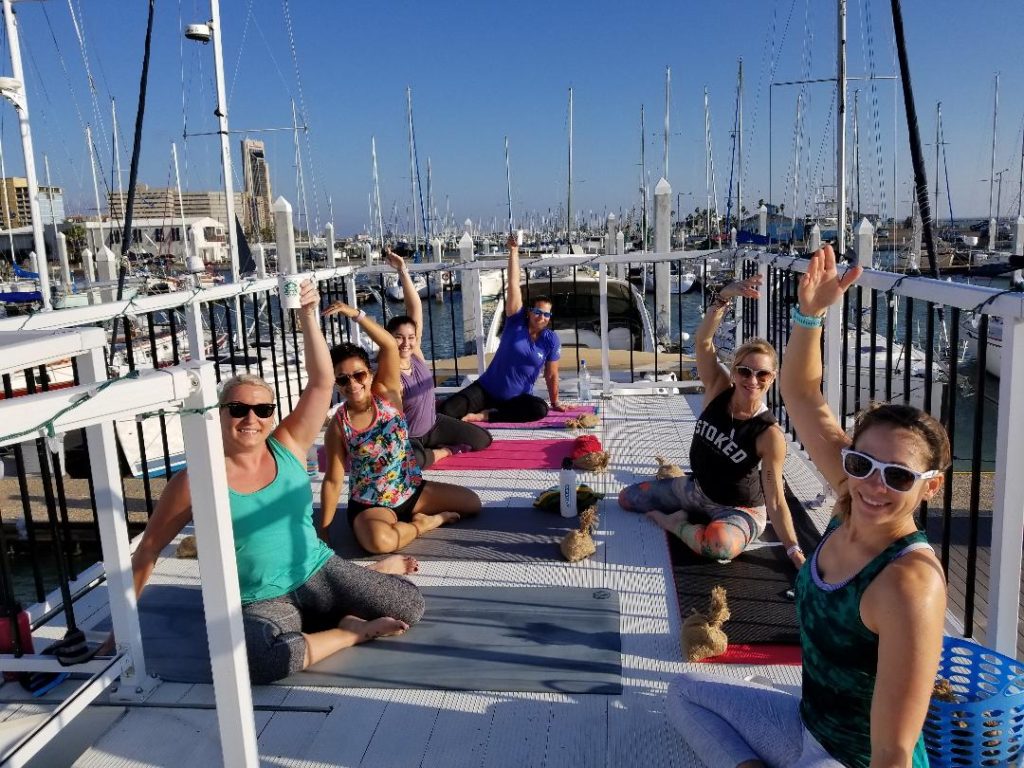 Pilates mat classes focus on developing core strength, flexibility, balance and stamina. These class are for all levels allowing you to choose to work at a beginning, intermediate, or an advanced pace.
Duing class you will build an awareness of breathing patterns and spinal alignment while engaging the deep muscles of the core is emphasized. Finally, the class will finish with deep stretching and a cool down.
Express Yoga at Mesquite Street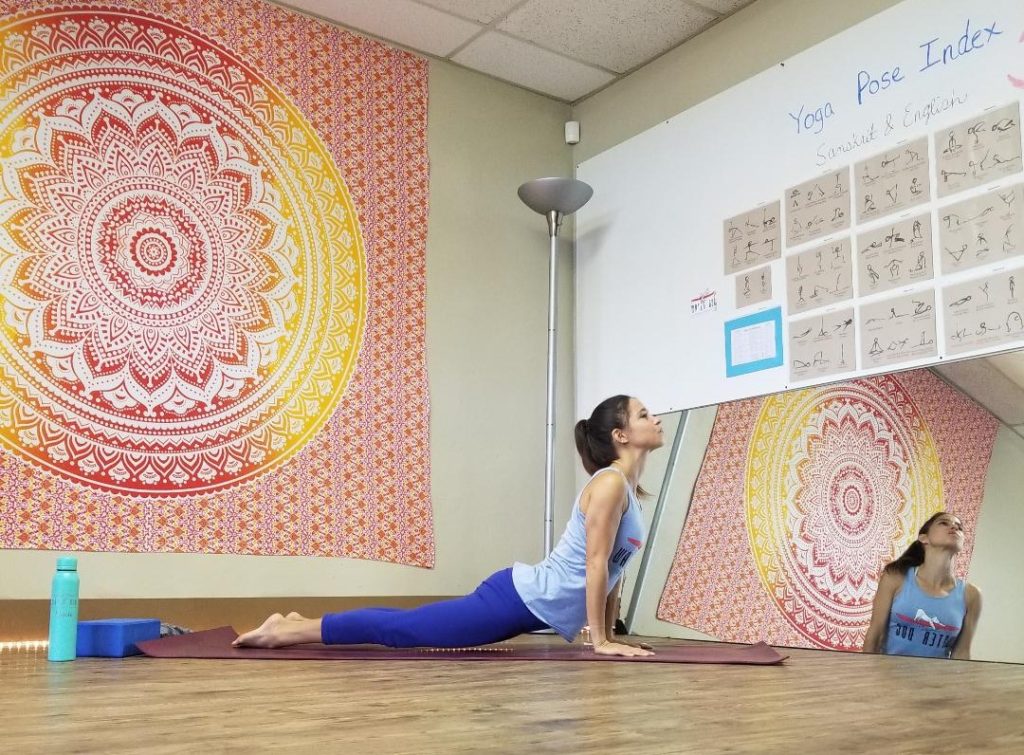 Rejuvinate during your lunch break and go back to the office feeling relaxed & refreshed! This lunch time class is for all-levels and it is great for beginners and office workers. The focus for class will be on countering stiffness in the neck, shoulders, back and hips from sitting at a desk during the day.
Each class will include breathe-work and meditation to help de-stress as well as poses that will minimize your discomfort of sitting at a desk or being at an office during the day, making it easier for you to focus on work.
It is designed for you to have time to get to class and back to the office without stress. Its most Fridays from 12:10-12:50pm at our Mesquite Street Downtown Studio (114 N Mesquite St)
unWINEd Happy Hour Classes
Unwined from the work week by joining Water Dog on the floating deck for Happy Hour!
This fun class will feature rotating and guest and instructors who will bring their own special style to the class. Look out for classes like; Beer Yoga (BYOB), VinOYin Yoga and Boat Barre & Mimosas!
Each yogi will receive a complimentary glass of wine or sparkling water if preferred to help wine down from the week and create a relaxing, fun atmosphere. This class is for all levels.
Vin Yin Yoga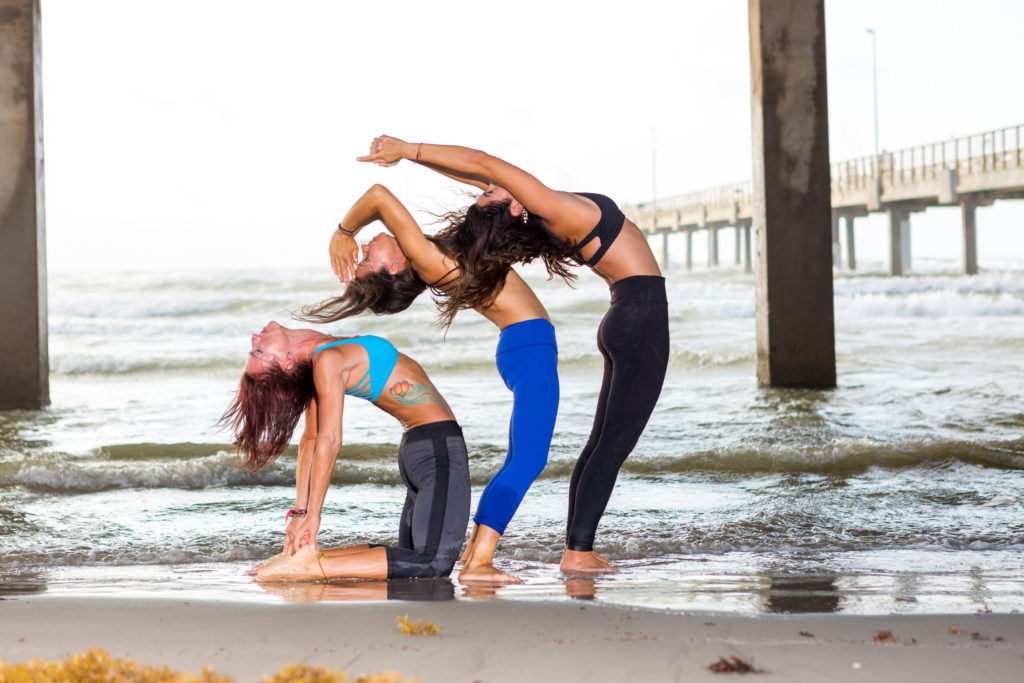 The first part of class is VINAYASA style, incorporating movement with breathe. These mindful flows will increase internal heat and engery, cultivating balance, flexibility, strength and endurance.
In the second part of class, we will slow down the pace with a more meditative approach called YIN yoga. Poses will be held longer getting into the connective tissue of the body and improving flexibility. This FUN combination allows for the best of both worlds of yoga!
This class is for all levels with modifications for beginners to advanced yogis.
Vinyasa Flow Yoga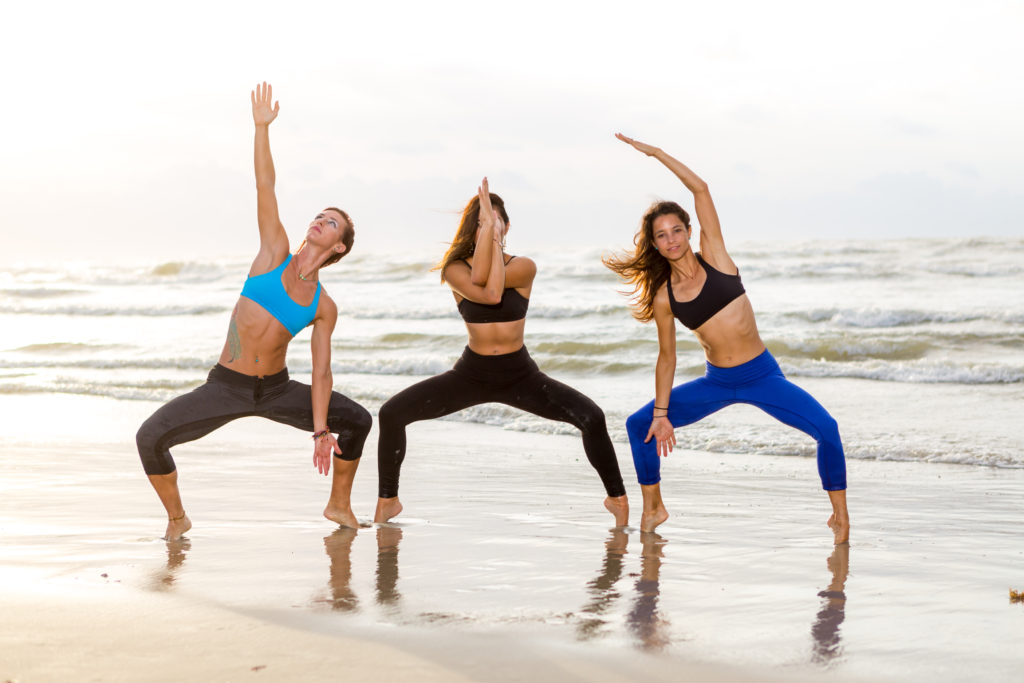 Vinyasa Flow Yoga connects movements with breathe. During class we will mindfully move between poses to create a flow called a vinyasa.
Internal heat will be created by incorporating sequences, building strength, flexibility and concentration. In addition, for boat deck classes you will be connecting with elements of the outdoors like the wind, the sun and the water!
The Beginner's Vinyasa Yoga focuses more on basic movements and poses along with slower transitions and modifications. Yogis of all levels will be able to take class at Water Dog with modified for beginners to advanced.
Yogilates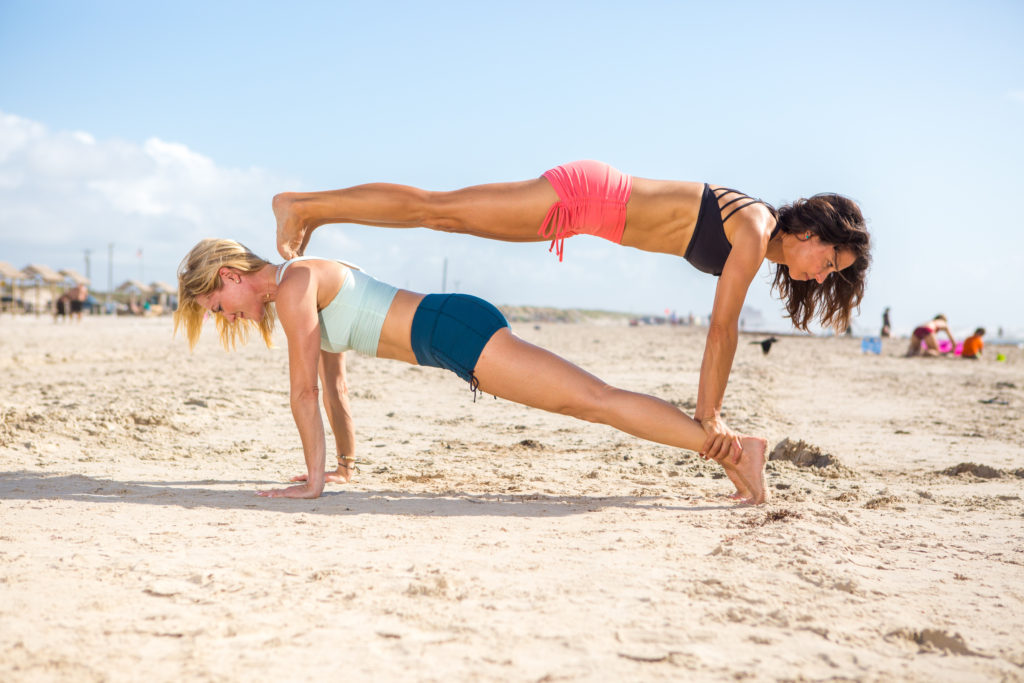 Yogilates combines elements of both Yoga and Mat Pilates. In this deck class we will flow through yoga and pilates moves, focusing on strengthening the entire core, espcially the abs and glutes. The core is essential in yoga, pilates, fitness and especially on the paddle boards!
A strong core will help you hold poses longer, achieve proper posture and improve your balance. It can also prevent injuries and lower back pain and it will leave you feeling and looking amazing!
Like most of Water Dog's classes this will be for all levels with modifications for beginners to advanced levels.
Boat Barre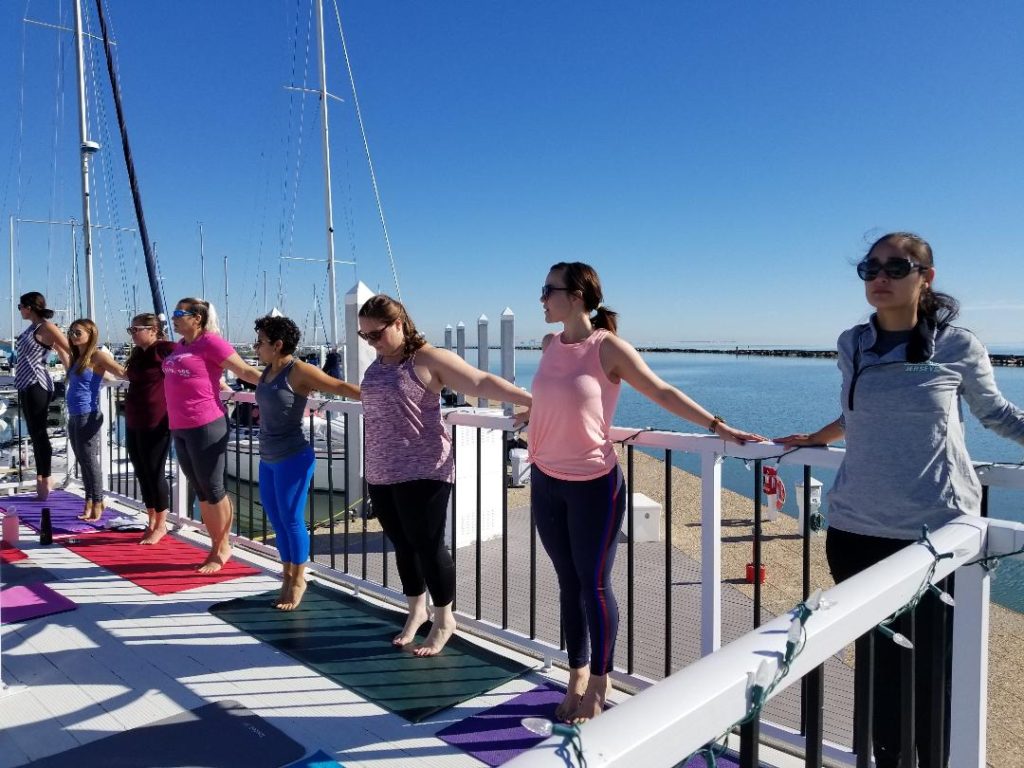 Water Dog's Barre-based class uses a combination of postures inspired by ballet, yoga and Pilates. The railing on the upper deck of the houseboat or the barre is used as a prop to balance while doing exercises that focus on isometric strength training combined with high reps of small range-of-motion movements. For the Mesquite Street indoor studio, we will uses chairs for our barre!Like all Water Dog classes, this class is for all levels allowing you to work at your own pace.
Glow Flow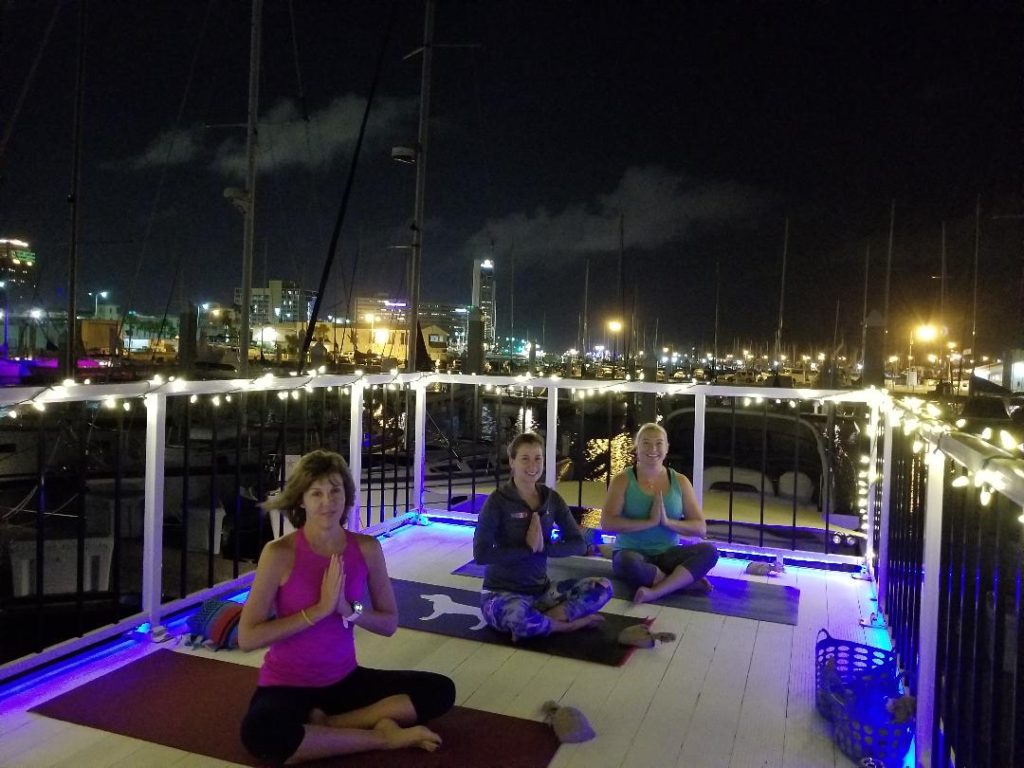 This Yoga class will be held just after the sun sets in the dark! (*Note, this class is only held certain times of the year). The top deck of the houseboat will "Glow" with blue lights under the railing and white light on top. The lights of the city and marina will also guide us through our yoga practice creating a truly unique atmosphere!
We will connect movement with breathe, creating internal heat in a vinyasa yoga flow with modifications for beginners to advanced yogis.
Like all Water Dog classes, this class is for all levels allowing you to work at your own pace.