SUP Yoga & Fitness Teacher Training: July 2023
We are offering more flexibility in our training dates this year. Please see the schedule beow and let us know if you are interested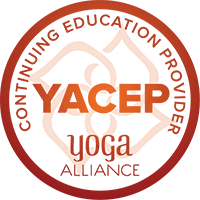 Have you dreamed of sharing your yoga, paddle & fitness experience? Then join Water Dog's SUP Yoga & Fitness Teacher Training!  RYTs will receive 20 Yoga Alliance CEU credits along with their SUP Yoga & Fitness Teacher Certification. Water Dog is a YACEP (Yoga Alliance Continuing Education Provider).
July 2023 Dates:
Tuesday July 18th 1pm-8pm: Manual/Discussion on wind, weather, water, anchoring, business, class set-up & SUP Yoga class
Saturday July 22nd or 29th 8-12pm or Tuesday 25th 4-8pm: Practical assessment 1: Co-teach SUP Yoga/Fitness class
Sunday July 23rd 8-12pm or in August: Intermediate Paddle Clinic
Sunday 8-11am (schedule on own): Practical assessment 2: Co-lead a Community Paddle
Additional: written assessment and guided practice
What the training includes:
Three days  practical experience on the water along with:
Fitness SUP board rental and gear
Water Dog Bag & SUP Yoga/Fitbess Teacher Training Manual
Three different SUP classes during the training; SUP Yoga, SUP Fit Fusion and a Paddle Clinic - all with different specialty instructors
Free Water Dog SUP classes to participate in and/or co-teach
SUP Yoga & Fitness Teacher certificate
Access to exclusive online training videos
Requirements: You must have some paddle-boarding experience before the training. You do not need to be a Registered Yoga Teacher to participate in the training, but you should have a yoga and/or fitness teaching background. This training will not teach you how to teach a yoga or fitness class (you should already be able to do this), but rather how to apply it to the water. CPR and first Aid certificates are recommended, but not required unless you are teaching.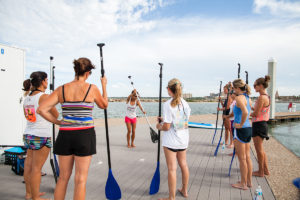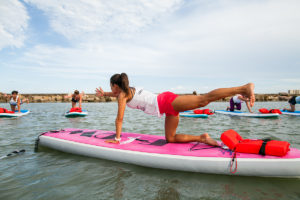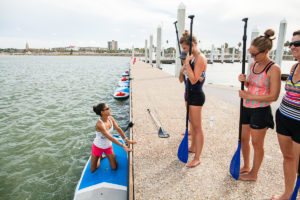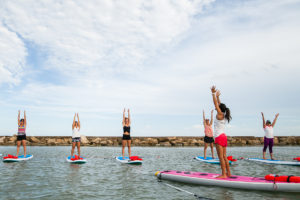 What we will cover and offer during the training
SUP Equipment, handling and launching
Paddle Techniques including stroke, turning & maneuvering
A Paddle Clinic with advanced SUP techniques
Different bodies of water, waterway rules & regulations
SUP safety and SUP flip rescue technique
Weather and wind chart reading and assessment
Class set up: Anchoring & tethering techniques plus knot tying
Adaptations of yoga & fitness for SUP, including sequencing, modifications and student assessment
Proper use of SUP fitness props in a workout
SUP Yoga and SUP Fit Fusion classes
Practice paddling, class set up, and teaching
Written and skills-based assessment
SUP business, marketing, and mentorship after the training. Possible partnership opportunities
Access to exclusive Water Dog online training videos
SUP Yoga & Fitness Teacher Certificates
Many chances to practice with us before and after the training
Cost: $399 for 20hrs SUP Yoga & Fitness Certification
Limited spots available.  You must register and pay a 30% deposit (non-refundable if canceled less than a week prior to the training). You reserve your spot and pay in full 5 days prior to the training.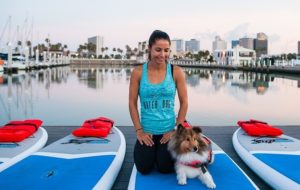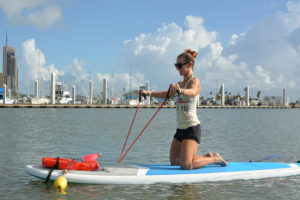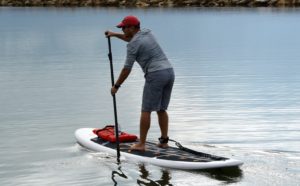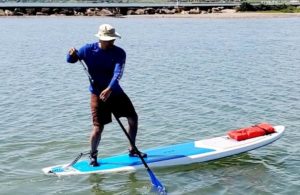 Your Instructors:
Stacie Richline – E-RYT 200 and SUP Yoga Instructor, Water Dog owner
Josh Richline – Water/wind/weather expert, paddle instructor & owner
Anastasia Antonetz– Personal Trainer and SUP Fit Fusion instructor
David Velazquez - PSUPA Certified paddle instructor & trainer
Congratulations to our 2022 SUP Yoga & Fitness Teacher Graduates!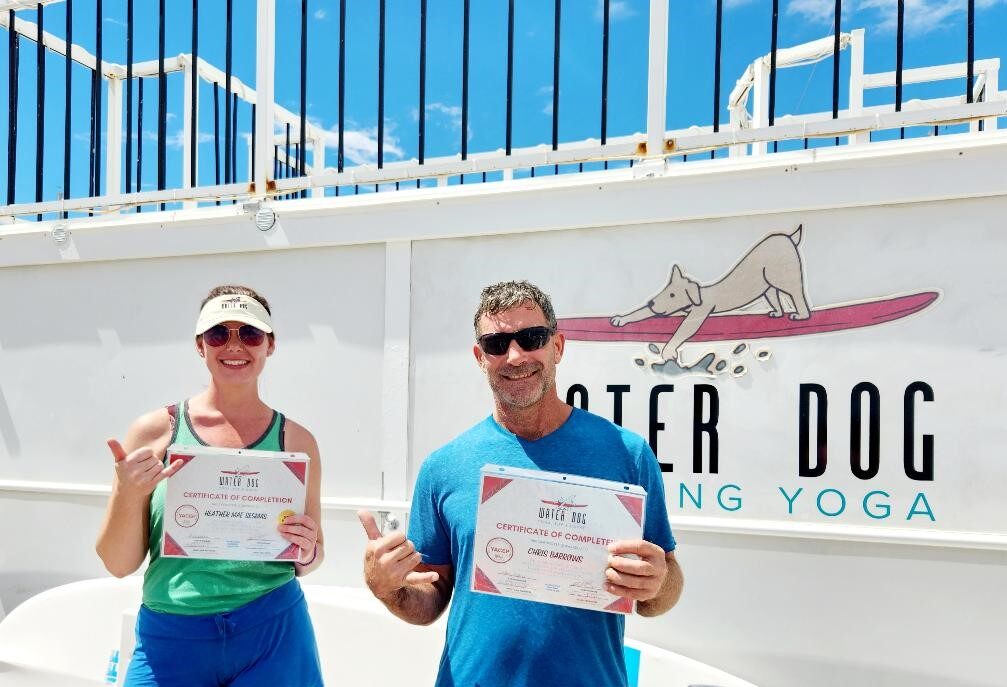 SUP Yoga & Fitness graduates from Left to Right: Heather Mae Sesmas and Chris Barrows. Not pictured: Cali Correa
Congratulations to our 2020 SUP Yoga & Fitness Teacher Graduates!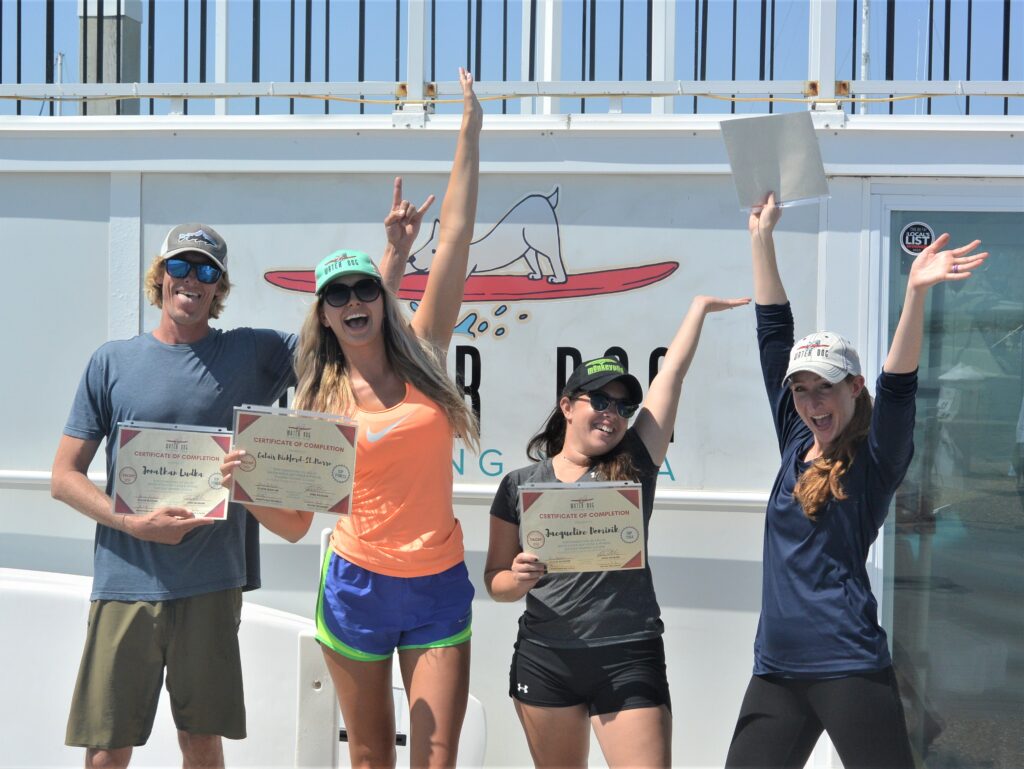 SUP Yoga & Fitness graduates from Left to Right: Jonathan Ludka, Calais Renee, Jacqueline Dominik, Whitney Guvernator. Not pictured: Fabian Mendez
Congratulations to our 2019 SUP Yoga teacher graduates!