SUP Yoga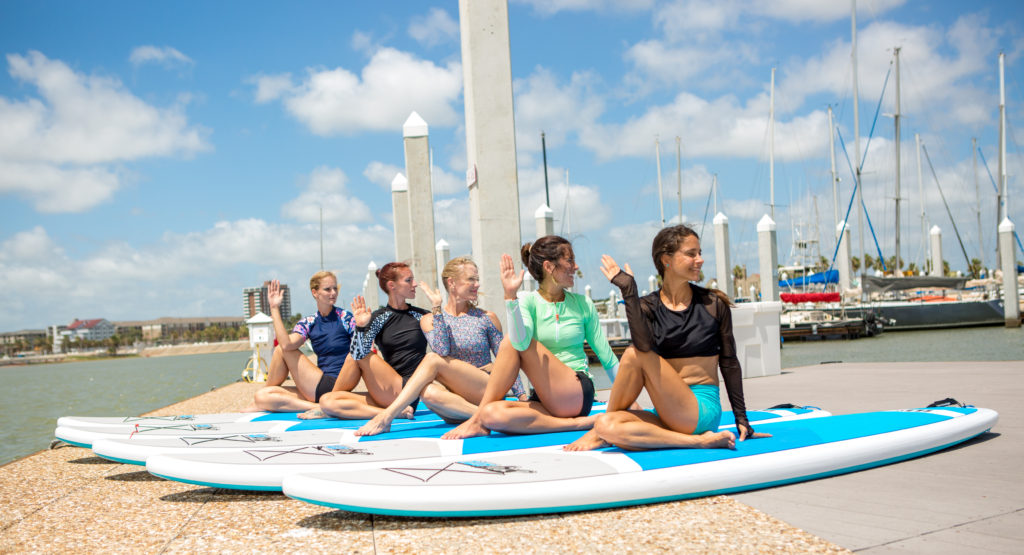 SUP is short for Stand Up Paddleboard. SUP YOGA combines regular yoga with yoga on a SUP board, which is essentially a floating yoga mat. At the start of each class, Water Dog will provide safety and basic paddle instructions. There will be a short paddle warm up to the fixed line or anchoring system that your board will attach to.
Generally, Water Dog classes will start with getting yogis comfortable on the boards and meditating to the ocean movements in easy stabilizing poses. We work up to vinyasas and more challenging poses. In addition, you will be on the water in the beautiful Corpus Christi Marina connecting with nature and the water during your yoga practice!
SUP Yoga 4 Yogis Level 2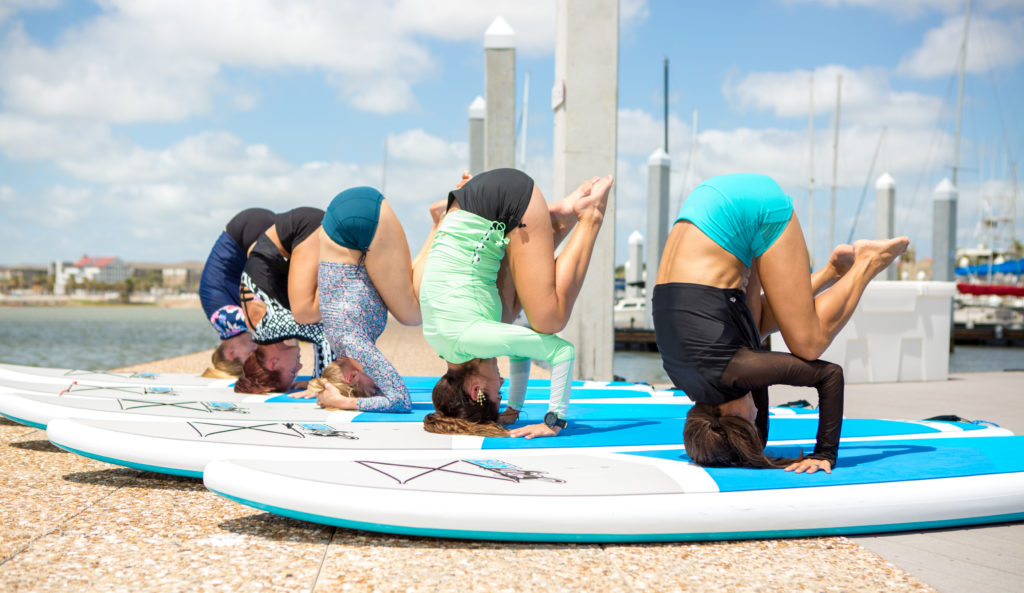 This SUP (Stand Up Paddleboard) class is designed for people who have some experience doing yoga - a yogi! (even if you have never been on a SUP board before). But don't be intimidated by the name of the class, this will be a playful & fun class with plenty of options and modifications, as are all Water Dog classes.
What to Expect: We will start the class getting yogis used to the board with a warm up leading into Sun Salutations. The vinyasas and poses are not necessarily intermediate or advanced on land, but they will be challenging on a floating mat. We will focus on core exercies and strength along with challenging intermediate SUP poses & inversions like Warrior 1 & 2, crow, headstand variations, and maybe even one of the most challenging pose on a board - tree pose! There will be "yogi play time" at the end of class to try whatever other poses you want to work on. Take your yoga practice to a whole new level on the water!
SUP Yoga Relax (beginner friendly)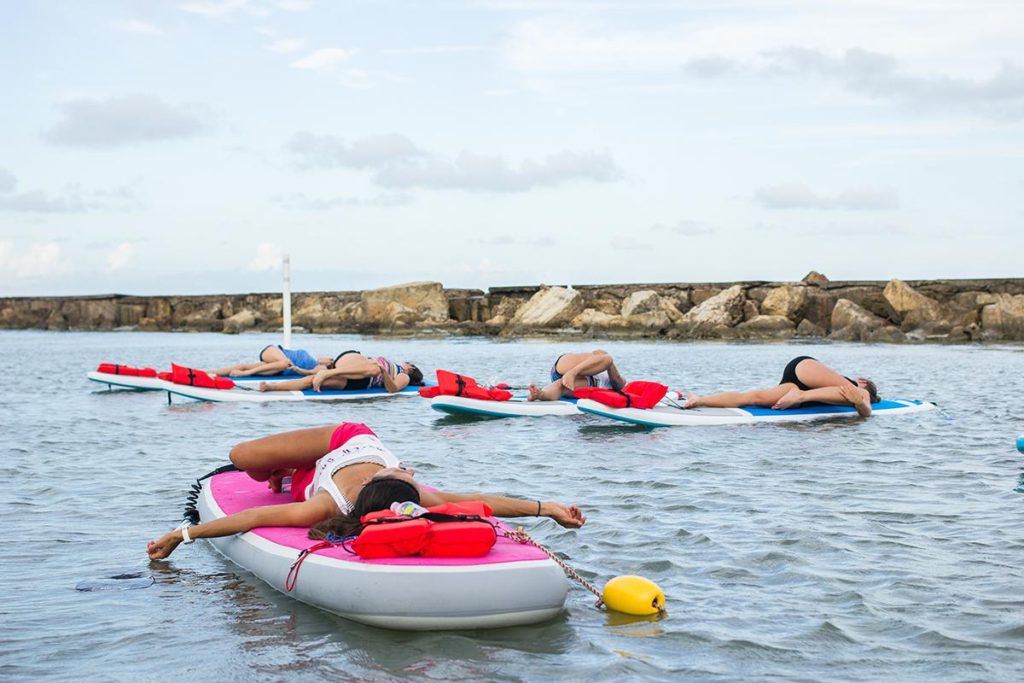 SUP Yoga Relax is a restorative & relaxing yoga practice on the water. Connecting with nature, the water, the wind and the waves can be therapy in itself, but adding gentle yoga poses to stretch to de-stress the body & mind can make the experience magical.
Class will begin with on-deck instruction about the board, including safety and paddling tips. After short paddle participants will clip in to a fixed anchor point. The yoga portion of class will include gentle/restorative yoga poses with plenty of time for breathing in the salty air, mediation & Savasana at the end of class (ultimate relaxation). This class will serve as water therapy to rejuvenate and relax your mind and body.
*This class is beginner friendly, even if you have never been on a paddleboard before.
Paddle Conditioning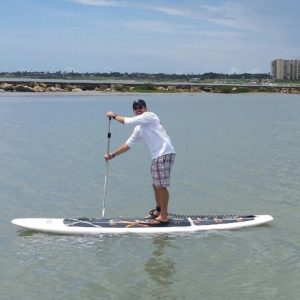 This is a paddle conditioning class where you will get your workout on the paddleboards. Josh or Stacie will lead you on a paddle tour in the marina choosing the route based on the wind and weather conditions. You will be given tips and paddling advice so you can get the most out of your workout. We will also show you techniques to use your core instead of your arms to paddle more efficiently and effectively.
Josh Richline is the co-owner of Water Dog Floating Yoga. He as been a long time sailor and he will use his expert knowledge of the water, wind and weather conditions in the Corpus Christi Marina to guide you through your conditioning workout.
***It is recommended that you have some experience paddling or with paddling sports like kayaking and that you are comfortable with the water.
***If you have no experience it is recommended that you take a private or semi-private lesson or attend a "Paddle Workshop" first.
Paddle Workshop Level 1 & 2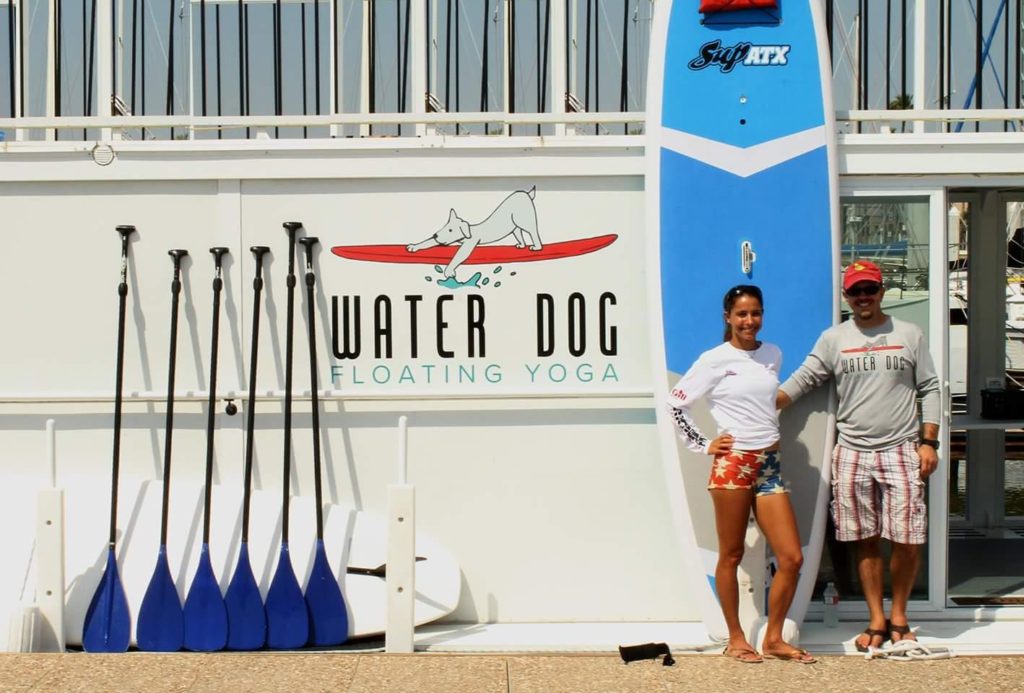 Instructors:
Lead by Stacie and Josh Richline, Owners of Water Dog Flaoting Yoga
About the Workshop
Level 1 & 2: On deck discussion about:
Paddleboards and different types of boards
Paddleboard Safety
Paddling techniques, including turning
Places to SUP around Corpus Christi,
Waterway & boat traffic & safety,

Level 1 Students

On-deck warm-up and dynamic stretch
Paddle practice in a safe protected area near the marina docks
Fun paddle races with a *PRIZE* for the winner

Level 2 Students

Improving paddling technique
Improving turning technique
Short guided distance paddle around the marina
Fun paddle races with a *PRIZE* for the winner
*Note* This class will have two instructors. First time paddlers or those with little experience will be in one group with Stacie on the water and those with more experience and looking to improve will be with Josh on the water.
 This class can be used as part of a SUP Package (Go to the "Customer Area" at the bottom of our webstie to purchase a package.)
SUP Pilates, SUP Yogilates & SUP Barre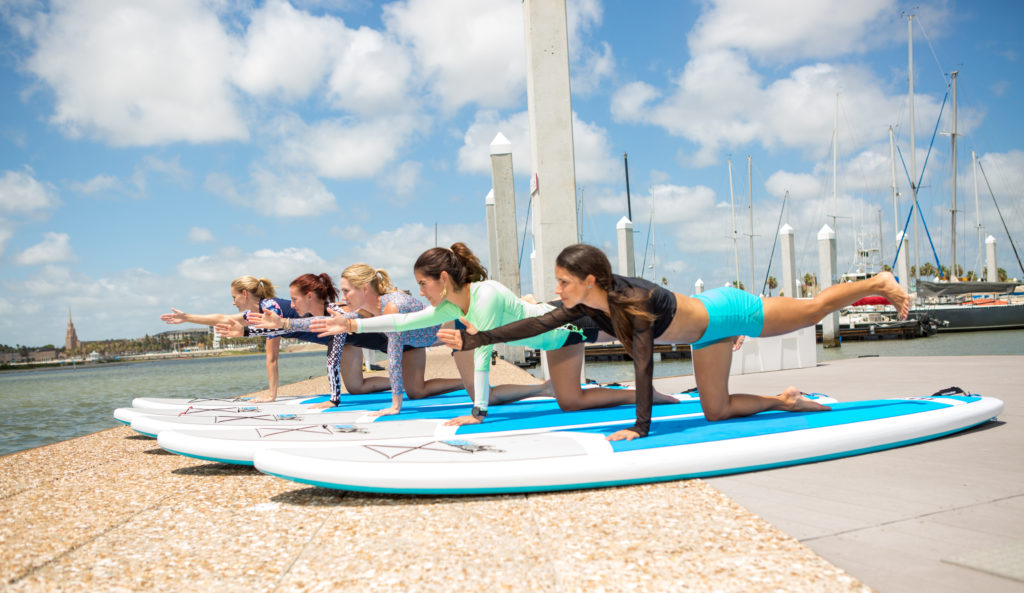 SUP Pilates, SUP Yogilates & SUP Barre classes combines mat Pilates, yoga and/or barre fitness on a Stand Up Paddleboard on the water. At the heart of Pilates and yoga is developing and using a strong core and this becomes even more important when trying to balance and stabilize yourself on a paddleboard. The paddle will be used in the SUP Barre classes to help balance, burn and stabilize. These classes also help develop flexiblity, balance and stamina.
At the start of each class, Water Dog will provide safety and basic paddle instructions. Classes are modified for beginners to advanced. Most important is having fun and enjoying the unique water environment of this class!
SUP Fit Fusion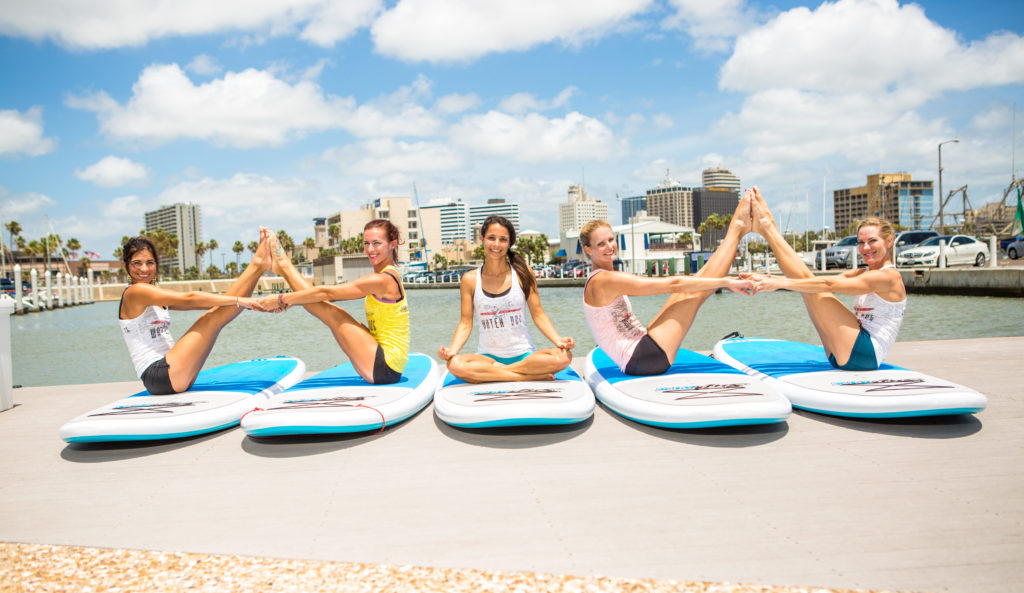 SUP Fit Fusion is a full body core inspired workout on the SUP (Stand Up Paddleboard) that includes a fusion of Yoga, Pilates, Barre, body weight, strength and fitness movements. You can expect to use your paddles during the workout on the board as well as resistance bands to take your workout to the next level! Because you are on a moving surface your core will be constantly working and adjusting to stay stable and stay on the board.
As in all Water Dog classes, modifications for beginners to advanced students will be provided along with mindful transitions between poses and exercises. You will also be given tips and tricks for being on a floating mat in the water. Each class will start with an on deck discussion about the paddleboards, paddling technique and water safety then there will be a brief paddle to a fixed anchor point where you will clip in your board and begin your water fitness class!
Intro Workshops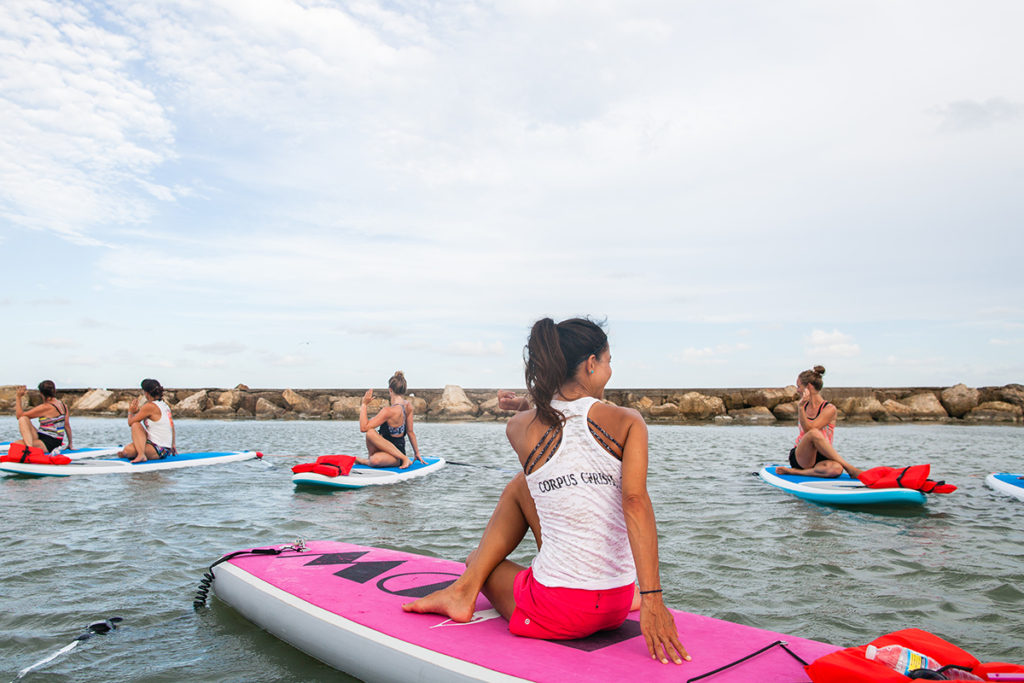 These special events are specifically designed for students who are new to SUP (Stand Up Paddleboards) and/or those new to Yoga or Pilates. The emphasis of the workshop is getting students comfortable on the water and on their floating mats. The workshops are designed with modifications to make beginners feel comfortable on the boards- even if they have never done SUP or Yoga/Pilates before!
 What to expect from the workshop:
On deck discussion about the paddleboards, paddling technique and water safety
Brief paddle to a fixed anchor point where you will clip in your board
Modifications for beginners and mindful transitions between poses and exercises
Extra time before or after class to practice paddling (weather permitting)
Night SUP & Marina Paddle w/ SUP GLO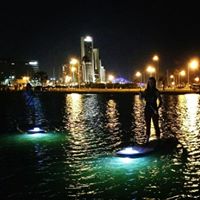 Night SUP & Marina Paddle
For this special class we will paddle around the marina and inside the protected waters and lights of the bay for a night paddle and tour. We will start this class just before sunset on the deck. Like all SUP classes we will start with a discussion of the boards, paddling techniques and water safety.
Each paddler will have the use of an inflatable, water proof light to place on their boards and SUP GLO lights for underneath their paddleboards.
About our  SUP GLO lights
We will light up the night with our SUP GLO lights! These LED lights are specifically designed for paddleboards and they attach underneath your paddleboard.
SUP GLO lights up the area in the water around the paddleboard to help guide us around the marina and maybe see some sea life!
***It is recommended that you have some experience paddling or are comfortable with other water paddle sports