About ALL SUP Classes: SUP is short for Stand Up Paddleboard. Boards, paddles, lifevests and all equipment is included in the cost of the class. Our boards are high quality SUP fitness boards that are stable, wide and grippy. At the start of each class, Water Dog provides on-deck safety & paddle instruction.
Indoor SUP Yoga Workshops (Dec-Feb)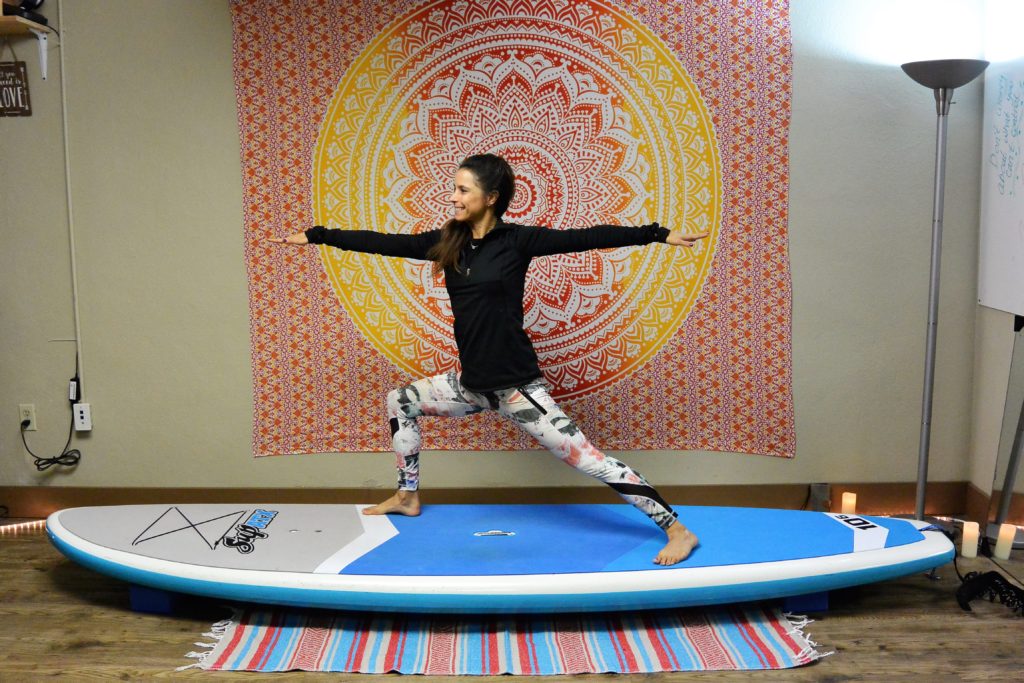 Are you ready to challenge your balance & core from the safety of land? Our SUP boards will be indoors at Mesquite Street for winter workshops using balance/stability cushions under the boards to simulate the feeling of being on the water while removing the fear of actually falling in the water!
SUP Yoga Level 2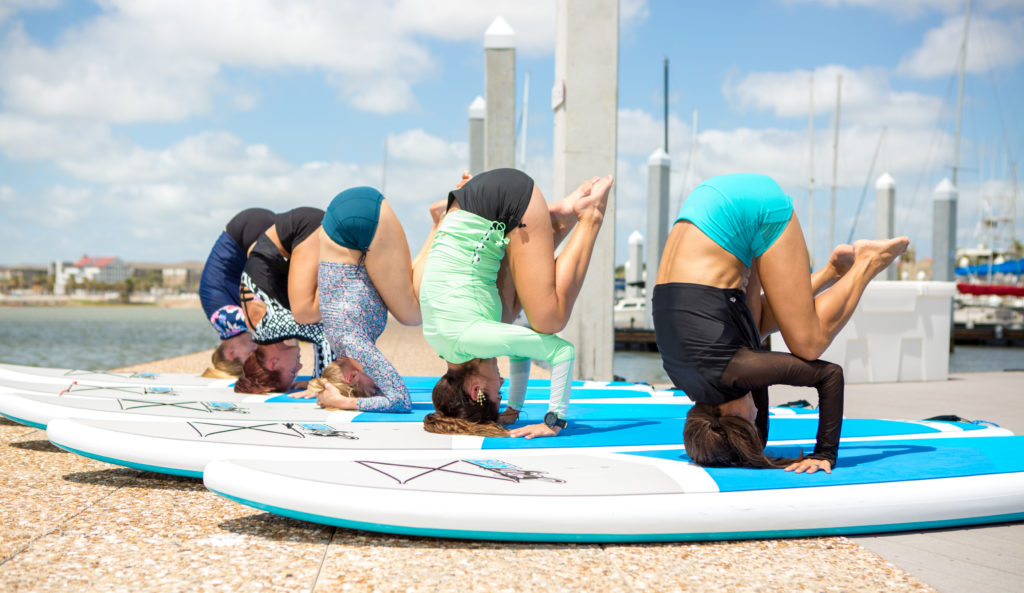 This SUP class is for people who have some experience on a paddle board and/or doing yoga. This class will be playful & fun with options & modifications. The vinyasas & poses are not necessarily intermediate or advanced on land, but they will be challenging on a SUP. We will experiment with poses & inversions like Warrior 1 & 2, crow, headstand variations, and tree pose! We will even have "yogi play time".
SUP Yoga Relax (beginner friendly)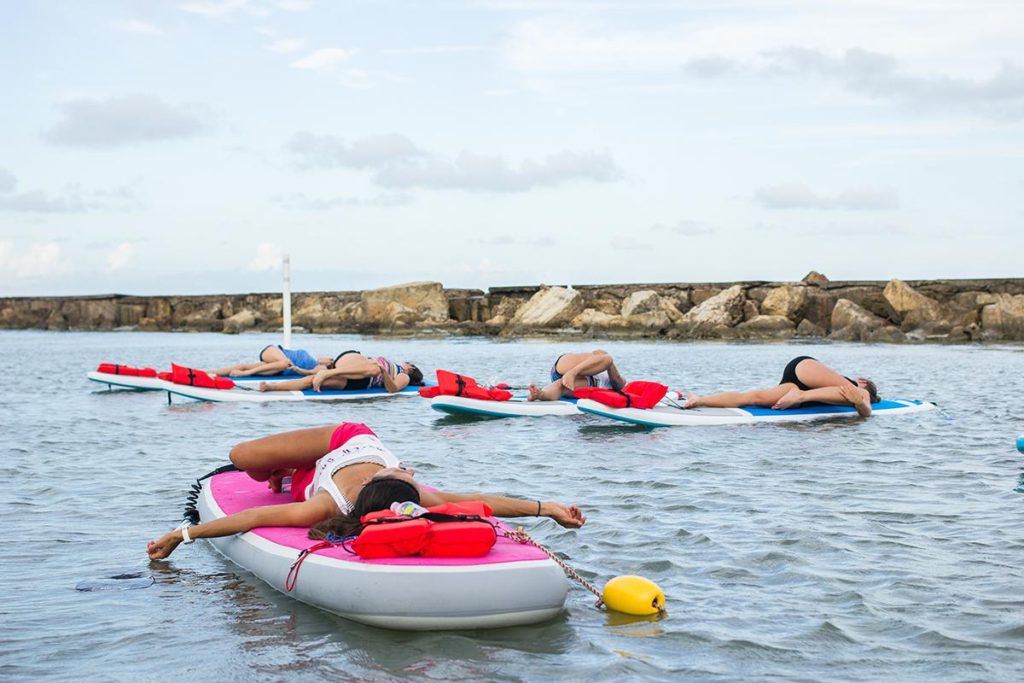 SUP Yoga Relax is a restorative & relaxing yoga practice on the water. Connecting with nature, the water, the wind and the waves can be therapy in itself, but adding gentle yoga poses to stretch to de-stress the body & mind can make the experience magical. This class rejuvenate and relax your mind and body.
Paddle Conditioning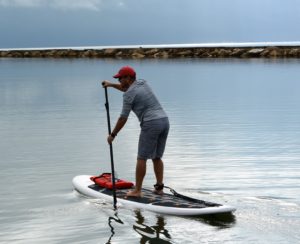 This is a paddle conditioning class where you'll get your workout in paddling on water. Josh & Stacie will lead you on a paddle tour in the marina choosing the route based on wind and weather conditions. You will be given tips & paddling advice to get the most out of your workout. We will show you techniques to use your core, back & shoulders instead of your arms to paddle more efficiently & effectively. Beginners will stay with Stacie and more advanced paddlers will go with Josh.
Night SUP & Marina Paddle w/ SUP GLO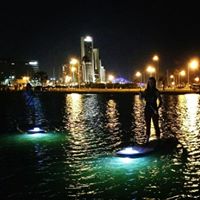 For this special class we will paddle around the marina and inside the protected waters and lights of the bay for a night paddle and tour. We will start this class just before sunset on the deck. Each paddler will have the use of an inflatable, water proof light to place on their boards and SUP GLO lights for underneath their paddleboards. *Since this is a night paddle, we recommend you have previous paddle-boarding experience. **Class is highly dependent on wind & weather conditions
SUP Yoga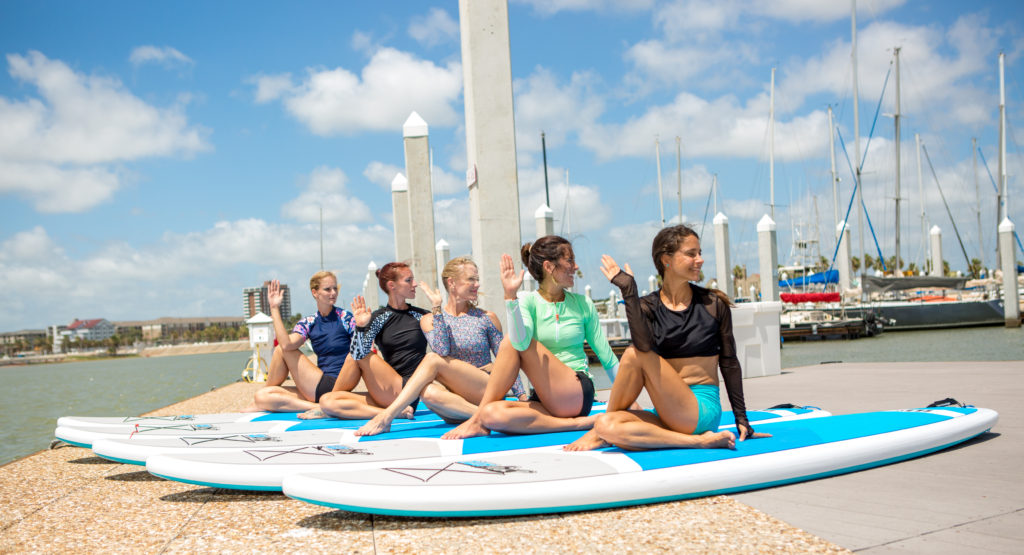 SUP YOGA combines regular yoga with yoga on a SUP board, which is essentially a floating yoga mat. Generally, Water Dog classes will start with getting yogis comfortable on the boards and meditating to the ocean movements in easy stabilizing poses. We work up to vinyasas and more challenging poses, but always finishing with a magical savasana. allowing you to connect with nature and the water during your yoga practice!
SUP Yogilates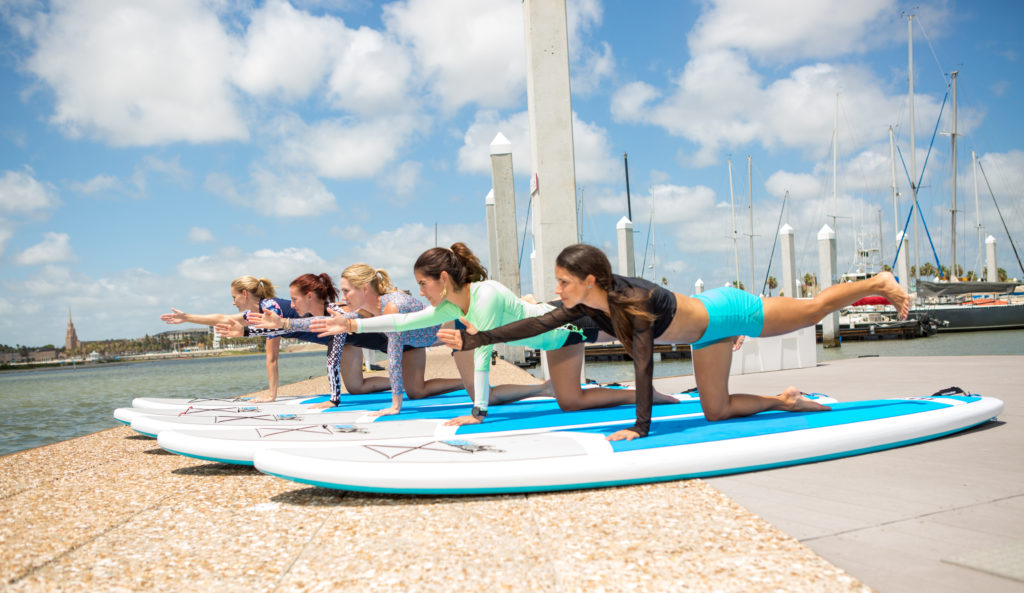 SUP Yogilates combines Yoga and Pilates fitness movements on a Stand Up Paddleboard on the water. At the heart of Pilates and yoga is developing and using a strong core and this becomes even more important when trying to balance and stabilize yourself on a paddleboard. Along with a great core workout, this class helps develop flexiblity, balance and stamina.
SUP Fit Fusion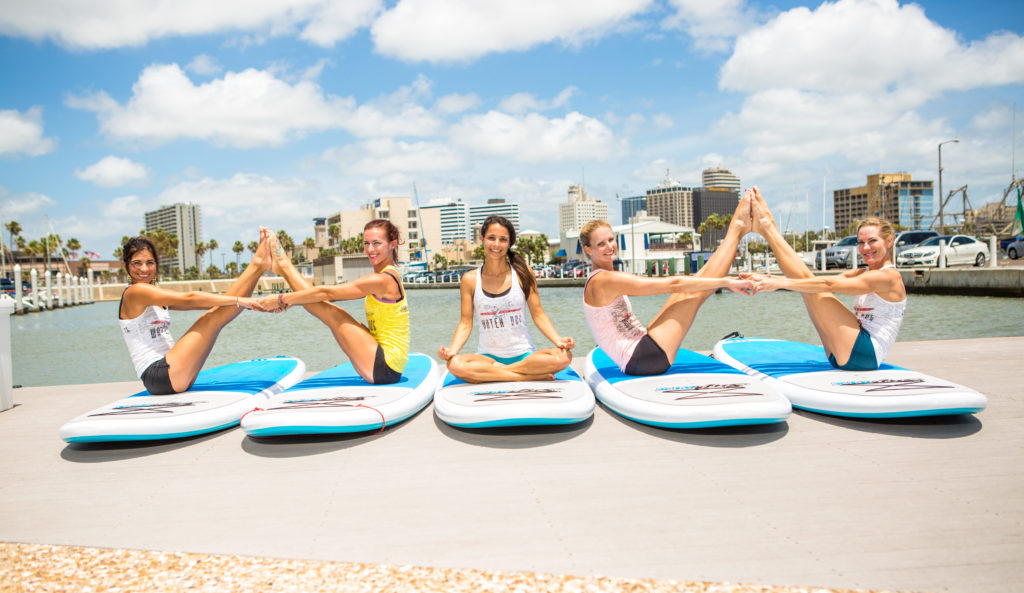 SUP Fit Fusion is a full body, core inspired workout on the SUP that includes a fusion of Yoga, Pilates, Barre, body weight, strength and fitness movements. You can expect to use your paddles during the workout on the board as well as resistance bands to take your workout to the next level! Because you are on a moving surface your core will be constantly working and adjusting to stay stable and stay on the board.
Paddle Workshop Level 1 & 2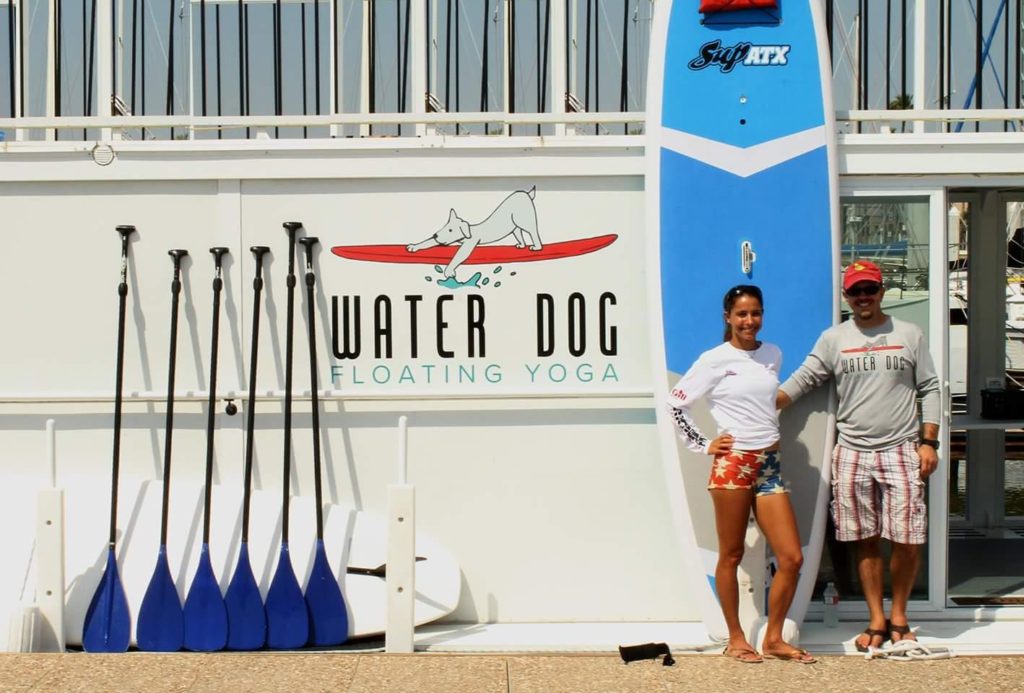 This Workshop is led by Stacie and Josh Richline, Owners of Water Dog Floating Yoga. What we will cover:
Paddleboards and different types of boards
Paddleboard Safety, including waterway & boat traffic & safety
On-deck warm-up and dynamic stretch
Paddle practice in a protected area near the marina docks
Improving paddling & turning techniques
Short guided distance paddle around the marina
Fun paddle races with a *PRIZE* for the winner
*Note: First time paddlers or those with little experience will be in one group with Stacie and those with more experience will be with Josh.