February Schedule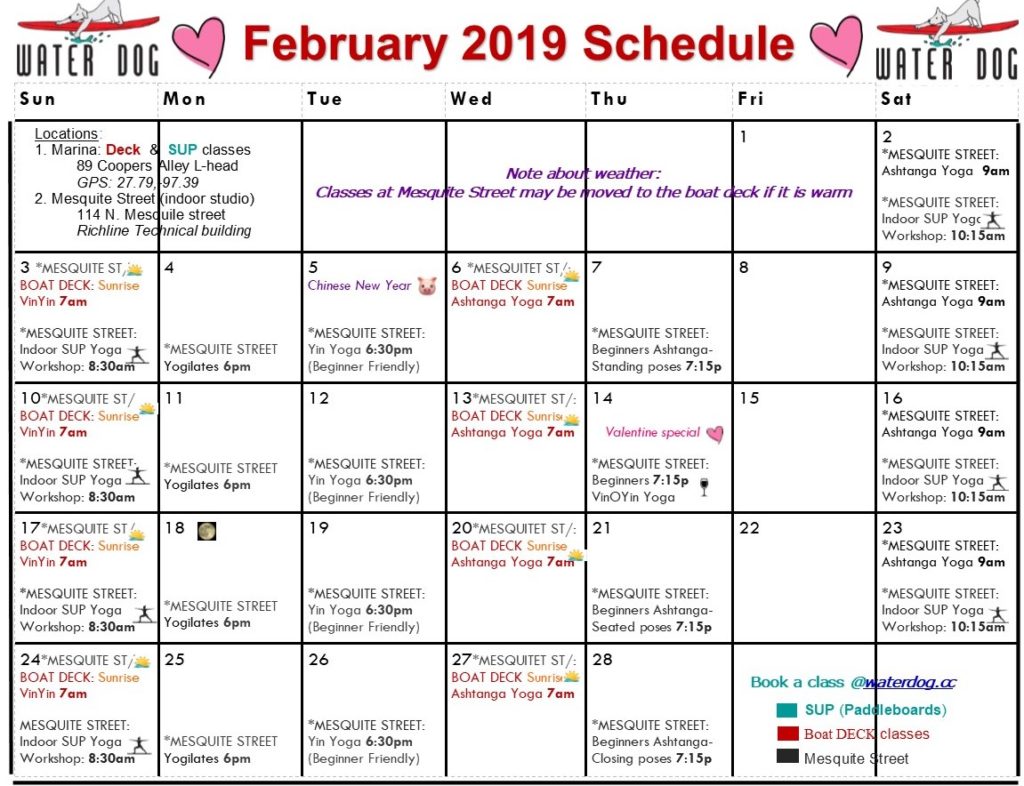 Indoor SUP Yoga Workshops
Have you been anxious to try SUP Yoga and fitness, but afraid to fall in the water? Are you wanting to build balance and core strength to take your practice to the next level? Challenge yourself and build your confidence for with our indoor SUP workshops this winter!
We have brought a limited number of our SUP Fitness boards to Mesquite Street Studio for indoor SUP yoga/fitness workshops this winter. We use balance/stability cushions under the boards to simulate the feeling of being on the water on an unstable surface, while removing the fear of actually falling in the water! Right now these classes will be held Saturday mornings at 10:15am and Sundays mornings at 8:30am.
Special Dates and Events
February 5th, 2019 is the Chinese New Year. We will celebrate during our regular Tuesday evening Yin Yoga. Water Dog will provide a special treat for all participants from Moonlight Macrons to celebrate the Year of the Pig! Pig is the twelfth in the 12-year cycle of Chinese zodiac sign. It is not thought to be a smart animal in China. It likes sleeping and eating and becomes fat. Thus it usually features laziness and clumsiness. On the positive side, it behaves itself, has no plan to harm others, and can bring affluence to people. Consequently, it has been regarded as wealth.
Valentine's Day falls on a Thursday this year. Water Dog will hold a special Beginner's Series class that evening: VinOYin Yoga! We will provide a glass of complimentary wine for all participants. The first part of class is VINAYASA style, incorporating movement with breathe, increasing internal heat, cultivating balance, flexibility, strength and endurance. In the second part of class, we will slow down with more meditative YIN yoga. Poses will be held longer getting into the connective tissue of the body and improving flexibility, this is where we also mindfully sip wine. This FUN combination allows for the best of both worlds of yoga!
Beginner's Series Classes Thursdays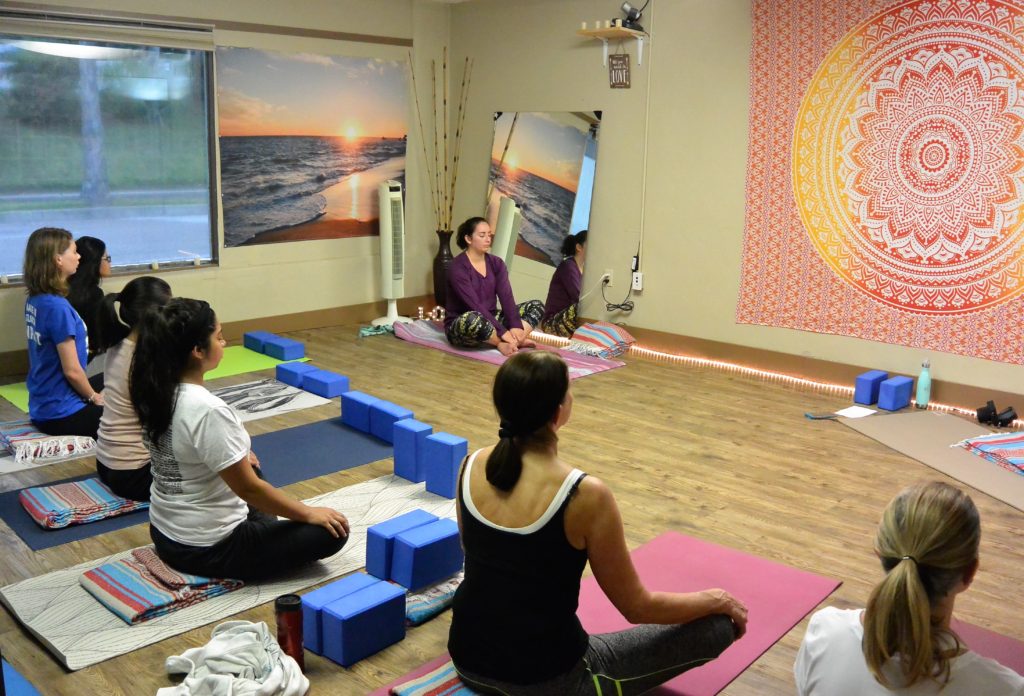 During the winter season we are featuring Beginners Series classes at Water Dog. Classes will continue to be held in February and March. You do not need to attend them all, just come when you can! No experience is necessary, work on learning and improving. These classes are an hour long they will focus on the basics and fundamentals of each type of yoga.
Week 1 – Breathing & Meditation (1/17)
Week 2 – Yin Yoga (1/24)
Week 3 – Vinyasa Yoga (1/31)
Week 4 – Ashtanga-Standing Poses (2/7)
Week 5 – VinOYin Yoga (2/14) *Valentine's special, complimentary VinO
Week 6 – Ashtanga-Seated Poses (2/21)
Week 7 – Ashtanga-Closing Poses (2/28)
Week 8 – Yogilates (3/7)
Week 9 – Mat Pilates (3/21)
Week 10 – Boat Barre (on the Boat Deck, 3/28)
These classes are held every Thursday at 7:15pm through February and March at our Mesquite Street Studio Downtown. For a more detailed description of our classes, check out the CLASSES tab on our website.
Please check us out or come back to visit us!
Thank you again for all of your support of Water Dog!
Namaste,
Stacie & Josh Richline
Water Dog Floating Yoga