In January & February our paddleboards will be moved indoors. Land yoga classe will mostly be at Mesquite Street studio in the Richline IT building downtown at 114 N Mesquite St. unless the weather is favorable.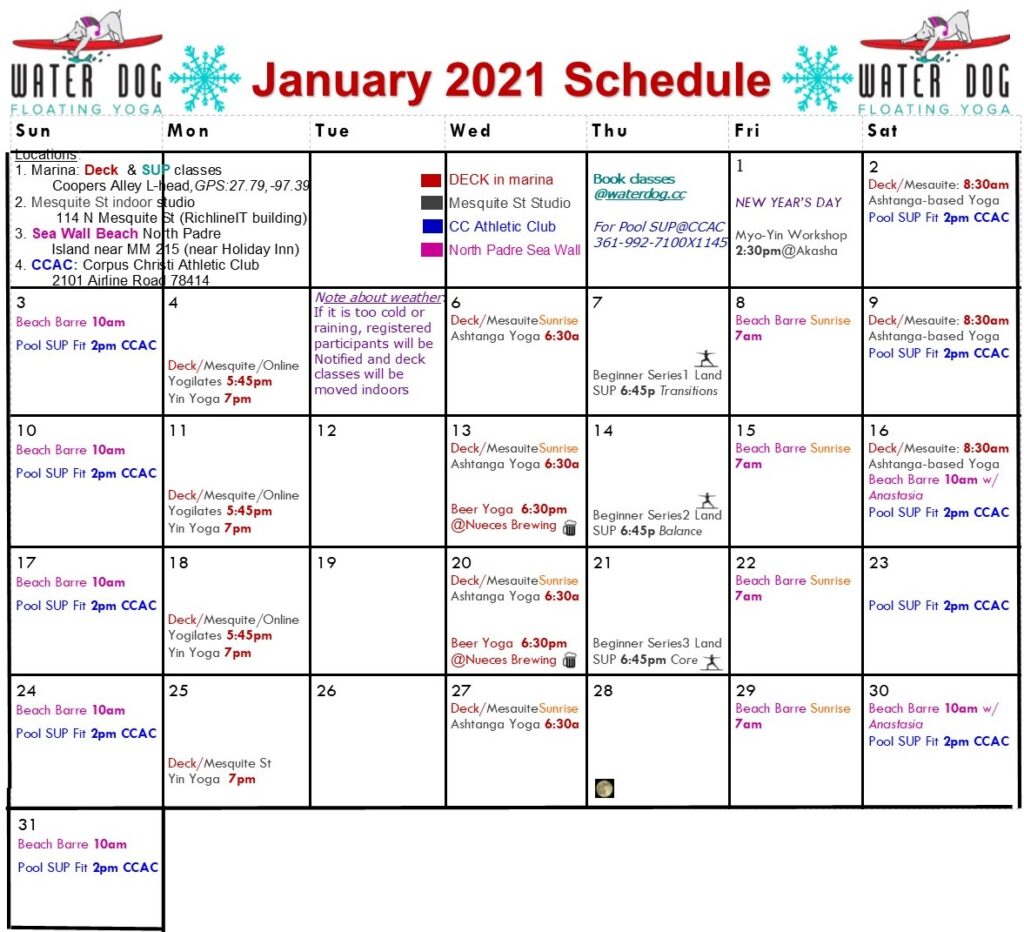 Beach Barre at North Padre Island Sea Wall
Beach Barre is your perfect winter outdoor workout! We just add a little extra cardio to warm you up when its cold – your welcome! This class is a standing barre workout that will have a focus on sculpting, toning and lifting along with proper posture. Bring a towel beause we often include mat work to make this a full-body workout.
DETAILS 
Where: North Padre Island Sea Wall on North Padre island. Park near the Holiday Inn and we'll be setting up near MM 215
When: Fridays at Sunrise 7am and Sundays at 10am with Heather. Anastasia will be teaching Saturday January 16th and 30th at 10am.
How: Only 10 spots available per class so you must reserve your spot online through the Booking tab at waterdog.cc 
Mesquite Street Indoor Studio
Our indoor studio space is located in the Richline Technical building in downtown Corpus Christi at 114 N Mesquite Street. This is the building with the 'greetings from Corpus Christi' mural, located less than five minutes from our marina houseboat studio. We have remodeled the space to make it larger for this winter. We are limiting class size to 6 people and keeping 6 feet space between mats. Deck classes will be held here if its too cold/rainy to be outdoors.
Indoor SUP Yoga Beginners Series
Have you been anxious to try SUP Yoga and fitness, but afraid to fall in the water? Our SUP boards will be at Mesquite Street studio this winter. Balance/stability cushions are placed under the boards to simulate being on the water without the fear of falling in! Our Land Beginners SUP Series will include 3 classes focusing on the most important aspects of Yoga & Fitness on SUPs: 1.Transitions, 2.Balance & 3. Core. Come to one or take all three!
*We will be spacing 6 feet apart and there will only be 6 spots/boards per class.
Where: Mesquite Street Studio inside Richline Technical at 114 N Mesquite Street, Corpus Christi, TX 78401
Cost: $20 for one class or buy a package for all three for $50. To purchase a package, go to the 'Customer Area' at the bottom of our website.
When:
Series 1 – 6:45pm-8pm:
Thursday January 7, Focus – Transitions
Thursday January 14, Focus – Balance
Thursday January 21, Foucs – Core
Series 2 – 6:45pm-8pm:
Thursday February 11, Foucs – Transitions
Thursday February 18, Focus – Balance
Thursday February 25, Focus – Core 
*NEW* Saturday morning class
We are adding an Ashtanga-based yoga class Saturday mornings at 8:30am this winter! This class is also held Wednesday morning at 6:30am. Ashtanga Yoga is an athletic vinyasa-based practice.  The particular set of poses used in this class are based on the Ashtanga Primary Series. Be prepared to move and build some internal heat. Although this is a Power Yoga based class, like all classes at Water Dog, options and modifications will be given for all levels. Class will be at Mesquite Street studio, unless its warm enough to be out on the deck.
Beer Yoga *Wedneday* Jan 13th & 20th
We have a new day of the week for Beer Yoga in January! Join us at Nueces Brewing Co. Wednesday January 13th and Wednesday January 20th at 6:30pm!  We will aim to have the classes outdoors on the deck under the lights. However, if its too cold or rainy, we have the option to be inside the brew house which is a HUGE space that we can be sure to keep at least 6 feet between each mat. The cost of the class includes your first beer and your beer (or beverage of choice) will be mindfully incorporated into the class.
 Indoor Pool SUP Fit at the Corpus Christi Athletic Club
We have partnered with the Corpus Christi Athletic Club to offer ? Indoor Pool SUP Fitness classes this ❄️winter season. Classes are Saturday and Sunday afternoons from 2-3pm. This class is open to both CCAC members and non-members. CCAC members pay $24 and non-CCAC members pay $32 per class. These classes are a mix of Yoga, Pilates, Fitness and FUN!  *You must register through CCAC (not Water Dog). CCAC members can register through their app, member portal or call. Non-CCAC membersneed to call CCAC to reserve their board: 361-992-7100 EXT 1145 or [email protected]
Thank you again for all of your support of Water Dog!
Namaste,
Stacie & Josh Richline
Water Dog Floating Yoga