Howdy from Water Dog,
Water Dog is excited about starting our SUP (Stand Up Paddleboard) Season. Check out our calendar to view SUP & Deck class and Special Events!
APRIL SCHEDULE:
Our April schedule is attached and can be viewed in the "schedule" section of our website. Classes in Red will be held on the boat deck, unless there is inclimate weather, in which case we will inform everyone registered and move class to the Mesquite Street Studio. Classes in Gray will be held at our Mesquite Street Studio in the Richline Technical Building! Aqua colored classes will be on the Paddleboards. Other colors will be at a off site locations as noted.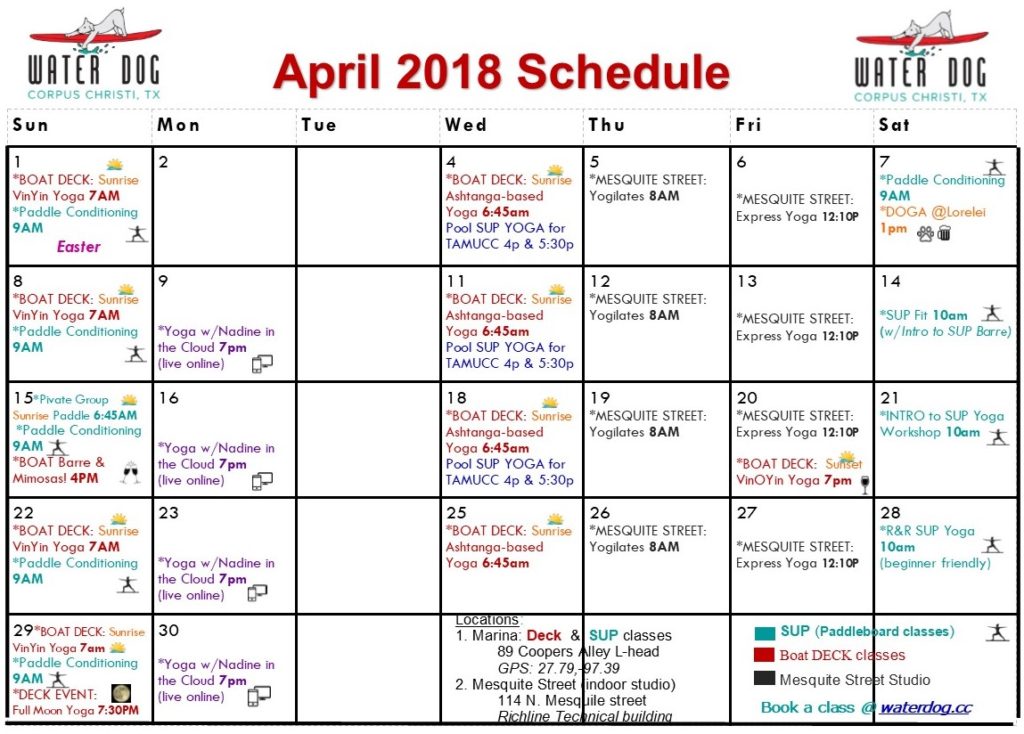 PINTS FOR PUPS FUNDRAISER AND DOGA  AT LORELEI
When: Saturday April 7th from 1-2pm
What's Doga? Yoga with dogs! Adoptable dogs from the Gulf Coast Humane Society will be there for us to cuddle and play with. The dogs will be at Lorelei until 10pm that evening if you cannot make DOGA.
Where: Lorelei Brewing (520 N A. S Dr, Corpus Christi, TX 78418)
Cost: This class is Donation based with proceeds going to the Gulf Coast Humane Society. No need to register online, just show up before 1pm.
*Lorelei will be providing a free pint of beer to participants of DOGA!
**This will be a Beginner friendly all-levels yoga class, please bring your own yoga mat
*NEW* YOGA W/NADINE IN THE CLOUD (LIVE ONLINE)
Our lovely Yoga Instructor, Nadine Bazan, has moved to Omaha, BUT we are bringing her classes and her practice to you at your home! All you need is a computer or a smartphone/tablet and internet access
When: Mondays at 7pm, starting April 9th
Where: At your home! (or wherever you practice yoga)
How it works:
-You book the class on our website the same way you book any regular class. Be sure to fill in your correct email and phone number.
-Before class Water Dog or Nadine will send you an email or text link for you to join her class
-Simply follow the link to join the class. Our easy to use Lifesize Cloud software is provided by Richline Technical Services. Information about the software and a downloadable app will be sent in your confirmation email, but it is not necessary to have the App or the software to join the class. It is extremely easy – just follow the link to join!
-Be sure your camera/computer is set up in spot with a view of your whole yoga mat.
-During class you will be able to see Nadine and she will be able to see each person in the class, however you will not see the other students nor will they see you.
-Participants will be asked to mute their microphone during class, so there are no distractions. Nadine will be able to chat with you before or after class. You will have the option to turn off your video if you prefer, it is your practice.
FAQ:
-What if I have technical difficulties? You will receive instructions in your confirmation email and we will be available if you have any questions or concerns.
-What if I miss class because of technical difficulties? Your online booking reserves your spot, but you are never charged until after class. If you have technical difficulties you will not be charged, but we will help you with the technology so you don't miss it again.
-How much is the class? Prices are the same as regular deck/studio classes and they are included in a 5 or 10 class package (either $14 drop-in or $12/$10 with a package). Packages can be purchased at the bottom of our website in the Customer Area.
-How long is the class? All regular classes including Online yoga classes are 60mins. Allow about 5 extra mins for the technology. And it never hurts to test your ability to connect well before the class starts.
-Any other questions? Contact [email protected] or call 361-760-1050
YOGA FUNDAMENTALS SERIES COMING IN MAY
What is is? This is a series of four weekly yoga classes focusing on the fundamentals or basics of yoga. For each class in this series we will focus on a particular topic. Classes will build upon each other, but it is not necessary to take all 4 together.
Who is it for? These classes will be beneficial to the beginner, but it is designed for all levels. Even if you have been practicing yoga for months or years off and on, there is much to be gained from slowing down and going back to the fundamentals.
How much? Drop in classes are $14 or you can purchase a package of 5 classes for $60 (can be used for any regular Boat Deck, Mesquite Street or Online class)
When? The first four Tuesdays in May (5/1, 5/8, 5/15, 5/22) from 7-8pm, finishing just before sunset
Where? Water Dog's Houseboat studio on the top deck, over-looking the marina and Downtown Corpus Christi. Its at 89 Cooper's Alley L head or put 27.79, -97.39 into your GPS! Experiencing the outdoors and being on the water will help can help overall mental well-being. In case of inclimate weather, class will be at our Mesquite Street Studio in the Richline Technical Bldg at 114 N. Mesquite St.
Each 60min Yoga class will have a weekly focus in the following topics:
5/1: Yoga fundamentals & basic poses
5/8: Meditation, mindfulness, breathing & relaxation
5/15: Sun Salutations & starting a home practice
5/22: Improving Flexibility, including gentle Yin Yoga
POOL SUP YOGA  AT TAMUCC
TAMUCC has partnered with Water Dog Floating Yoga to bring Pool SUP yoga to their campus! Starting March 21st TAMUCC is offering 5 weeks of Pool SUP classes. These classes will all be beginner friendly, but be prepare to get wet and have fun!
These classes will be every Wednesday from March 21 to April 18th. Two classes will be offered each Wednesday from 4-5:15pm & 5:30-6:45pm with only 6 spots available per class. Registration will be on a first come, first serve basis, starting on the Monday of each week prior to class in the Recreation department.
*Note you must have a Sand Dollar ID  to take this class (you must be a TAMUCC student, staff, alumni or affiliate)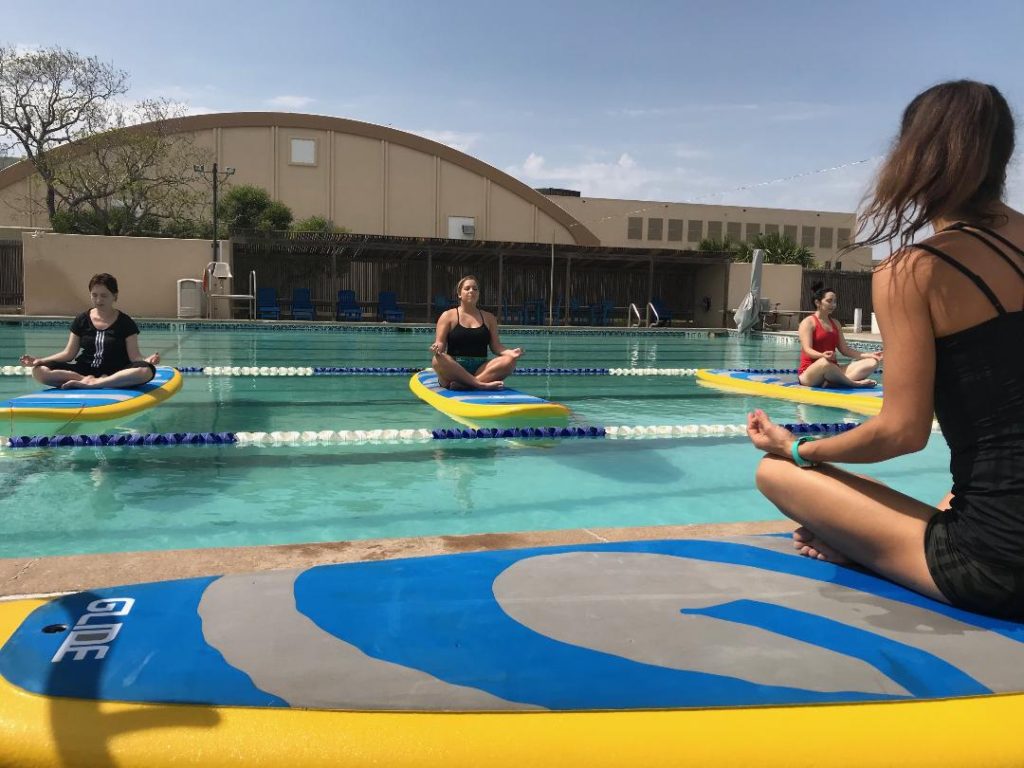 REGULAR WEEKLY SCHEDULE IN APRIL
Mondays
7pm Live Online – Yoga w/Nadine in the Cloud  *Starting April 9th
Wednesdays
6:45am Boat Deck – Sunrise Ashtanga-based Yoga
4pm & 5:30pm TAMUCC – Pool SUP Yoga
Thursdays
8am Mesquite Street – Yogilates
Fridays
12:10pm Mesquite Street – Express Yoga
Saturdays
Check the schedule for SUP classes, Special Events & Workshops
Sundays
7am Boat Deck – Sunrise VinYin Yoga
9am Paddle Conditioning
Other Special events in April:
Doga at Lorelei Saturday April 7th, 1pm
Boat Barre & Mimosa, Sunday April 15th, 4pm
Sunset VinOYin Yoga on the Deck, Friday April 20th, 7pm
Full Moon Yoga event with Randi Wiley Sunday April 29th, 7:30pm
*Call to book a private lesson or event with friends! 361-760-1050
Please check us out or come back to visit us!
Thank you again for all of your support of Water Dog!
Namaste,
Stacie & Josh Richline
Water Dog Floating Yoga