Water Dog is excited to be announcing the start of SUP (Stand Up Paddleboard) Season this month. Check out our SUP and Deck activities and special events during SPRING BREAK WEEK!
MARCH SCHEDULE
Our March schedule is attached and can be viewed in the "schedule" section of our website. Classes in Red will be held on the boat deck, unless there is in-climate weather, in which case we will inform everyone registered and move class to the Mesquite Street Studio.
We will have our regularly scheduled classes plus a special class EACH DAY during Spring Break Week March 10-18th! This will be our official launch of our SUP Season!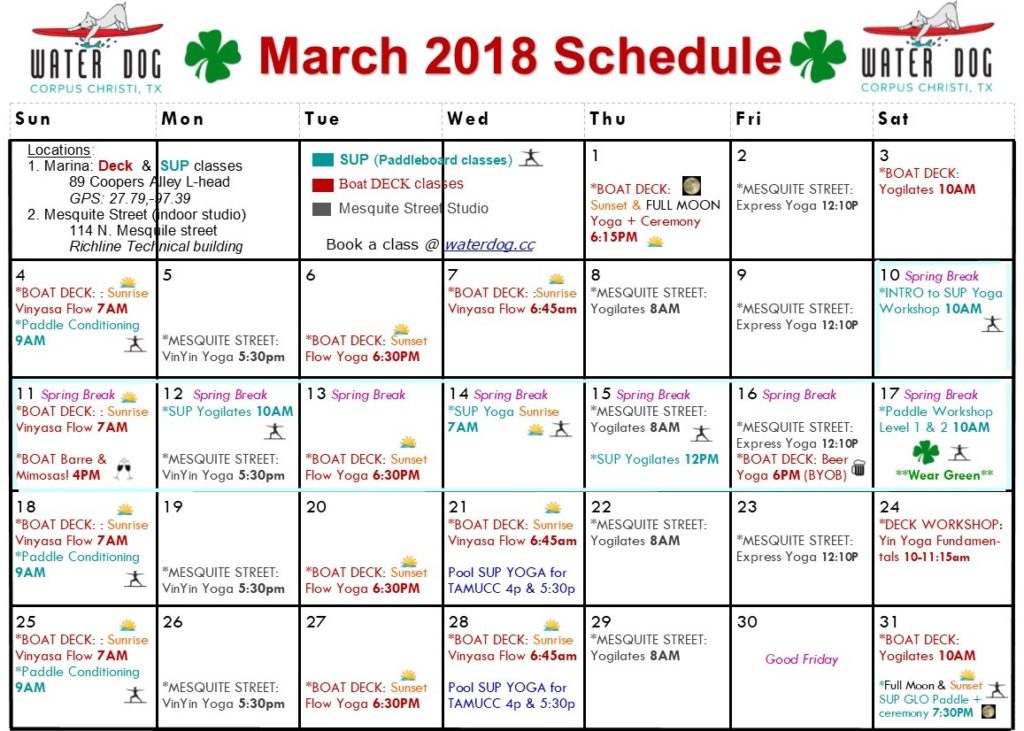 SPRING BREAK WEEK EVENTS:
Special Classes during Spring Break Week included:
Saturday March 10th – Intro to SUP Yoga Workshop 10am
Sunday March 11tth – Boat Barre & Mimosas with Heather McVay 4pm
Monday March 12th – SUP Yogilates 10am
Tuesday March 13th – Sunset Flow Yoga on the Deck 6:30pm
Wednesday March 14th – Sunrise SUP Yoga 7am
Thursday March 15th – SUP Yogilates 12pm
Friday March 16th – Beer Yoga on the Deck (BYOB) 6pm
Saturday March 17th – Paddle Workshop Level 1 & 2 10am
Sunday March 18th – Paddle Conditioning 9am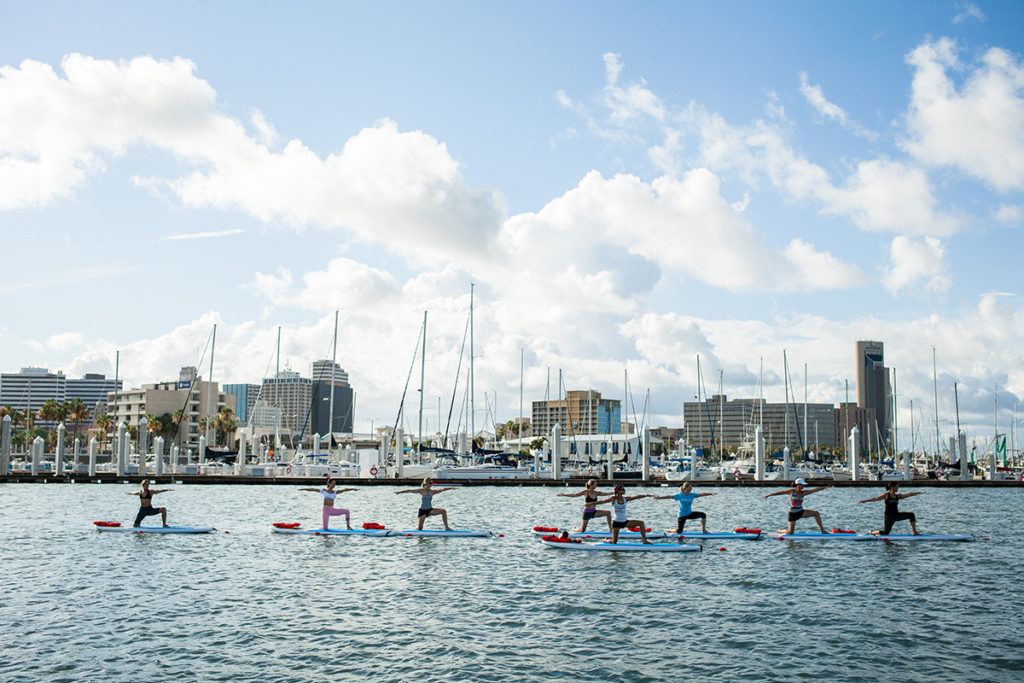 PRIVATE & SEMI-PRIVATE PRICING
Do you want to take a class, but need a special day or time? Do you have friends coming to town and want to take them to Water Dog? If our regularly scheduled classes don't work or you want something special, we offer Private and Semi-Private packages and group rates. We love to host groups and parties, so call to schedule a private party or group!
PRIVATE AND SEMI-PRIVATE LESSONS:
SUP Yoga Rates (75 or 90 minutes Intro style class)
Private SUP Yoga lesson: $70
Semi-private SUP Yoga (book with a friend): $80 ($40 each)
Groups of 3 $35 each
Paddle Lesson & Tour Rates (60-75 minutes)
Private SUP lesson & Tour: $60
Semi-private SUP lesson & Tour (book with a friend): $70 ($35 each)
Groups of 3 $30 each
Floating Deck Rates (60 minutes)
Private Yoga lesson: $40

Package of 4 Private Lessons for $140 ($35 a class)

Semi-private Deck Yoga (book with a friend): $50 ($25 each)
Groups of 3 $20 each
How it works: Purchase a Private or Semi-Private class or package in the "Customer Area" at the bottom of this website. You must call or email to schedule your class at a time that works best for you! PH: 361-760-1050 or [email protected]. If you are booking a regularly scheduled class, just go the "booking" tab on our website: Waterdog.cc
PRICING FOR OUR REGULARLY SCHEDULED DECK, STUDIO & SUP CLASSES
In order to keep things more simple with the 2 studio spaces, we've kept the prices between the 2 studios the same. All regular Boat Deck and Mesquite St classes will be $14. Packages are available and can be used at both spaces for any regular (60 minute) class. Special Events and SUP classes are not included and will vary in price. There are also SUP Packages available as well.
*Packages are for regular classes (Workshops & Special Events may have different prices)
*Packages can be purchased in the "Customer Area" at the bottom of our website (https://waterdog.cc)
*Packages are good for 6 months.
March has 2 Full Moon events and so we are changing them up a little…
Thursday March 1 – Sunset and Full Moon Gentle Yoga and Ceremony on the Deck from 6:15-7:30pm:
Enjoy the meditative qualities of the moon, the wind and the waves at Water Dog Floating Yoga.  Join us on the deck of Water Dog's Floating Houseboat Studio to see the sun set & the full moon rise. Calming blue lights on the deck will guide you during this gentle yoga flow which will include moon salutations in honor of the moon and its energies along with a short meditation and Full Moon Ceremony. Like all of Water Dog's class this is all levels, modified for beginner to advanced.
*The Full Moon Ceremony includes Moon Water and an intention card. Ceremony gemstone necklaces will be available to purchase.
**Bring your own yoga mat, a bottle of water and a towel. Wear extra layers in the cooler months
Cost $20
Saturday March 31 – Sunset & Full Moon SUP GLO Paddle from 7:30-8:45pm:
Experience the Sunset and the moonrise while on the water! Just as we are finishing our paddle the moon will rise.We will hold a short Full Moon ceremony, including Moon Water and Intention cards. Full Moon gemstones wil be available to purchase. For this special class we will paddle around the marina and inside the protected waters and lights of the bay for a night paddle and tour. We will start this class just before sunset on the deck. Like all SUP classes we will start with a discussion of the boards, paddling techniques and water safety. Each paddler will have the use of an inflatable, water proof light to place on their boards and SUP GLO lights for underneath their paddleboards.
*It is recommended that you have some experience paddling or are comfortable with other water paddle sports.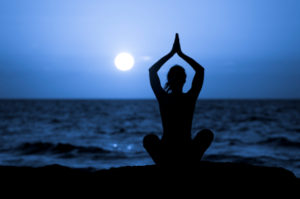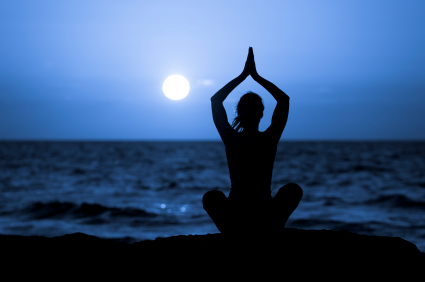 REGULAR CLASS SCHEDULE, INCLUDING *NEW* CLASSES AT MESQUITE STREET
Mondays
5:30pm Mesquite Street – Vin Yin Yoga *NEW*
Tuesdays
6:30pm Boat Deck – Sunset Flow Yoga
Wednesdays
6:45am Boat Deck – Sunrise Ashtanga-based Yoga (*March 14 will be 7am SUP Yoga)
Thursdays
8am Mesquite Street – Yogilates *NEW*
Fridays
12:10pm Mesquite Street – Express Yoga (*except March 30th, Good Friday)
Saturdays
10am Boat Deck or SUP –  check the schedule for events, workshops and classes
Sundays
7am Boat Deck – Sunrise Yoga
9am Paddle Conditioning (*except March 11)
Special Note about in-climate weather:
In the case of inclimate weather for outdoor classes, we will notify those signed up in advance and hold class indoors at the Mesquite Street studio (less than 5 mins away from the boat). If you  choose not to attend this indoor class option, you will not be charged.
Please check us out or come back to visit us!
Thank you again for all of your support of Water Dog!
Namaste,
Stacie & Josh Richline
Water Dog Floating Yoga