Howdy from Water Dog,
Water Dog is excited to continue its SUP and DECK classes into the winter season (well, winter for South Texas!) as the weather cools down and the evenings get shorter.
November Schedule:
Our November schedule is attached and can be viewed on the "Calendar" section of our website. We are really excited about some new classes and events. We will be holding classes during the week of Thanksgiving including some special classes to work off that extra holiday food. This Month's Full Moon Event is on the first Saturday of the month. The Full Moon events continue to be most popular so make sure you book early as it is likely to fill up!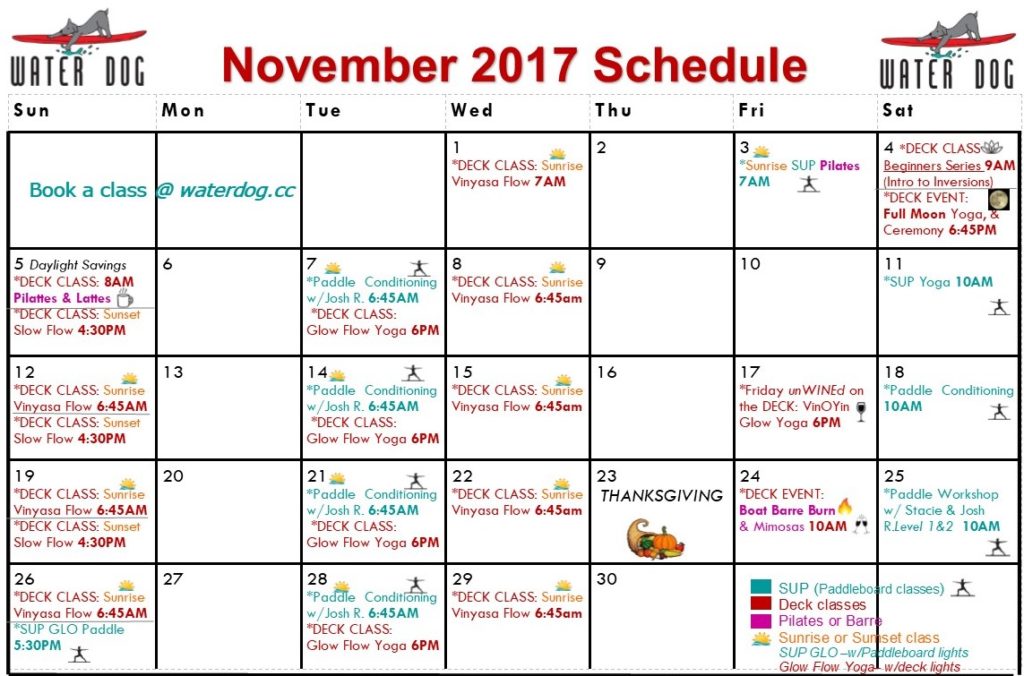 New Paddle Conditioning class with Josh Richline:
Each Tuesday morning in November Josh will be leading a Paddle Conditioning class. This class will start at 6:45am so you can catch a beautiful sunrise in the morning and hopefully still have time make it to work! You will start with a brief warm up on deck then Josh will lead you on a paddle tour in the marina choosing the route based on the wind and weather conditions. He will give you tips and paddling advice so you can get the most out of your workout. Josh will also show you techniques to use your core instead of your arms to paddle more efficiently and effectively.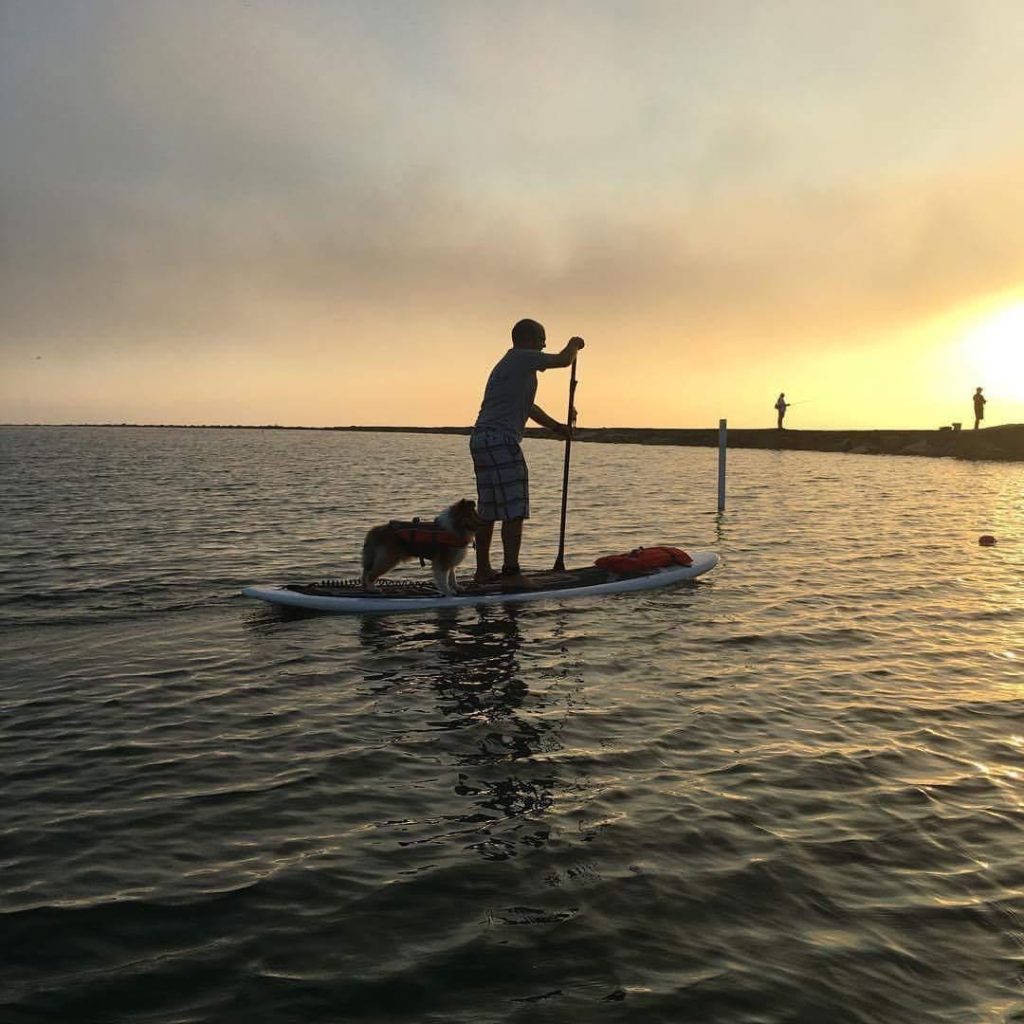 New Yoga DECK classes:
This month we will be adding three new weekly yoga DECK classes at Water Dog.
1.Glow Flow Yoga Tuesdays at 6PM:
Every Tuesday evening Stacie will teach "Glow Flow Yoga" on the deck at 6pm. Why Glow Flow? This Yoga class will be held just after the sun sets in the dark! The top deck of the houseboat will "Glow" with the calming blue lights under the railing and additional lights on top. Each yogi will have the use of an inflatable solar candle lantern to help flow through the yoga poses. The lights of the city and marina will also guide you through your yoga practice creating a truly unique atmosphere! We will connect movement with breath in a yoga flow with modifications for beginners to advanced yogis. Like all Water Dog classes, this class is for all levels allowing you to work at your own pace
2.Sunrise Vinyasa Flow Yoga Wednesday & Sunday mornings at 6:45AM
Sunrise over the water is one of the most calming times of the day and it is the perfect way to start your day and set an intention. Vinyasa Flow Yoga connects movements with breath. During class, we will mindfully move between poses to create a flow called a vinyasa. Internal heat will be created by incorporating sequences, building strength, flexibility and concentration. This is an all levels class with modifications for beginners to advanced yogis. In addition, you will be connecting with elements of the outdoors like the wind, the sun and the water!
3.Sunset Slow Flow Yoga Sunday afternoons at 4:30PM
This is class will focus on fundamental yoga poses including basic breathe work. It will be slower pace, going over the basics of alignment. We will do longer holds and take our time transitioning into moves and poses. This class will be mostly vinyasa style connecting flowing movements with breath. The slower pace is ideal if you are new to yoga or trying to improve on the basics. You don't need to be flexible to do this class! Start wherever you are, working on improvement. Best of all you will be able to watch the sun go down at the end of class – sunset time for November is 5:30-5:45pm.
Boat Barre and Pilates Events Offered:
Pilates Instructor and Piloxing Master Trainer, Heather McVay has taught SUP Pilates along with Mat Pilates and Barre classes (using the railings) on the upper Deck of Water Dog. In November she will be leading three more events. This includes Sunrise SUP Pilates  Friday November 3 at 7am. On Sunday November 5th she will lead a Pilates & Lattes (Pilattes!) class at 8am – no excuse not to come because you will get an extra hour to sleep that morning as daylight savings time ends and the clocks will be turned back. Heather will teach a special Barre class the morning after Thanksgiving called "Boat Barre Burn"! Best of all, you will get a complimentary mimosa towards the end of class – after all it is still a holiday and you will have earned it!
Change in Friday unWINEd classes:
Each Friday in September and October Water Dog has been having Friday happy hour style unWINEd classes on the deck. In November and December we will continue with this style class, but only monthly instead of weekly. November's Friday unWINEd class will be VinOYin Yoga lead by Nadine Bartelli under the lights at 6pm on the 17th!
I know you all know what Vino is, but what exactly is Vin(O)Yin Yoga? The first part of class is VINAYASA style, incorporating movement with breath. These mindful flows will increase internal heat and energy, cultivating balance, flexibility, strength and endurance.
In the second part of class, we will slow down the pace with a more meditative approach called YIN yoga. This is also the part where we bring out the complimentary wine! Poses will be held longer getting into the connective tissue of the body, increasing circulation in the joints and improving flexibility. This FUN combination allows for the best of both worlds of yoga! This class is for all levels with modifications for beginners to advanced yogis. Best of all you can unWINEd from your workweek with a relaxing glass of Vino!
Groups and Privates classes, including Paddle Lessons:
Did you know that Water Dog offers private, semi-private and even group lessons or events, including paddling lessons and tours?  Experiences are often more fun with a group friends, so get a group friends together and give us a call to book a class or event – we can even include balloons on the SUP boards or deck for Birthday events! You can also book our houseboat for events. For rates and more information, go to "Groups & privates under the "What We Offer" tab https://waterdog.cc/classes/groups-private/ Or let us know your unique idea!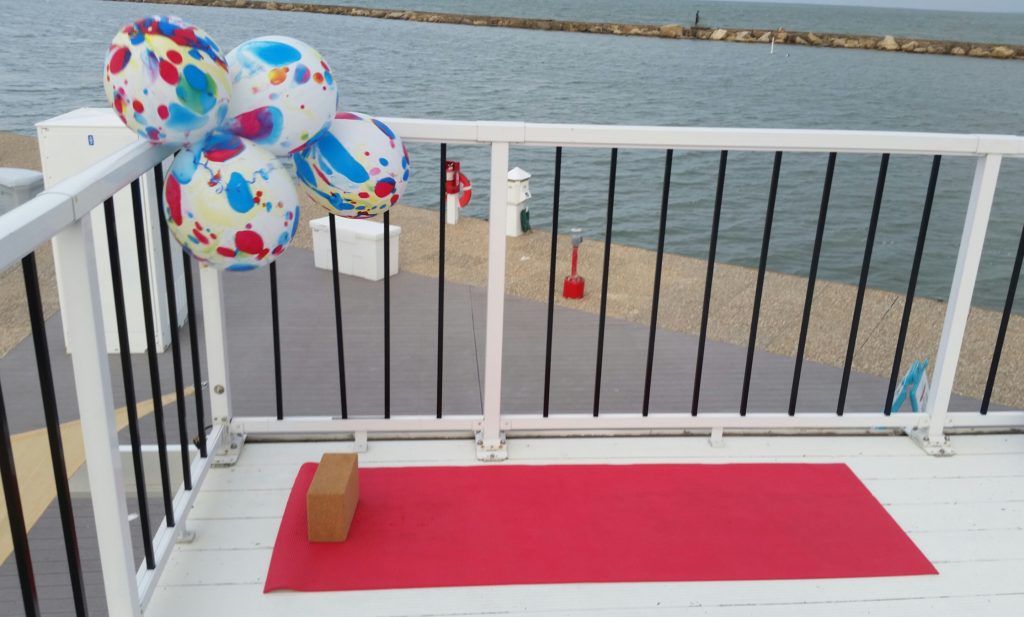 Notes about SUP and Deck classes into the Winter:
As the weather gets colder, Water Dog will continue to hold Deck and Paddle classes as long as Corpus Christians and visitors are willing to face the chillier temperate and spend some time outdoors on the water. We just came off of a super hot summer and we are all ready for some cooler temperatures. This will not stop Water Dog from holding classes as long as our customers are willing to put on a few extra layers and enjoy a bit brisker weather.
What we recommend wearing:
Dress in layers. It may be cold at the start and end of a class, but you will be creating some internal heat and may need to shed a few layers during your workout. You may want to bring an extra long-sleeve or jacket just so you are comfortable during your class. We also have warm "Mexican Blankets" at our studio for savasana or evening during class. Classes are usually done in bare feet, but if you have waterproof socks or socks with grippy soles that can work too!
We will hold less SUP classes, but for those you may want to bring a waterproof jacket or even fleece lined leggings!
Please check us out or come back to visit us!
Thank you again for all of your support of Water Dog!
Namaste,
Stacie & Josh Richline
Water Dog Floating Yoga