Check back for our next retreat!
Yoga, Wine & Hike Retreat: SOLD OUT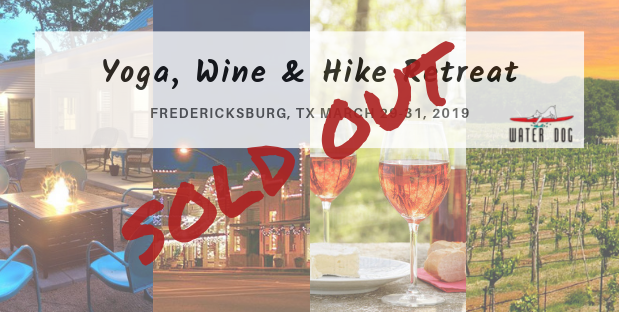 Join Water Dog in the Hill Country of Texas for our first retreat 🙏 +🍷+👟
The retreat will include daily yoga classes in a spectacular setting. Classes will include VinOYin, Vinyasa & Yin yoga. We will stay in a historic home a few blocks from quaint downtown Fredericksburg, TX.
➡️ 🙏 Friday: Arrive at the house at or after 4pm. We will have a casual dinner and hold a relaxing VinOYin yoga class and enjoy a fire on the patio.
➡️🍷Satuday: We will practice yoga at a winery then partake in a private tour & tasting. After lunch we'll make a photo stop in Luckenback, TX. That evening will be for shopping & dining in downtown Fredericksburg.
➡️👟Sunday: We will head over to Enchanted Rock State Park in the morning to hike & do yoga. We'll eat a picnic lunch before heading back to Corpus Christi.
*Transportation included to and from Fredericksburg, for winery stops and to Enchanted Rock
More information with a detailed itinerary and pricing can be found by clicking below or on our blog page: