March is a transition month. We are hoping the weather is nice enough to move yoga classes outdoors to the deck. Our boat studio is still getting repairs and hopefully should be back in the Marina by the end of March and we will start our 4th SUP season then! Daylight savings starts March 14th and we will also move our sunset class times later. We do have some schedule updates so read below and check back as we may have some schedule updates.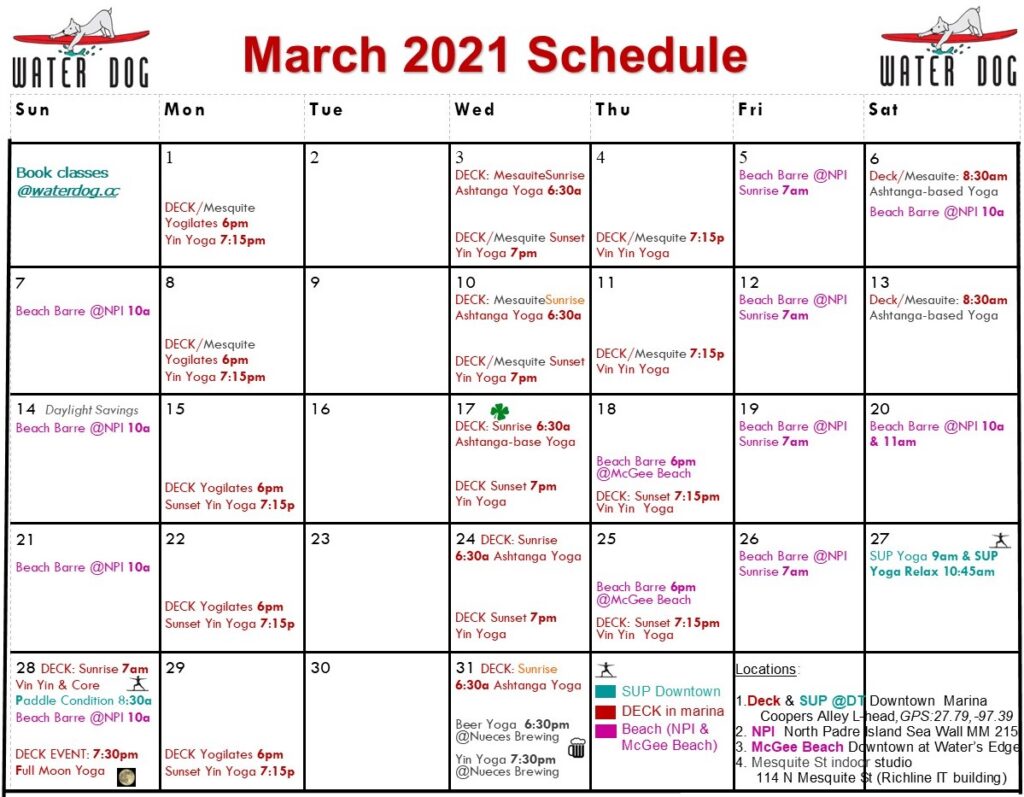 New Class: Beach Barre Downtown
Beach Barre is coming to McGee Beach at Water's Edge Park in Downtown Corpus Christi! Classes will be Thursdays at 6pm, lea by Personal Trainer Alicia Camehl
Beach Barre is full-body barre fitness & standing Pilates workout with a focus on sculpting, burning and lifting along with proper posture & cardio. Class includes mat work (weather & wind permitting + arm strenth along with stretching.
When: Thursdays 6pm starting March 18th
Where: McGee Beach at Water's Edge Park downtown
Instructor: Alicia Camehl. Read more about Alicia on our website here.
New Class & Instructor: Yin Yoga Wednesdays with Laura Jenkins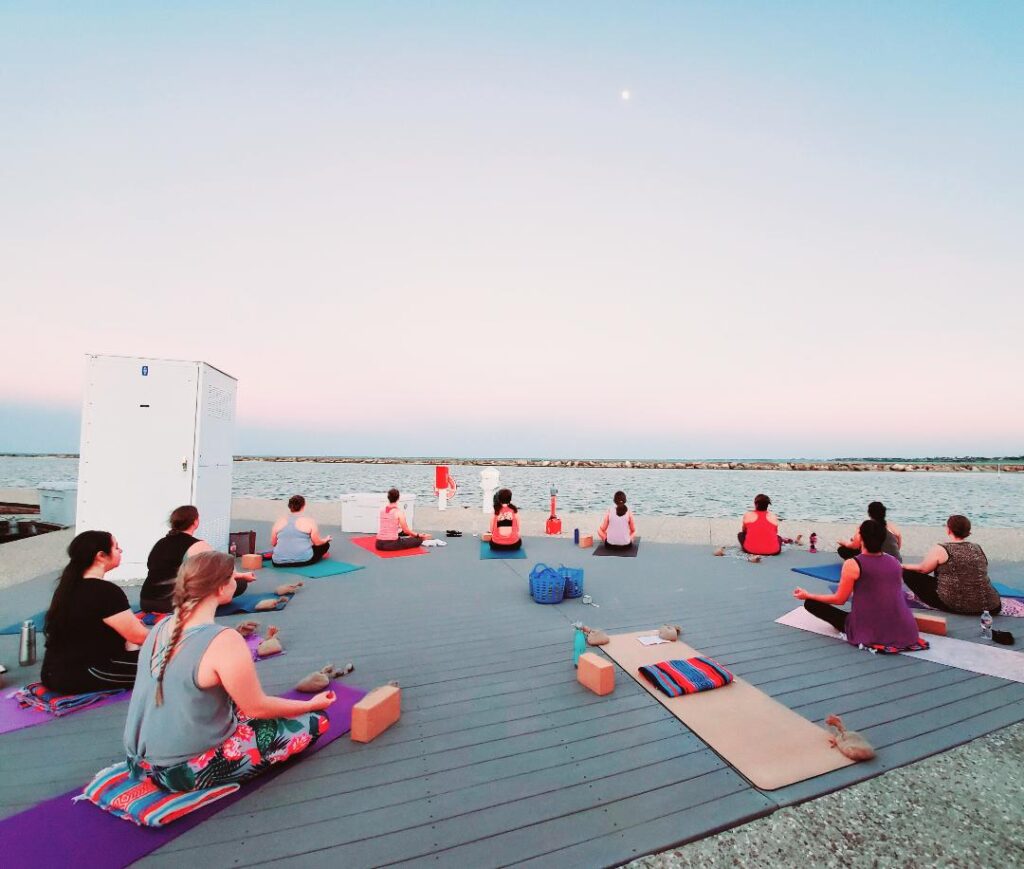 in Yoga is one of our most popular classes at Water Dog and we are adding a second weekly class Wednesday evenings with Laura Jenkins. Stop by the downtown Farmer's Market on your way to or from class and enjoy a view of  the weekly Wednesday night sailboat races.
Yin Yoga is a slower, more meditative approach to yoga. Poses will be held longer (typically 3-5mins), getting into the deeper connective tissue of the joints & bones, increasing circulation and improving overall flexibility.
When: Wednesdays at sunset, 7pm in March
Where: Downtown Marina Deck at our houseboat studio or indoors at Mesquite St if its cold/rainy
Instructor: Laura Jenkins - Read more about her on our website here!
2021 Mermaid/ Merdude Packages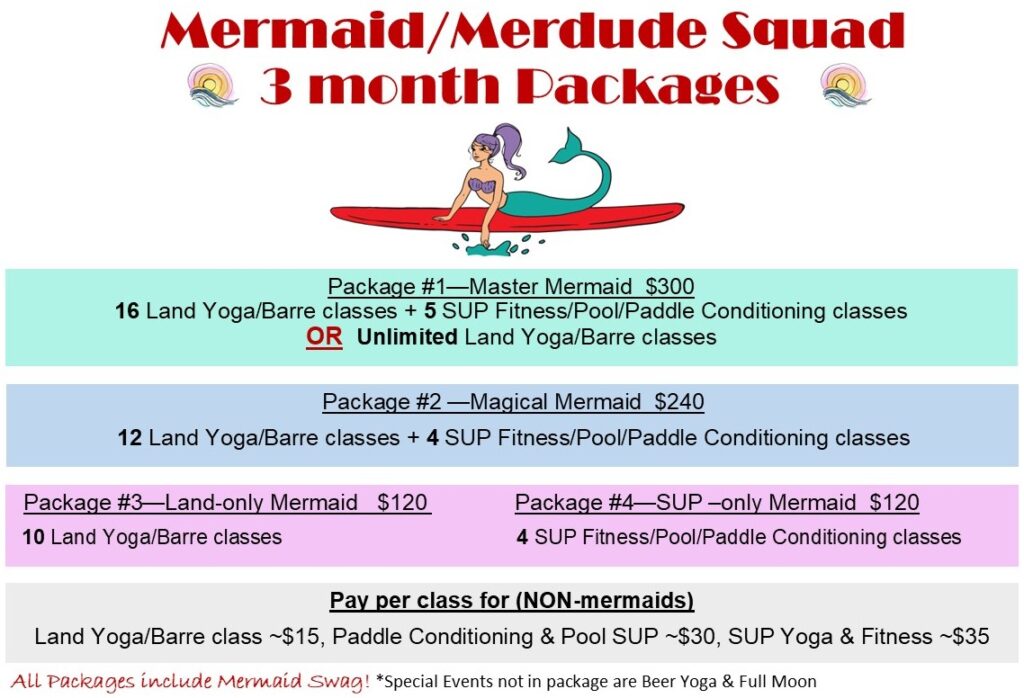 HOW DO I JOIN THE MERMAID/MERDUDE SQUAD AND OTHER QUESTIONS:
How do I become a member?
You can join our Squad through the "Customer Area" at the bottom of our website and choosing the Prepaid Packages option.
What are the terms of the Mermaid Squad packages?
Our packages must be paid in full up front. The classes in the package are good for 3 months from date of purchase.
If I have a package, can I just show up or do I still need to register for class?
You must register online for each class. You will be given credit depending on which package you choose. Spots are still limited and sign-ups are on a first come, first serve basis.
*Note: Not included in the packages are special events: Beer Yoga at Nueces Brewing and Full Moon Yoga & Ceremony
2021 PRICING
We aim to keep our prices low and affordable so anyone can enjoy our unique fitness classes. For 2021, we are increasing our land yoga & barre class prices by $1 to $15 for a drop-in.
SUP classes will also be increased by $5 and classes Sante Fe Pool will remain the same.
***For SUP classes, all equipment is included so this is still a great price! SUP rentals usually start at $30 without a class, without an instructor and without a lesson!
Wedneday March 31st at Nueces Brewing:
6:30pm Beer Yoga + 7:30pm Yin Yoga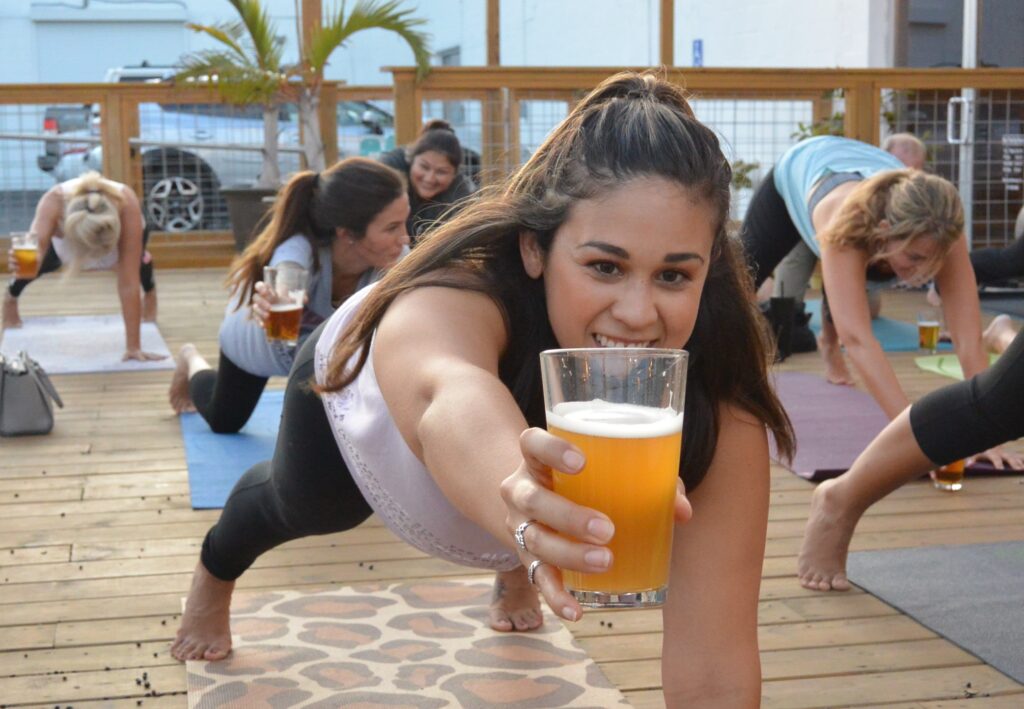 Join us at Nueces Brewing Co. the last Wednesday in March! We will hold our regular beer yoga class at 6:30pm. This class includes your first beer and we mindfully incorporate it into the practice.
We will also hold a second class at 7:30pm. This will be a regular beginner-friendly Yin Yoga class (not beer yoga) where if you'd like, you can have a beer by your mat to mindfully sip during class. A beer is included
We will aim to have the classes outdoors on the deck under the lights. However, if its too cold or rainy, we have the option to be inside the brew house which is a HUGE.
*Note: The cost of the class is $15 and it includes your first beer, therefore this class is not included in the membership packages.
*Call to or email us to book a private class 361-760-1050 or [email protected]
Thank you again for all of your support of Water Dog!
Namaste,
Stacie & Josh Richline