May 2021 Schedule
We are so excited to be back on the water, along with in the pool, at the beach and on the deck in the marina! Check back on our schedule later in May as we anticipate on adding some more classes on the beach along with a new SUP location! Read below to find out more!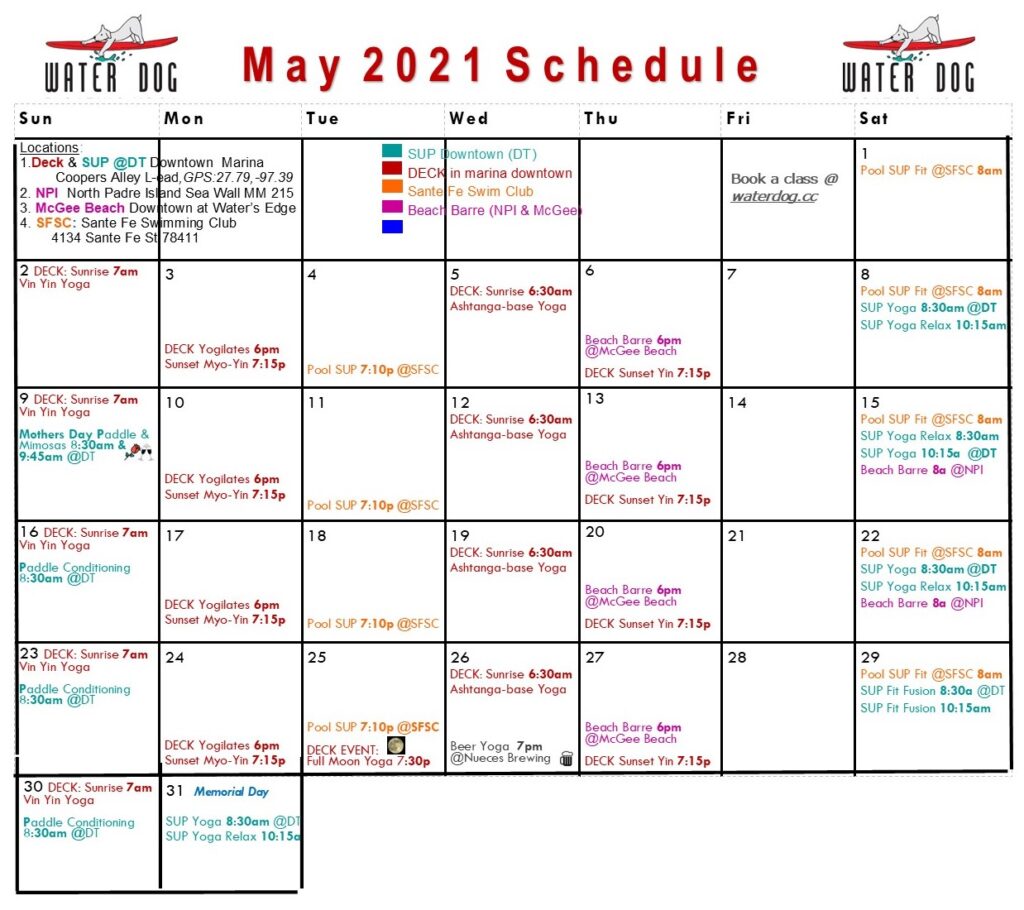 Mother's Day and Memorial Day Weekend
This Mother's Day on Sunday May 9th, we are holding our annual Mother's Day Paddle & Mimosas! We will offer an 8:30am and 9:45am Paddle Conditioning class with Mimosas afterward to celebrate Mother's Day.
We have lots of fun classes planned over Memorial Day weekend. Why not plan to spend some time on the water with us and bring a friend or family member?
Saturday May 29th we'll be offering Pool SUP Fit with Fabian and SUP Fit Fusion in the marina with Anastasia.
Sunday will be our regular sunrise deck yoga class followed by Paddle Conditioning.
Monday we will hold special SUP Yoga and SUP Yoga Relax classes
Pool SUP Fit at Sante Fe Swimming Club
Our Pool SUP Fitness class is full body workout on a floating ma that includes a yoga warm-up & cool down along with 2 rounds of 8 exercises working your core, arms, legs along with a little cardio. The instability of the floating mat means you are constantly using your core and controlling your balance!
When: Tuesdays at 7:10pm and Saturdays at 8am
Where: Sante Fe Swimming Club at 4134 Sante Fe St. CC, TX 78411
Cost: $25 for Pool Members (Code SFSC) and $30 for non-pool members. This class is also included in Water Dog SUP packages
Instructors: Water Dog Pool SUP Fit instructors from last year will be back rotating classes. Personal Traner, Fabian Mendez, will be teaching most Saturdays and Calais Renee most Tuesdays. Read more about your instructors here!
Myo-Yin + Yin Yoga
We will continue to offer two Yin based evening deck classes in May. Yin is a beginner-friendly meditative practice that offers us a deep stretch

Mondays at 7:15pm, we will be adding Myo-facial release to our regular Yin Yoga class!
If you have your own set yoga therapy ball,bring them or we will have some for you to purchase (only $15) or borrow.

Laura will be teaching most Thursdays evenings 7:15pm and we invite you to BYOB, bring your own beverage. Why not wine down for the evening, relax, get a deep stretch and if you choose, mindfully sip on your beverage of choice?!
Paddle Conditioning and BYOB5
We are so excited that our paddle community is growing and that many of our customers now have their own boards! BYOB (Bring Your Own Board) Paddle Conditioning classes Sunday mornings will be just $5 this year! Use promo code BYOB5 when you reserve your spot.
Paddle Conditioning is a group paddle where we choose our route based on wind and weather and we give you paddle advice, motivaton and tips for beginners to experienced paddlers. If you've never done it before, we'll teach you the basics. We typically do this most Sunday mornings at 8:30am after our sunrise yoga class on the deck.
Almost anyone can paddle in calm waters and light wind, but if you join us in our typical Corpus winds you'll really learn how to paddle, using your core, blance and control and you'll definately be a better paddler and stronger for it!
2021 Mermaid/ Merdude Packages
HOW DO I JOIN THE MERMAID/MERDUDE SQUAD AND OTHER QUESTIONS: How do I become a member?
You can join our Squad through the "Customer Area" at the bottom of our website and choosing the Prepaid Packages option. What are the terms of the Mermaid Squad packages?
Our packages must be paid in full up front. The classes in the package are good for 3 months from date of purchase. If I have a package, can I just show up or do I still need to register for class?
You must register online for each class. You will be given credit depending on which package you choose. Spots are still limited and sign-ups are on a first come, first serve basis. *Note: Not included in the packages are special events: Beer Yoga at Nueces Brewing and Full Moon Yoga & Ceremony
Thank you again for all of your support of Water Dog!

Namaste,
Stacie & Josh Richline
Water Dog Floating Yoga