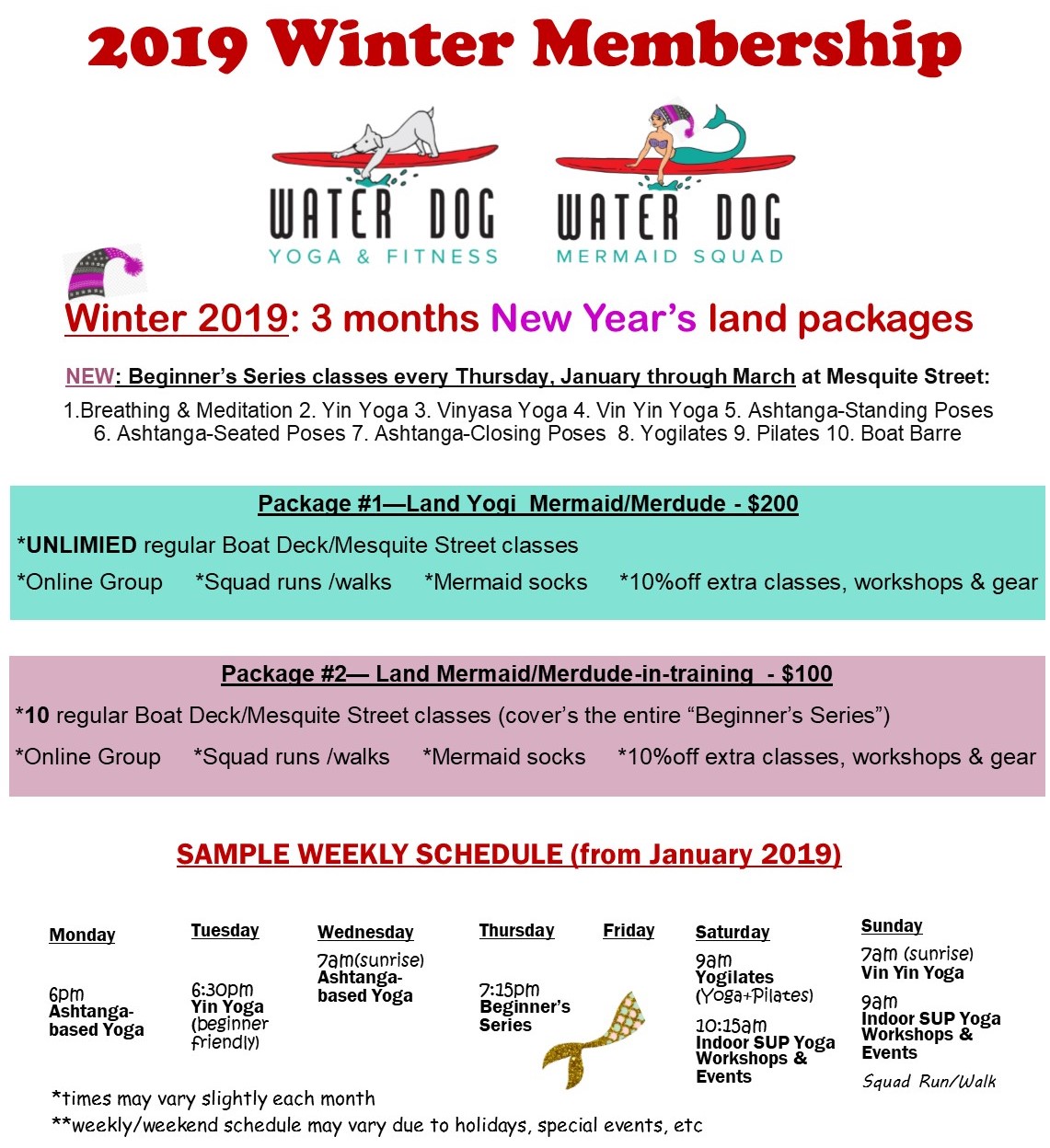 BEGINNERS SERIES AT MESQUITE STREET
No experience necessary, work on learning and improving. These classes will be held every Thursday at 7:15pm from January through March at our Mesquite Street Studio downtown.
Week 1 – Breathing & Meditation
Week 2 – Yin Yoga
Week 3 – Vinyasa Yoga
Week 4 – Vin Yin Yoga
Week 5 – Ashtanga-Standing Poses
Week 6 – Ashtanga-Seated Poses
Week 7 – Ashtanga-Closing Poses
Week 8 – Yogilates
Week 9 – Mat Pilates
Week 10 – Boat Barre (on the Boat Deck)
HOW DO I JOIN THE MERMAID/MERDUDE SQUAD AND OTHER QUESTIONS:
How do I become a member?
You can join our Squad through the "Customer Area" at the bottom of our website and choosing the "membership" option.
What are the terms of the Winter 2018 Mermaid Squad memberships? 
Our Membership packages must be paid in full up front. The classes in the package are good for 3 months from when you purchase the package or 3 months from the first January class if you purchase the package early.
If I am a member, can I just show up or do I still need to register for class?
You must still register online for each class. You will be given credit depending on which package option you choose. Spots are still limited for the deck and Mesquite Street. Sign-ups are on a first come, first serve basis.
What if I want more classes than are in my membership or what if I want to book Special Events and Workshops that are not included in my membership?
As a member you will get a 10% discount on all additional classes and workshops including Indoor SUP Yoga Workshops and special events like Full Moon Yoga. You will also receive 10% off all Water Dog gear like tanks, shirts and water bottles!