Why Yoga, Pilates & Barre are a great combination!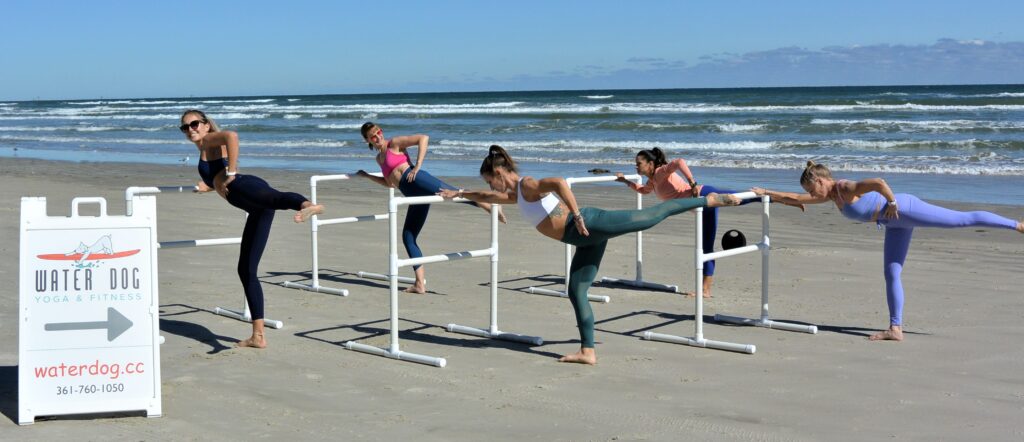 We are so excited to be able to offer 'Beach Barre' classes at Water Dog. Because we are outdoor-based and we love the water, the beach is the perfect location. Not to mention, the sandy surface provides protection for our feet and our joints that a hard surface might not.
Our bodies love variety in workouts, so it's important to incorporate different types of exercises into our routines.
First of all, what are these different classes? And what do they do for our body & mind?
Yoga focuses on the connection between the mind, body and even the spirit and it can be beneficial for stress relief. Generally, mindfulness and breathwork is included, while the physical practice helps improve flexibility, strength and balance.
Pilates mat classes tend to be core-centric, focusing on strengthening abdominal, pelvic floor, and postural muscles. Breath, focus and control are also a very important aspect of Pilates.
Barre is often a fusion of Pilates and yoga principles utilizing some dance movements. Barre is a leg-centric, full body workout. These classes focus on sculpting and toning along with posture. Strength, flexibility and cardio are also included in barre classes.
Unlike yoga and Pilates, barre incorporates aerobics into each workout to strengthen our cardiovascular system and help us burn more calories.
How are these three types of classes similar?
Yoga, Pilates and Barre all involve core work, stretching, toning, strengthening and awareness & control of our breathe. They are all low impact and safe for our joints with a low risk of injury.
Benefits of Barre
Beginner friendly – Barre classes are for all levels including beginners. There's no complicated choreography and you don't need to be a dancer.
Great core workout: Barre work contains a balance element, which fires up the abs and the entire core. Mat work is also generally included with core-specific exercises.
Improves posture: Core work improves your strength and flexibility and helps with posture. Barre strengthens the muscles of the upper back & shoulders, which helps you stand up taller.
Makes you stronger: Barre targets large and small muscle groups with lots of repetitions that makes you feel the burn and the shaking! This can sculpt and strengthen your entire body
Added cardio work: This increases your heart rate to make your heart stronger and burn more calories. You can choose to ramp up the cardio by increasing the range of motion and intensity.
Barre Isn't Boring: We believe the best workouts are the ones you enjoy. A good barre workout uses a combination of dance, Pilates, cardio, strength and flexibility at a high-energy pace, to challenge the body in a unique way. At Water Dog we try to make all our classes fun!