Howdy from Water Dog,
Water Dog is excited to continue its Paddleboard and DECK classes through the winter months with a few modifications: **Special Announcement*** The deck class will be held INSIDE the houseboat studio for January & February, limiting class size to 5 people. The inside will also be available for private and semi-private classes to book at your own time and convenience for a very special rate during January and February only!!! Read below for more details.
January Schedule:
Our January schedule is attached and can be viewed in the "Calendar" section of our website. *NOTE* Water Dog will be closed for about ten days shortly after the New Year from January 5-15th, then we will start up again will regular deck classes. The SUP boards will be removed from the studio during January & February except for private classes. The inside of water dog will be available for private and small group classes during this time.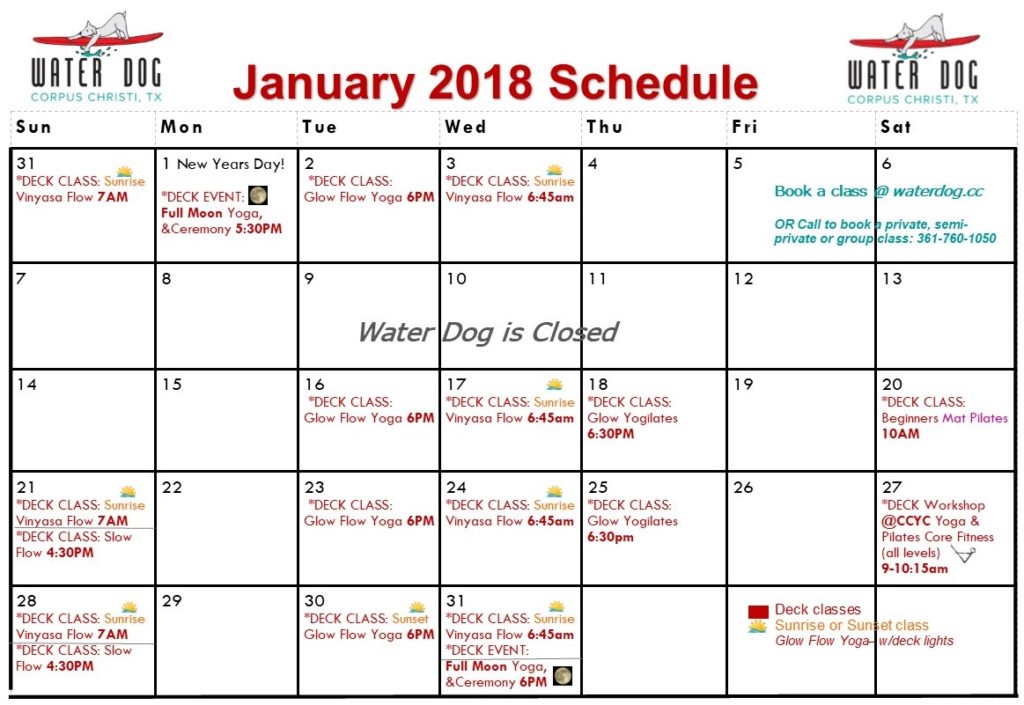 New: Classes inside the Water Dog Houseboat/Studio (rather than up on the top deck) this Winter
What is happening at Water Dog during the winter months?
For the month of January and February, Water Dog will be taking their SUP boards home. This means the inside area of the studio boat will be available for private & semi-private classes, and regularly scheduled group classes (limited to 5 people).
Experience Inside the Houseboat
The studio has full length windows surrounding the front that will still provide a beautiful view of the water, the sunrises and sunsets. The inside stays much warmer than the outside temperature, and if the weather is nice, we have the option to go outside on the deck!
Private or Semi-private class experience, especially for beginners
If you are a beginner and not sure if you can take a group class yet, this is a great place to start! When you book a private or semi-private class, we will tailor the class to suit your needs–whether its beginner yoga, gentle yoga, core strengthening, easing back pain, deep stretching and flexibility, balance or whatever you need!
January & February specials inside the studio!
Take advantage the winter months and the small group size to really improve (or jumpstart) your practice in the New Year! This is a GREAT Price for Private or Semi-Private classes! One of the best parts is that you can schedule your private at a time that suits you. Of course, we'll still have our regularly scheduled classes for you to join as well.
PRIVATE: $30 for 1 class OR 4 classes for $100
SEMI-PRIVATE (W/ A FRIEND): $25 for 1 class OR 4 classes for $90
REGULARLY SCHEDULED GROUP CLASSES (up to 5 people): $17 for an individual class; $16 with a prepaid 5 classes package for $80; $15 with a prepaid 10 class package for $150
How it works:
Purchase a Private or Semi-Private package in the "Customer Area" at the bottom of this website. You must call or email to schedule your class at a time that works best for you! Classes must be used during January and February 2018. PH: 361-760-1050 or [email protected]. If you are booking a regularly scheduled class, just go the "booking" tab on our website: Waterdog.cc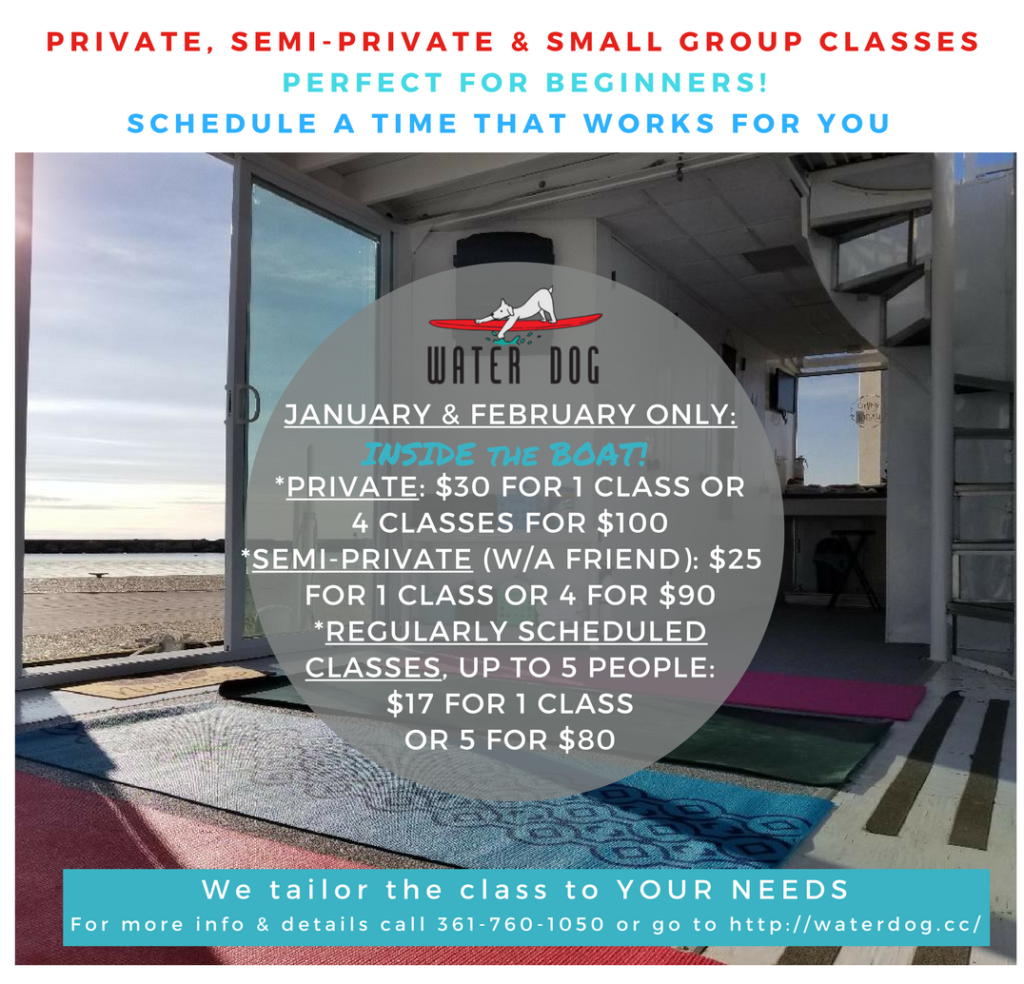 Full Moon: January 1, 2018 & January 31, 2018:
Start the New Year off right on NEW YEAR'S DAY setting your goals and intentions along with absorbing the positive energy of the Full Moon! January's first Full Moon is called the Wolf Moon and it will be a Supermoon!! As part of our full moon ceremony on New Year's Day we will be writing down our resolutions for 2018. Towards the end of our full moon events, we offer light snacks and a special ceremony gift bag. January 31 will mark the second Full Moon in January, two in one month, making it a Blue Moon! We will also be holding a Full Moon event that evening.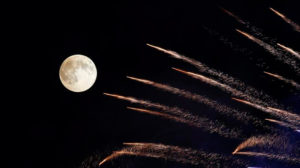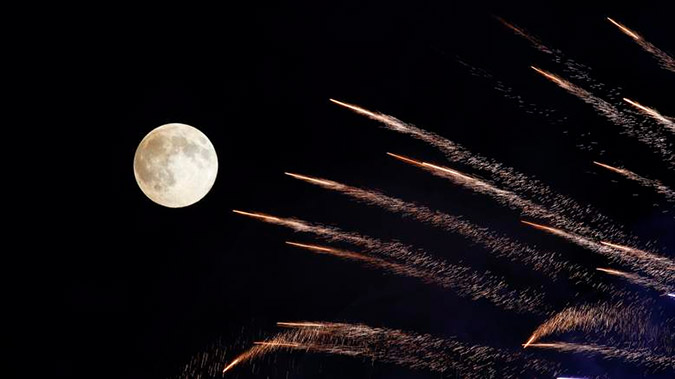 Prepaid Deck Class Packages:
We offer Prepaid Packages for classes on the floating deck. The package is good for 6 months and for any regular 60min deck class, including: Sunrise Vinyasa Flow, Sunset Slow Flow, Glow Flow, Yogilates, Mat Pilates and Boat Barre. To purchase a package, you must go the "Customer Area" at the bottom of our website https://waterdog.cc  *Note:Regular individual deck class price: $17 and **Workshops and some special events are not included in packages.
Deck Packages Available:
5 Deck class package for $80 ($16 a class)
New:10 Deck class package for $150 ($15 a class)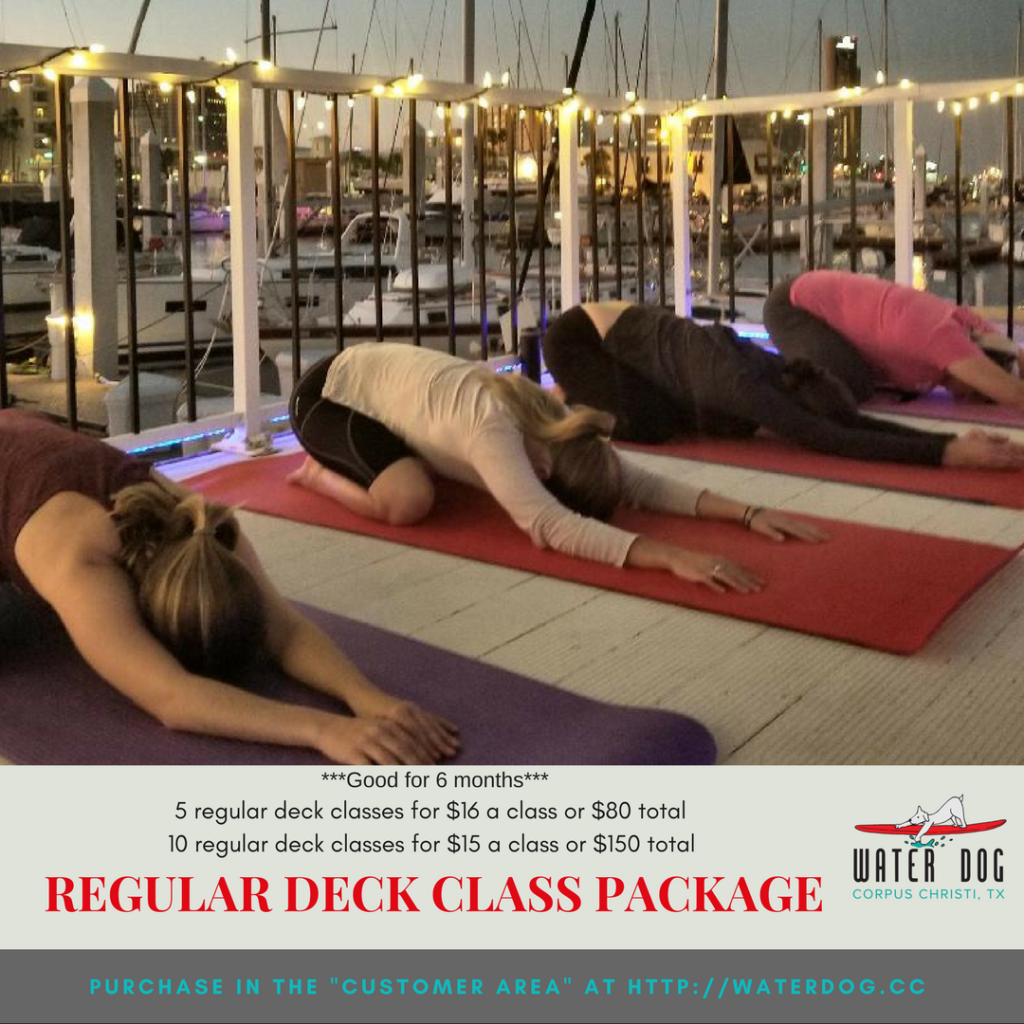 Thank you for a great first year!
Water Dog would like to thank our customers for their support as we started our new business in June of 2017! We will continue needing your support and the support of the community to keep this business going into the winter months and the next summer. If you have had a great experience, please come back and let your family, friends, co-workers, and visitors to Corpus Christi know about us! This is a great way to experience what Corpus Christi is all about and be on the water while doing something that is good for your mental and physical health. If you made it  until the end of this newsletter, we would like to offer you a special coupon for your next class in January or February! Use Promo Code: ThankU2017 for a 20% discount!
Have a happy and safe New Year!
Namaste,
Stacie & Josh Richline
Water Dog Floating Yoga