July 2018 Schedule: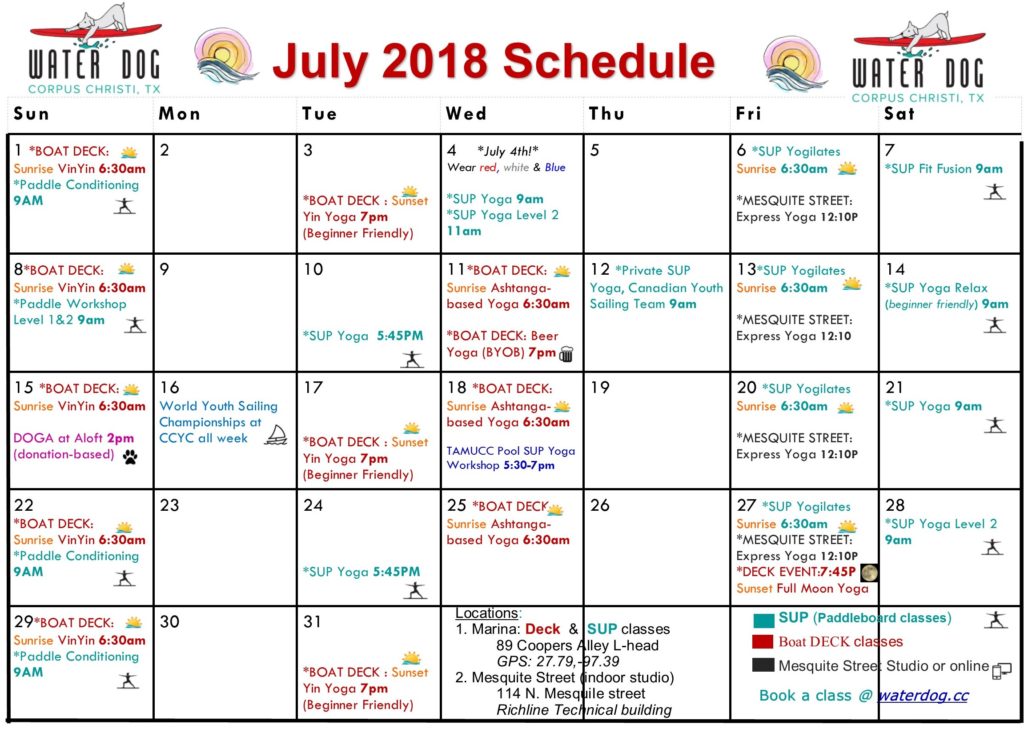 This month Corpus Christi is hosting one of the largest International Sailing events in the World: The World Sailing Youth Championship. This is a prestigious honor for Corpus Christi and their sailing program. Since 1971 it has only held in the USA three other times, in Fort Worth, San Diego and Newport, RI and the last time it was in U.S waters was in 1996
Youth from over 65 countries around the world will be competing on four different race courses in the Corpus Christi Bay all day July 16-20th. If you would like to come and watch it can be viewed from Cole Park, the Emerald Beach Hotel, McGee Beach, and the south breakwater near Water Dog (accessed via the Water's Edge Park)
Owners, Stacie & Josh will be volunteering at the races all week long. Josh Richline is volunteering IT services from Richline Technical Services and Stacie will be out on the bay helping the US Sailing crew with social media. If you would like to become involved as a volunteer follow this link to sign up. (https://goo.gl/gp396P)
Although activities are center around the Emerald Beach Hotel and Water's Edge Park, allow extra time to find parking for Water Dog classes this week as the area surrounding the yacht club will be busy with volunteers and race committee.
July 4th SUP Classes
We are holding two classes the morning of July 4th: 9am-SUP Yoga and 11am-SUP Yoga Level 2. For these classes each participant will receive special red and blue star spangled sunglasses!
About Level 2 SUP Yoga held on July 4th and July 28th:
Nervous about trying our level 2 class? Don't be intimidated by the name of the class, this will be a playful & fun class with plenty of options and modifications, as are all Water Dog classes.
What to Expect: We will start the class getting yogis used to the board with a warm up leading into Sun Salutations. The vinyasas and poses are not necessarily intermediate or advanced on land, but they will be challenging on a floating mat. We will focus on core exercies and strength along with challenging intermediate SUP poses & inversions like Warrior 1 & 2, crow, headstand variations, and maybe even one of the most challenging pose on a board – tree pose! There will be "yogi play time" at the end of class to try whatever other poses you want to work on. Take your yoga practice to a whole new level on the water!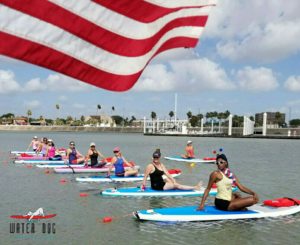 July 8th Paddle Workshop with Guest Instructor Briana Artega
This month on Sunday July 8th, instead of having our regular Paddle Conditioning class, we will be having a Paddle Workshop. Both Level 1 (including complete beginners) and Level 2 paddlers will be accommodated.
SUP Racer and yogi, Briana Artega will be leading the level 2 paddlers. She will help to improve your form and paddling technique, allowing you to paddle more effectively and efficiently. Level 1 students will work with Stacie on the basics and becoming comfortable on the board. We will have fun paddle races at the end of the workshop with prizes for the winners.
*To find our more about Briana, check out her Bio in the About Us section of our website.
Come play and do yoga with adoptable dogs from the Gulf Coast Humane Society at Aloft Hotels this month! This yoga class will be donation-based with proceeds going to the Gulf Coast Humane Society. Our Doga classes are designed to be all levels where we will paws and reflect often in class to pet and play with the pups.
SUP with your Pup
It's finally happening!
In June Water Dog partnered with Andrea Bogle of Animal Smart Training to bring you our first "SUP with your PUP" event. This first class was designed to introduce you and your pup to the SUP board on land! This class was the Introduction to getting you and your dog ready for a real "SUP with your Pup" Events including helpful steps for practicing at home.
*Check back later this month for the next "Land Intro" and more "SUP with your Pup" classes and events. If you would like to progress to taking your dog out on a SUP it is required you come to one of our paddle conditioning classes or Paddle Workshops first. Private paddle lessons are available as well, call to schedule one!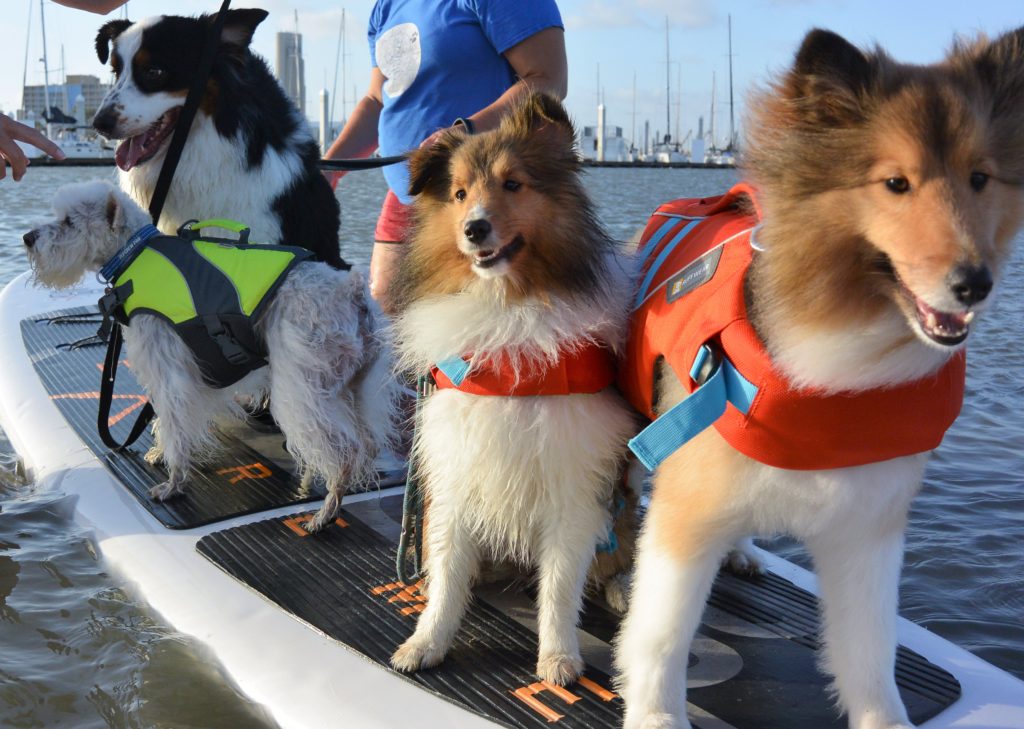 Other Special events in July:
Wednesday July 11th –  7pm – Beer Yoga is back! BYOB, bring can's only please, and watch the ending of the Wednesday evening Sailing races
Wednesday July 18th – 5:30pm – Pool SUP Yoga Workshop at TAMUCC, available for students and staff
Friday July 27th 8pm – Full Moon Gentle Yoga, Meditation & Ceremony, including a custom macron from Moonlight Macrons!
*Call to book a private lesson or event with friends! 361-760-1050
Please check us out or come back to visit us!
Thank you again for all of your support of Water Dog!
Namaste,
Stacie & Josh Richline
Water Dog Floating Yoga