About April: Weather permitting, classes will be outside on the boat deck or on stand up paddleboards. If it is rainy or extremely windy deck classes may be moved indoors to our Mesquite Street studio and participants will be notified by text.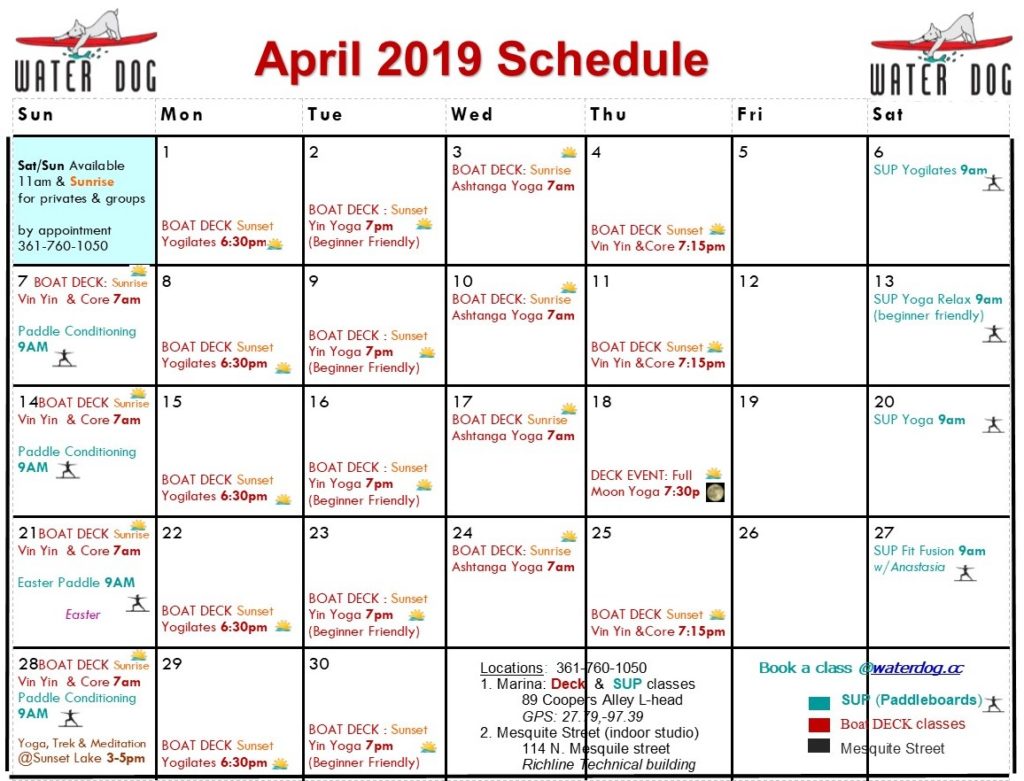 NEW: Yoga, Trek & Meditation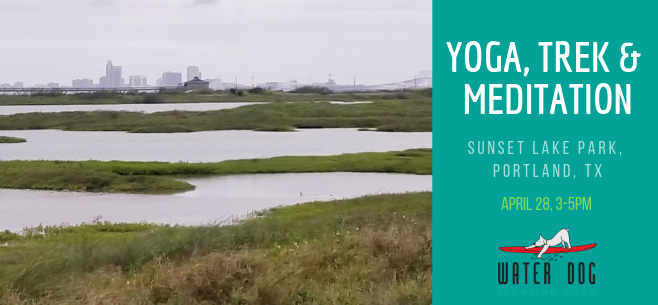 Join Water Dog on this adventure; enjoying nature and the beauty of the lake as we trek sunset lake trail in Portland, TX. We will complete the trek with some gentle yoga and meditation, enjoying the outdoors and the natural beauty that surrounds us.
DETAILS:
Trek: About 1 hour (2.75 miles)
Yoga & Meditation: 45 mins
Location: Sunset Lake Park in Portland, TX (map & location coming soon)
What to Bring: Water, yoga mat (that you don't mind getting sandy & dirty), sunscreen/hat and a towel
Cost: $20 – book at https://waterdog.cc/booking
Private Groups & Events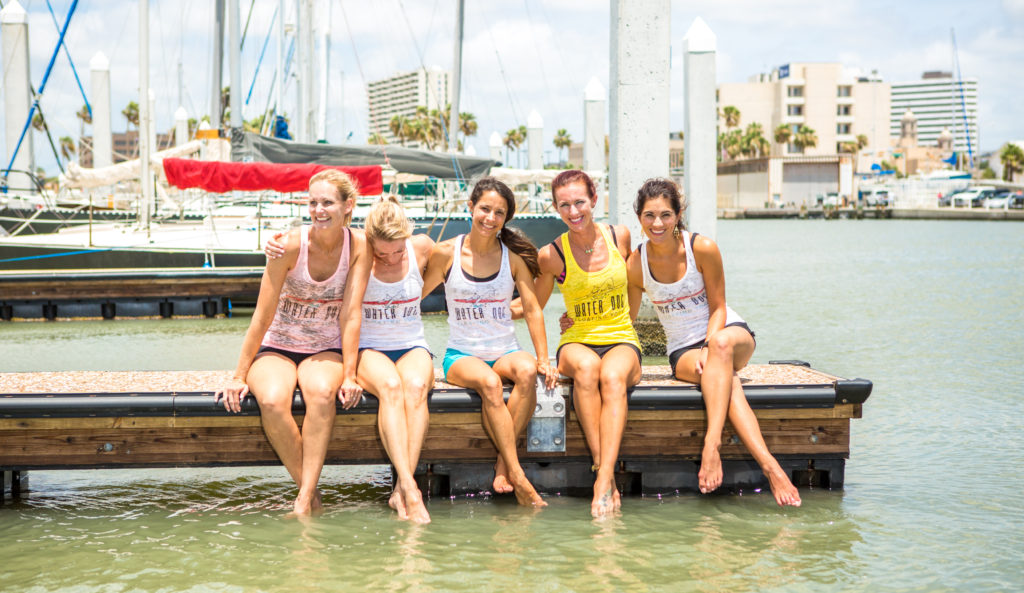 Experiences are often better when shared with friends and family. Get a group of friends together and schedule a private class with us. You can choose your style class from relaxing SUP yoga to invigorating SUP Yogilates to a paddling tour or even a class on the deck ***Generally we will have Saturday and Sunday morning available at either Sunrise or 11am. Give us a call (361-760-1050) to secure your date and schedule an event for your group.
Weekend SUP & Paddle classes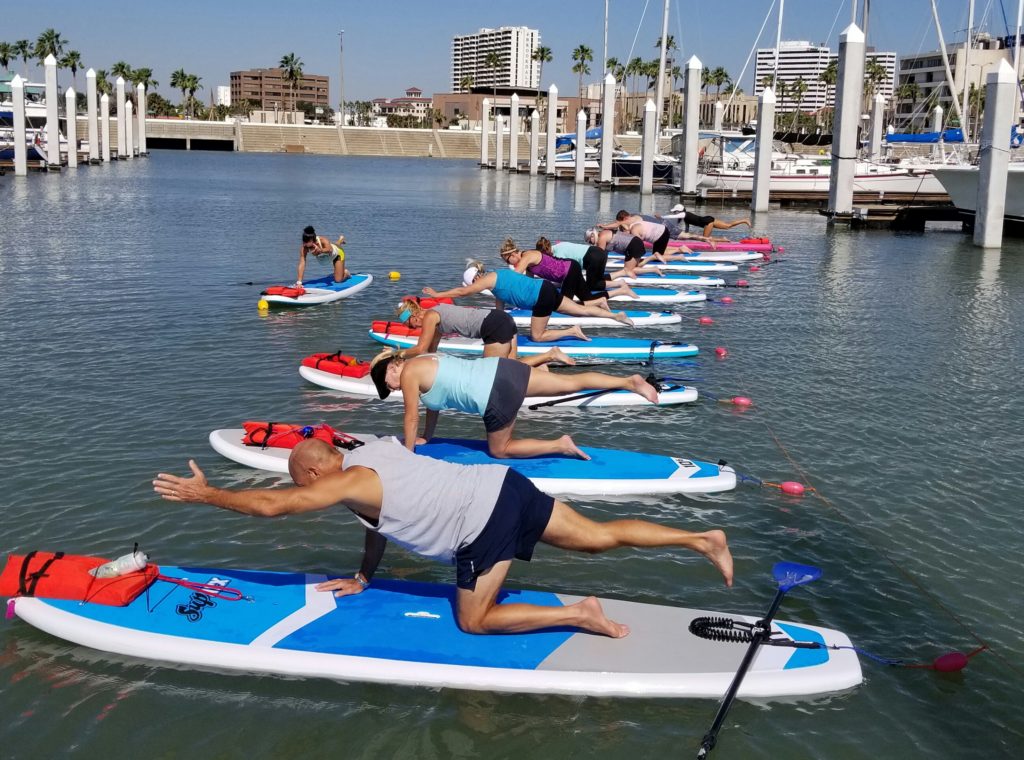 We are holding 9am SUP classes almost every Saturday and Sunday morning. Saturday morning's class will be a SUP Fitness class like SUP Yoga, SUP Fit, SUP Yogilates or SUP Yoga Relax. Sunday morning we will hold a Paddle Conditioning classes, which is a group paddle in and around the marina.
New deck class: Vin Yin & Core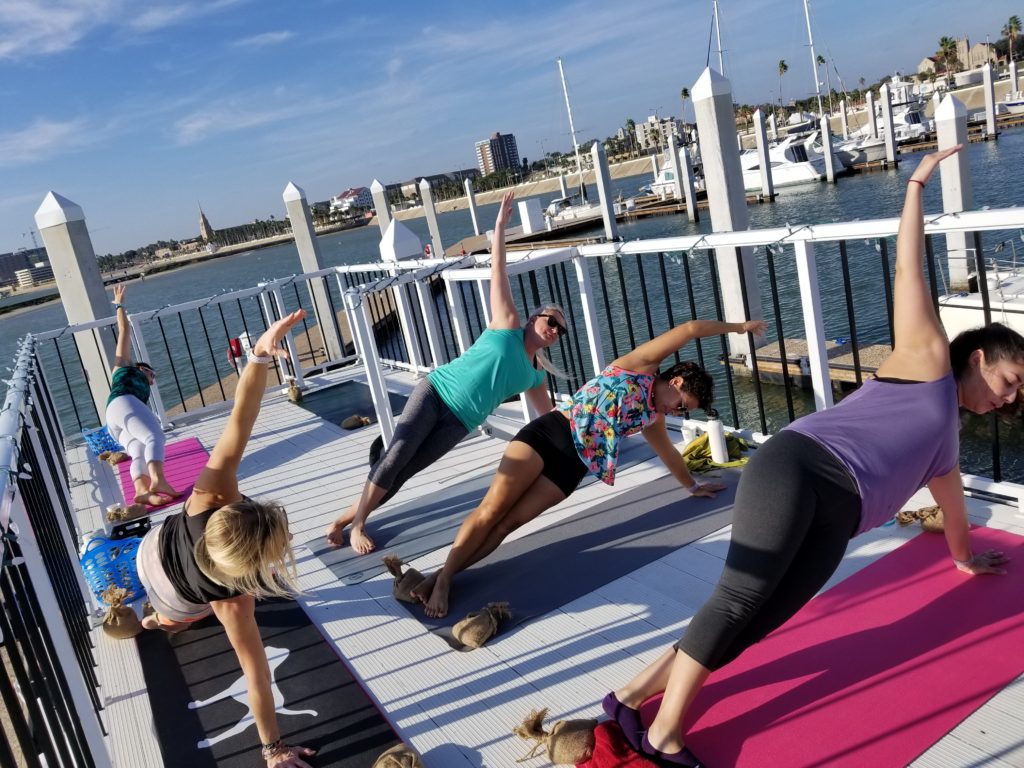 For Vin Yin & Core, the first part of class is VINAYASA style, incorporating movement with breathe. We will do sun salutations adding on poses and sequences and finish with some CORE intensive exercises. The second part of class will be YIN yoga which is slower, more relaxing and more meditative. Poses will typically be held between 3-5 minutes. Class will finish with a blissful savasana or relaxation.
WHEN: Thursdays at 7:15pm finishing at sunset
Summer Mermaid Squad Memberships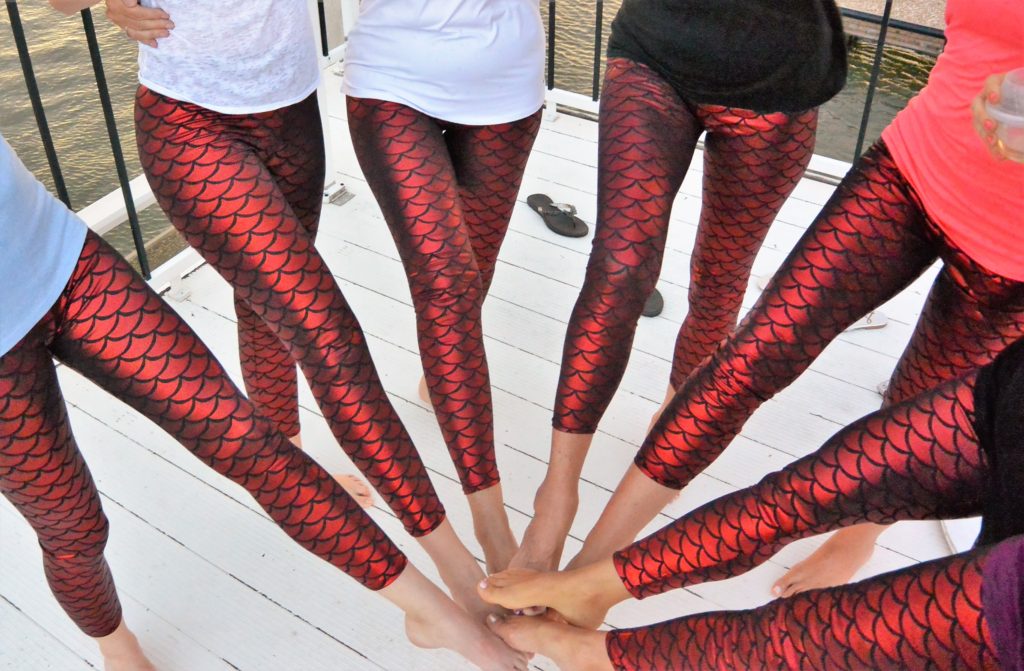 Be sure to look out for our MERMAID SQUAD membership packages that will be available starting in May! These packages will be good for 3 months – the entire summer! We will have options for Deck-only, SUP-only and a combination of SUP & Deck classes.
***All memberships will include mermaid leggings, an online group, 10% of other classes, events & gear, and mermaid socials! Check back on the Mermaid Squad tab on our website and follow our Facebook page for more information that will be coming soon! 
*Call to book a private lesson or event with friends! 361-760-1050
Please check us out or come back to visit us!
Thank you again for all of your support of Water Dog!
Namaste,
Stacie & Josh Richline
Water Dog Floating Yoga