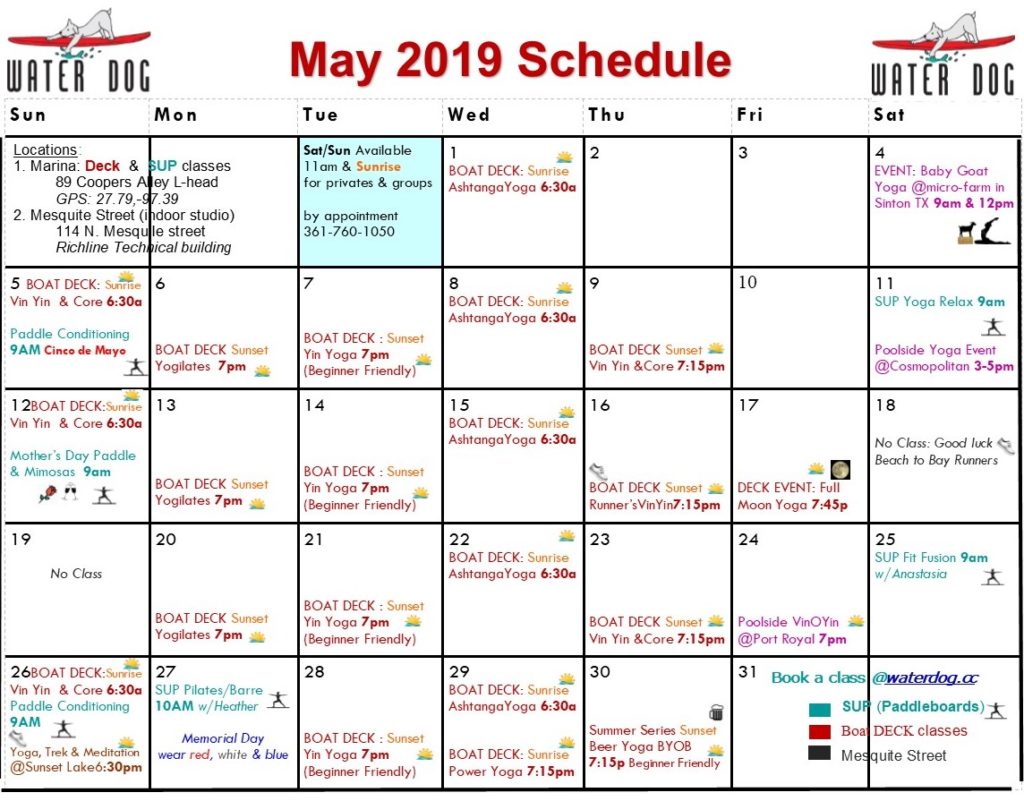 Baby Goat Yoga round 2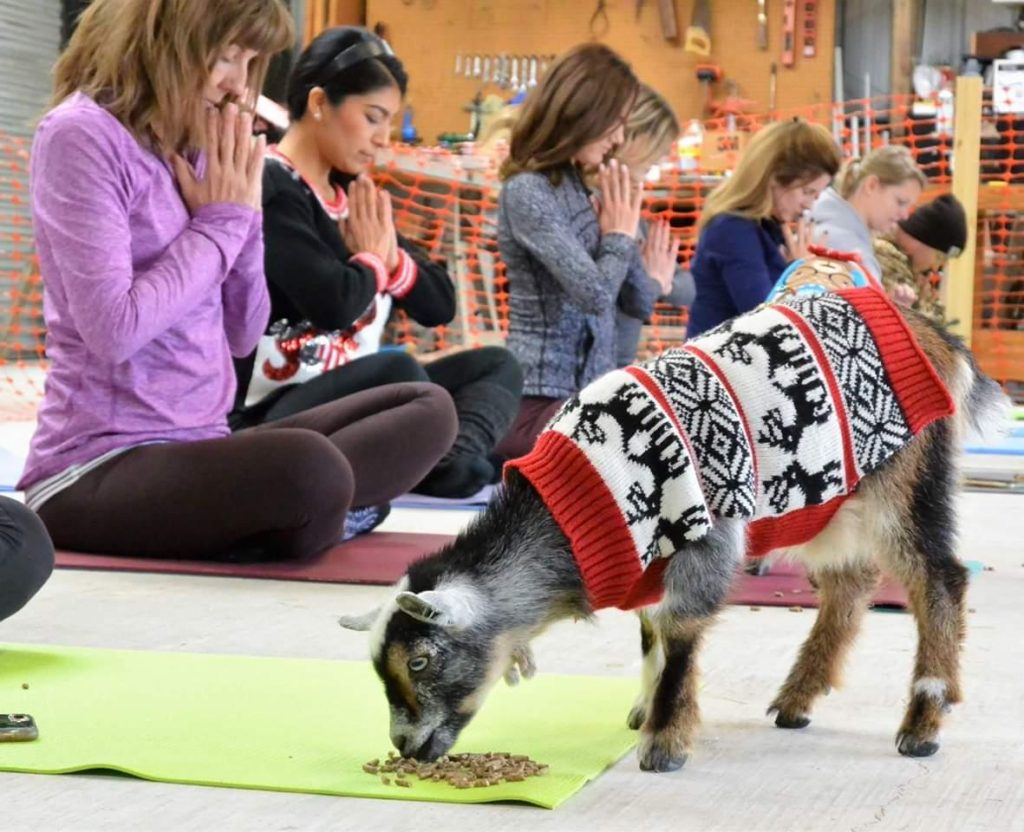 We didn't expect another set of babies this soon, but we are excited! If you came to the first baby goat yoga event in December, Blossom (the black goat in the red dress) and her sister will be back! This special event is in partnership with a local "micro farm" in Sinton, TX and half the proceeds go to them. The ??‍♀️yoga portion of the event will be family-friendly. Afterwards, you will have time to hang out at the farm, see?baby bunnies,?chicks and even?turkeys! You can enjoy complimentary?refreshments, including homemade?yogurt! Additional homemade farm products will be available to purchase.
WHEN: Two classes: Saturday May 4th at 9am and 12pm
WHERE: A "micro farm" about 30mins outside of downtown Corpus Christi in Sinton, TX (Directions, including the address will be emailed to registered participants).
Plan to be outdoors, but we will have an indoor option available if the weather doesn't cooperate.
COST: $30 for adults. Children 15 and under are half price – Use promo code "goat15" – you must register your child separately for the discount.
*Limited spots per time slot-reserve your spot online at https://waterdog.cc/booking
**A few extra mats will be available, but brings yours with a towel that you don't mind getting dirty
Our Mermaid membership packages are now available to book! These packages will be good for 3 months. We will have options for Deck-only, SUP-only and an combination of SUP & Deck classes.
***All memberships will include mermaid leggings, an online group, 10% off other classes, events & gear and mermaid socials! Check out the Mermaid Squad tab on our website and follow our Facebook page for more information and to join!
Power Flow with Randi
Strengthen and stretch your entire body in this flow-based power Vinyasa yoga class. Structured off the Baptiste 'Journey into Power' sequence this class is designed to be challenging, engaging and empowering for all levels of practitioners from beginner to advanced.
Yoga instructor, Randi Wiley, will be leading this class one Wednesday each month at 7:15pm, finishing at sunset: May 29th, June 19th, July 17th & August:14th
Guest SUP Instructors Memorial Day Weekend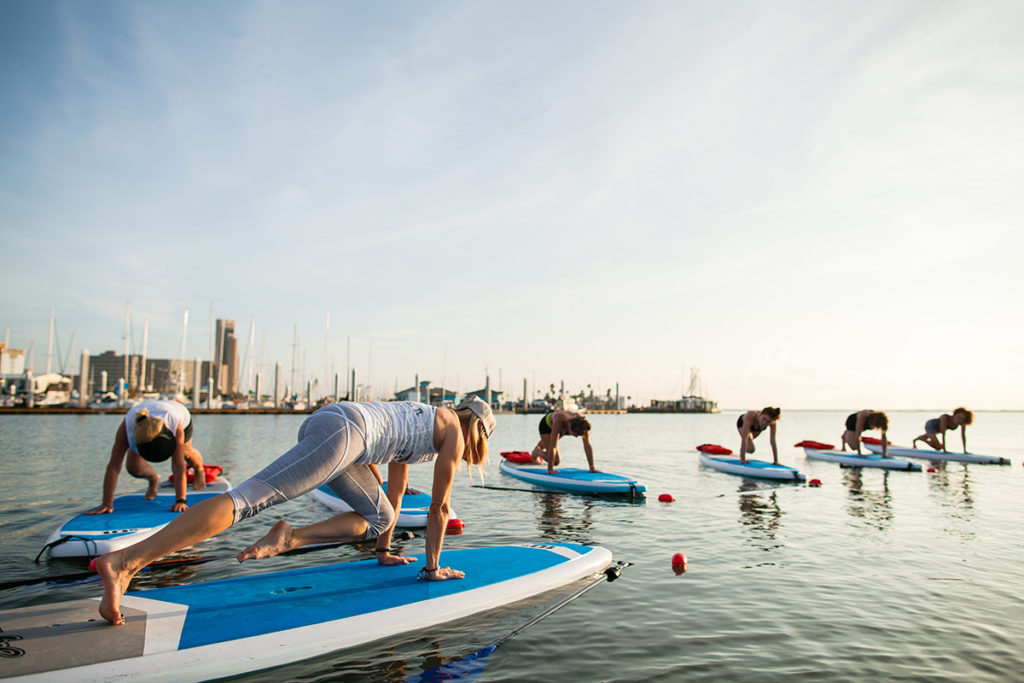 We have two special SUP Fitness classes Memorial Day weekend with our guest instructors. Join Anastasia Nichols Saturday May 25th at 9am for SUP Fit Fusion and Heather McVay Monday May 27th at 10am for SUP Pilates/Barre. Wear your red, while and blue during this holiday weekend. We will also be holding our regular Sunday Paddle Conditioning class at 9am May 26th. Bring your friends and family and plan to spend some time being active out on the water!
Yoga, Trek & Meditation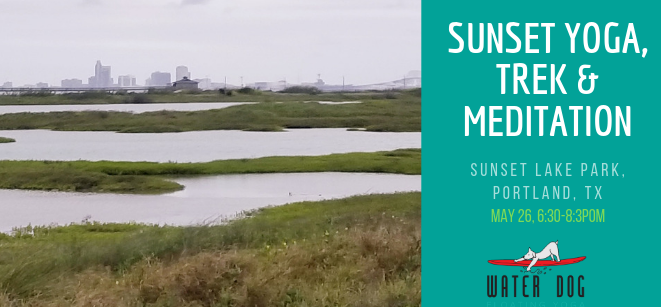 Join Water Dog on this adventure; enjoying nature and the beauty of the lake as we trek sunset lake trail in Portland, TX. We will complete the trek just before sunset with some gentle yoga and meditation, enjoying the outdoors and natural beauty that surrounds us.
DETAILS:
Trek: About 1 hour (2.75 miles)
Yoga & Meditation: 45 mins
Location: Sunset Lake Park in Portland, TX (map & meeting location coming soon)
What to Bring: Water, yoga mat (that you don't mind getting sandy & dirty), sunscreen/hat and a towel
Cost: $20 – book at https://waterdog.cc/booking
*Call to book a private lesson or event with friends! 361-760-1050
Please check us out or come back to visit us!
Thank you again for all of your support of Water Dog!
Namaste,
Stacie & Josh Richline
Water Dog Floating Yoga