February & March 2020 Schedule:
Note: Registered participants will receive a text before class which studio we will be in. If its cold or rainy, we will be indoors at Mesquite Street. *Check back on our website for any schedule updates!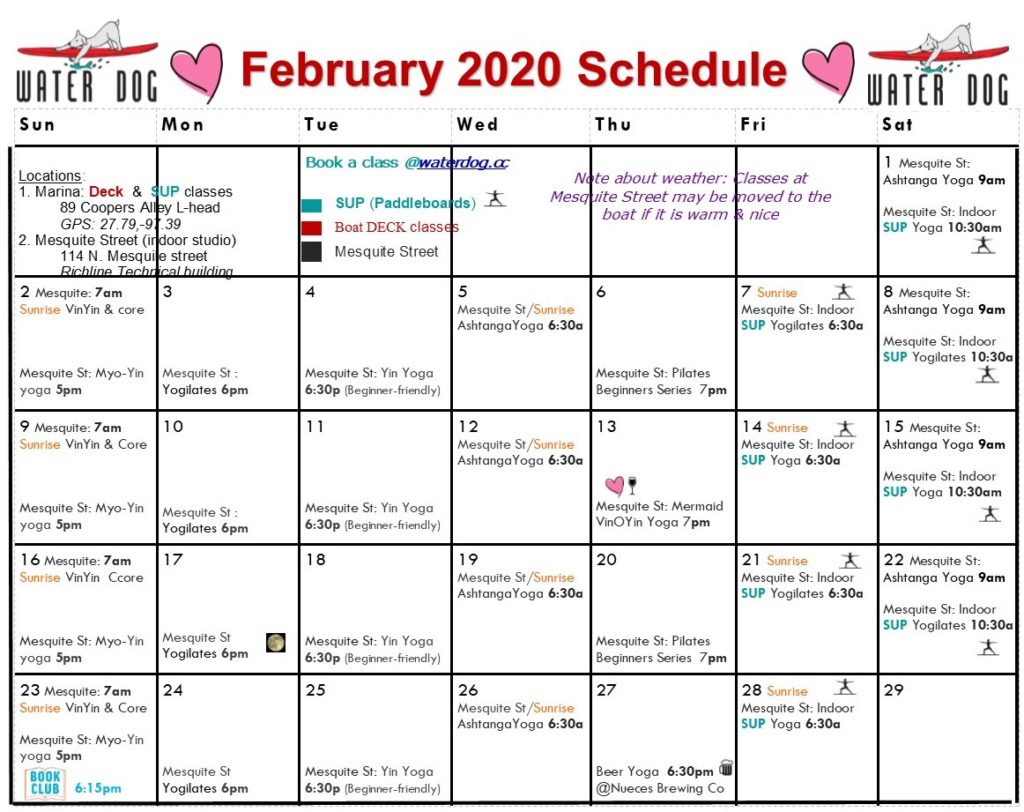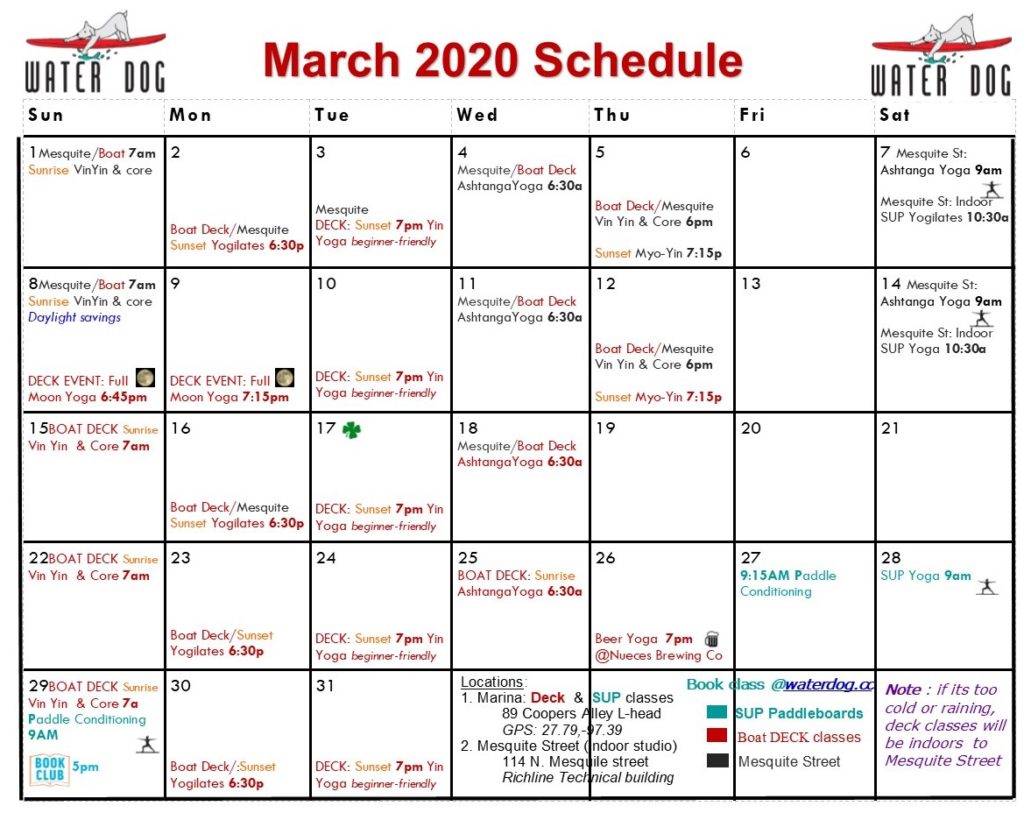 Special Thursday Classes in ? February ?
Thursday Feb. 13th 7pm: Galentine's Day VinOYin Yoga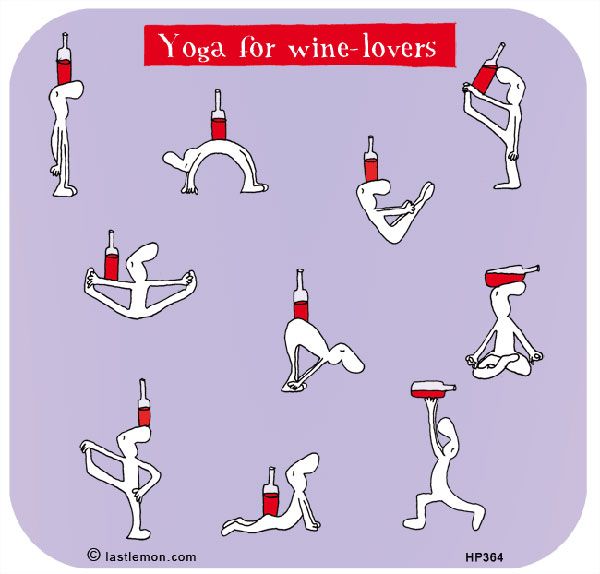 Join us on Galentine's Day for a special VinOYin yoga class, celebrating friendship!? A complimentary glass of wine will be provided for all participants. The first part of class is VINAYASA style, incorporating movement with breathe, increasing internal heat, cultivating balance, flexibility, strength and endurance. In the second part of class, we will slow down with more meditative YIN yoga. Poses will be held longer getting into the connective tissue of the body and improving flexibility, this is the part where we also mindfully sip wine. This FUN combination allows for the best of both worlds of yoga!
Thursday Feb. 27th 6:30pm: Beer Yoga at Nueces Brewing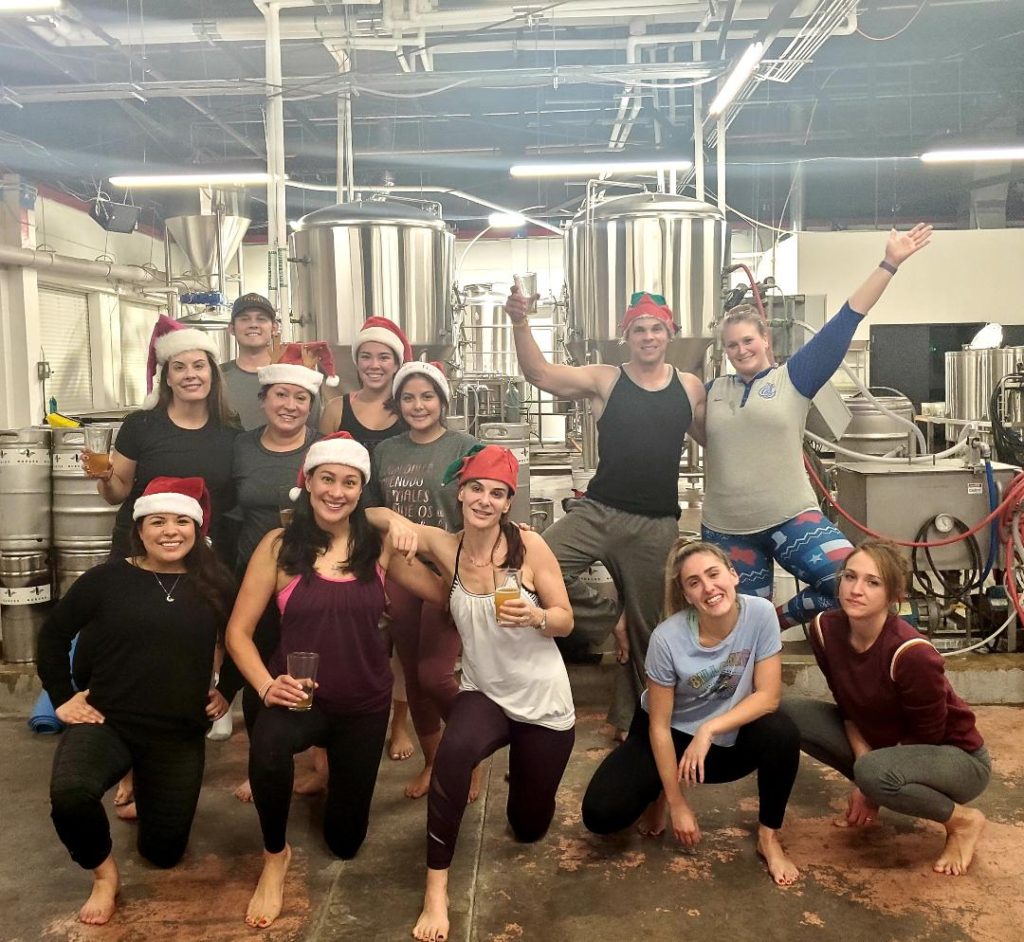 Yoga and drinking beer are both relaxing: For this special class we will focus on slowing down and being present, incorporating our beer mindfully into our poses. No yoga experience is necessary, just an open mind and love of beer. Details: Class starts at 6:30pm, but come early to get your beer and set up. The cost is $15 and it includes your first beer. You must register for class online through Water Dog's website. Please bring your own mat. If the weather is nice we'll be on the deck and if not we'll be inside the brewhouse where it gets nice and toasty!
Indoor SUP Yoga & SUP Yogilates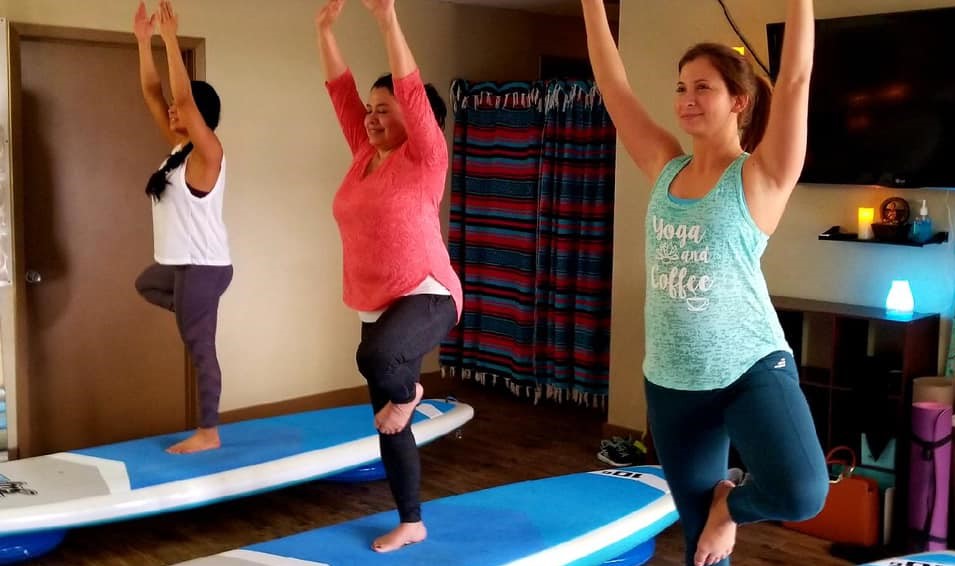 Have you been anxious to try SUP Yoga and fitness, but afraid to fall in the water? Wanting to build your balance and core strength to take your practice to the next level? Challenge yourself and build your confidence for Spring/Summer SUP classes with our indoor SUP fitness workshops this winter! We will bring a limited number of our SUP Fitness boards to Mesquite Street Studio for indoor SUP yoga/fitness workshops this winter. We will use balance/stability cushions under the boards to simulate the feeling of being on the water on an unstable surface, while removing the fear of actually falling in the water!
When: Friday mornings at 6:30am and Saturday mornings at 10:30am
Where: Mesquite Street studio (114 N Mesquite St. in the Richline IT building)
Cost: $20 per board for a drop-in OR Indoor SUP class 6 pack for $100 (only $16 per class). *Only 5 boards available per class. You can purchase a package at the bottom of our website or in the Customer Area.
Book a Private Group, Private Event or Private Class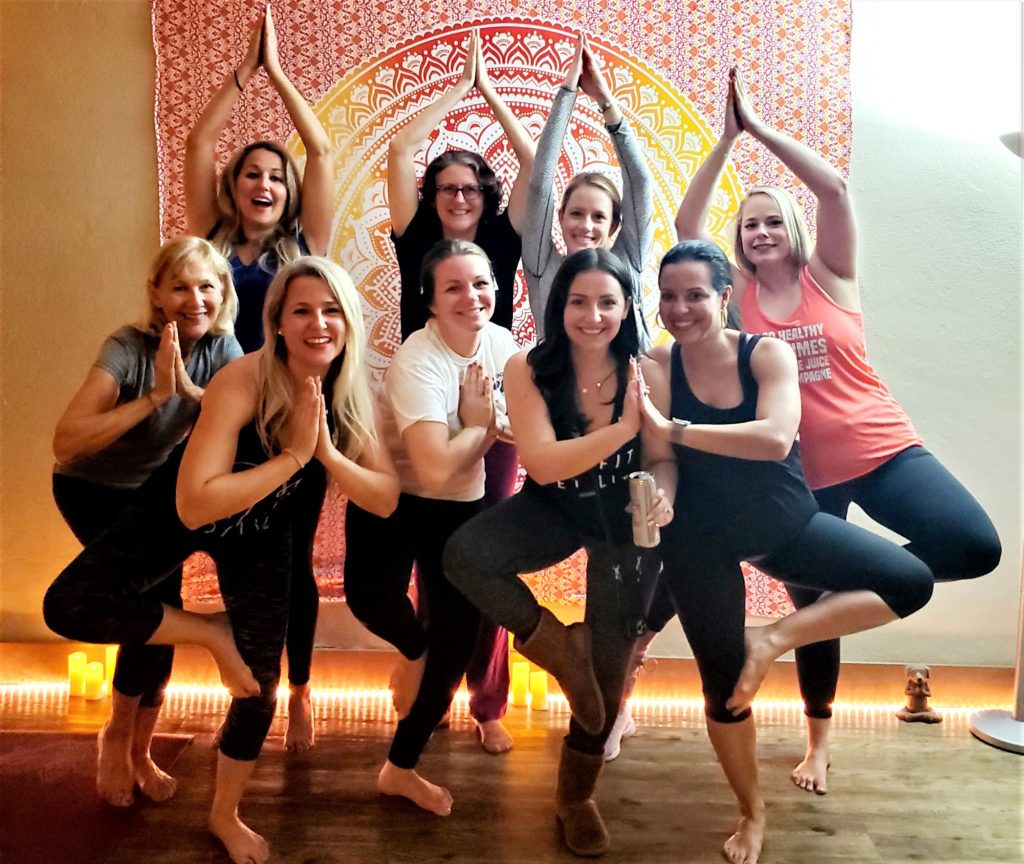 We had so much fun with this group of ladies who booked a private VinOYin yoga class at Mesquite Street. And almost everything is more fun with your friends! At Water Dog we love customizing your yoga or fitness experience. We offer private classes and private groups classes. You can choose from an indoor experience at Mesquite Street or on the boat deck (weather permitting) or at your place of choice. Starting in March we also offer private group paddle lessons & tours along with SUP Yoga groups or even birthday parties!
***To find out our rates and more information go to the 'Groups & Privates' tab on our website under 'Classes'.
Water Dog Book Club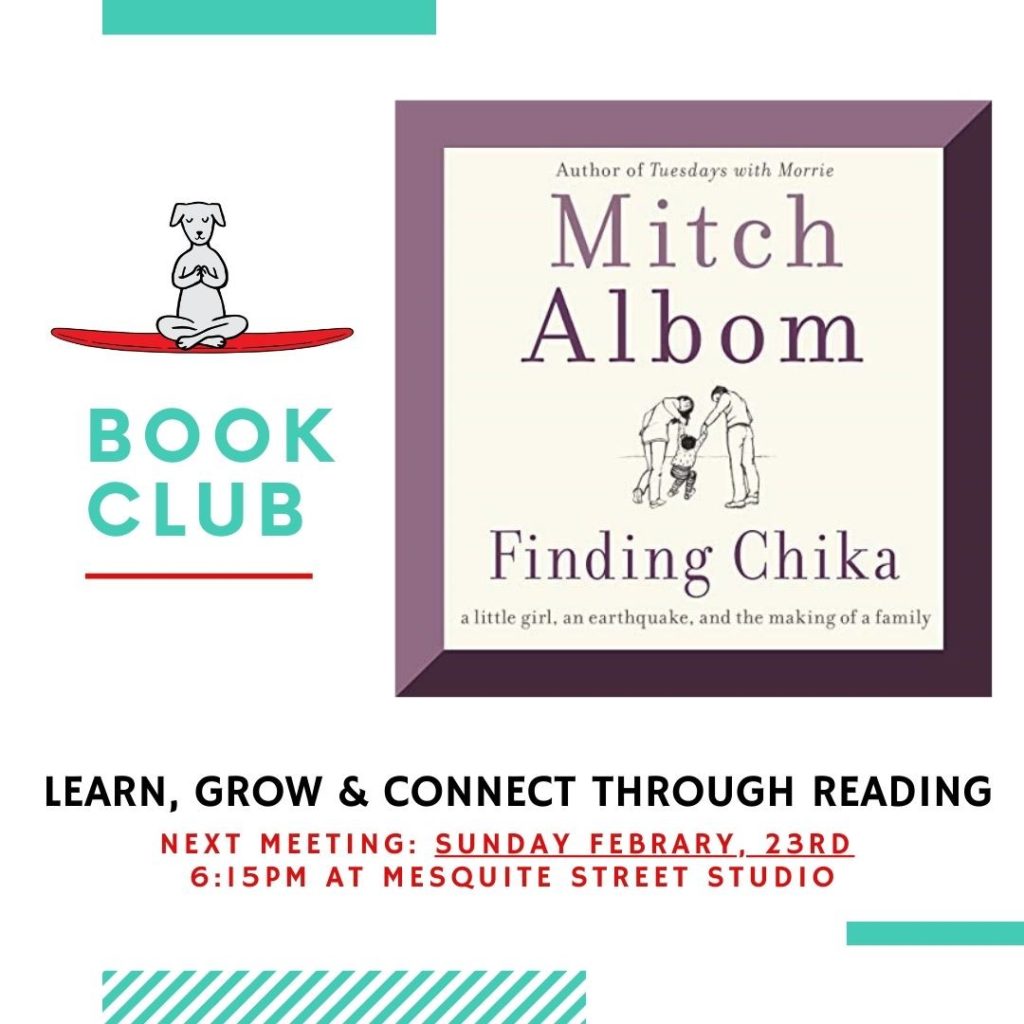 We will be holding our second book club meeting at the end of February. Our intention for this book club is to bring together our community; yogis, book (&wine;) lovers and friends. The meeting will be lighthearted and we will go through set discussion questions, but feel free to bring your own. Please come with some great book ideas and suggestions for the next meeting! **If you are interested in joining our book club group go to the 'groups' tab on our Facebook page and request to join or send us a message.
THE DETAILS:
WHEN: Sunday Feb.23rd at 6:15pm
WHERE: Mesquite Street Studio
WHO: Water Dog customers, fans & friends
BOOK: 'Finding Chika' by Mitch Album
WHAT TO BRING: Snacks & wine (its a book club, duh) to share
Thank you again for all of your support of Water Dog!
Namaste,
Stacie & Josh Richline
Water Dog Floating Yoga