About March: This month we will be transitioning from indoors to outdoors and we'll be starting SUP classes at the end of the month! We now have our new Spring/ Summer Mermaid Squad membership packages available that are good for three months! You can choose deck-only classes, SUP-only classes or a combination of both! 
Full Moon Yoga, Meditation and Ceremony Events
Enjoy the meditative qualities of the moon, the wind and the waves at Water Dog Floating Yoga. Calming lights on the deck will guide you during a gentle yoga flow that will include moon salutations in honor of the moon and its energies along with a short meditation, intention setting and Full Moon Ceremony with a special ceremony bag included.
We will hold two events in March: Sunday March 8th and Monday March 9th. In the first class, the moon rises earlier. before dark. In the second class, the moon rises towards the end of class in time for the mediation. Both are magical experiences. Reserve your spot online as these classes can fill up: https://waterdog.cc/booking
*NEW* Thursday evening deck classes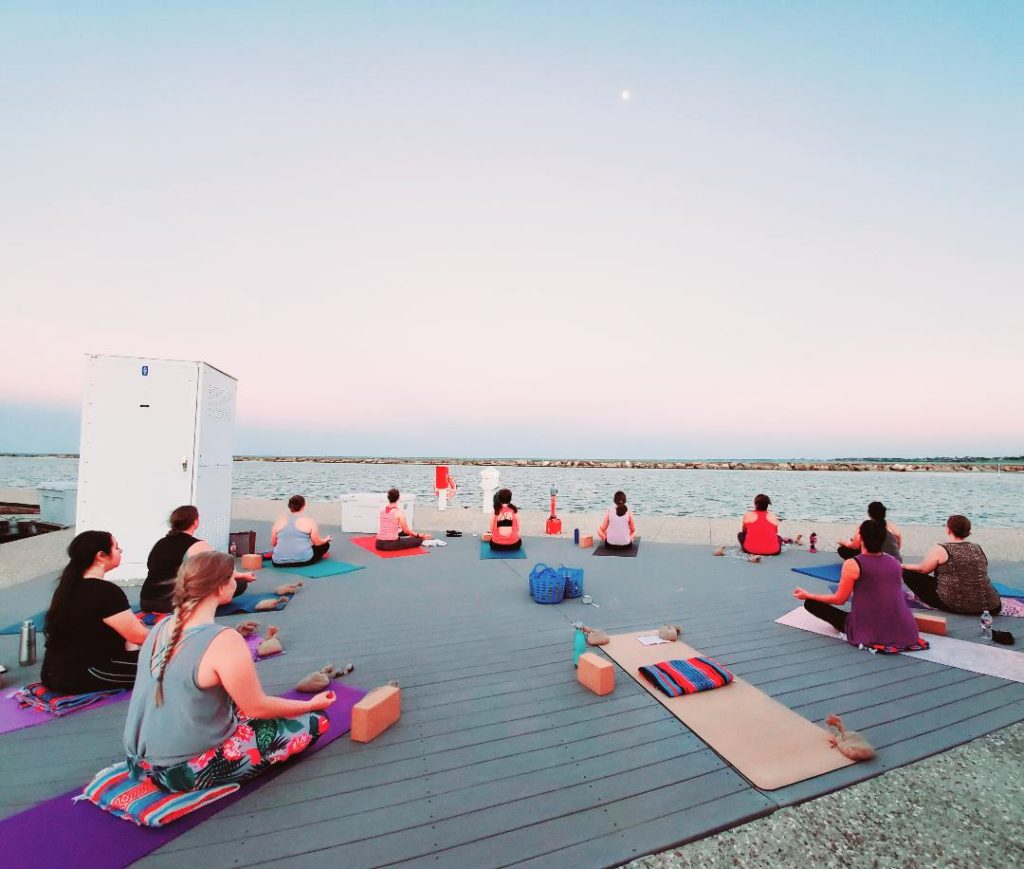 We are changing it up Thursday evenings and now offering TWO classes! At 6pm we will have Vin Yin & Core. The first part of class in Vinyasa style including flowing movement and core work. The second part of class is Yin which will be a deep stretch where poses are held longer, getting into the connective tissues of the joints, ligaments and even bones.
The second class will be held during susnet at 7:15pm. This will be a Myo-Yin which will fuse together Yin yoga poses and myofacial release techniques using therapy balls. These techniques deep into the myofacial tissues and help remove knots and tension spots. Myo-Yin is a great way to spend a relaxing evening and help you sleep better.
Generally the last Thursday of the month we will be at Nueces Brewing Co. for a special Beer Yoga class!
Stand-up Paddle (SUP) Fitness & Paddle Conditioning
We can't wait to start our on-water SUP season starting at the end of March!

About ALL SUP Classes: SUP is short for Stand Up Paddleboard. Boards, paddles, lifevests and all equipment is included in the cost of the class. Our boards are high quality SUP fitness boards that are stable, wide and grippy. At the start of each class, Water Dog provides on-deck safety & paddle instruction and we aim to make all of our classes beginner-friendly with variations for all-levels. *All classes must be reserved online through our Booking tab as there is limited availability.
On Saturday mornings we generally alternate between different styles of SUP Fitness classes appropriate for all-levels. These classes include: SUP Yoga, SUP Yoga Relax, SUP Yogilates, SUP Pilates & SUP Fit Fusion. We focus on basic fitness moves connecting with nature, the wind, the waves & the water. For a description of each of these classes, go to the SUP tab under 'Classes' on our website.
Sunday mornings we hold Paddle Conditioning style classes. This is a group paddle inside the marina and the bay. The route is chosen based on wind, weather and experience level of the group. We will provide tips, techniques, paddling instruction and advice to get the most out of your workout. This year we will be incorporating more interval work to really get in a fitness conditioning workout. There are always options for any level and its perfectly fine to stay seated or on your knees.
Spring/Summer 2020 Mermaid Squad Memberships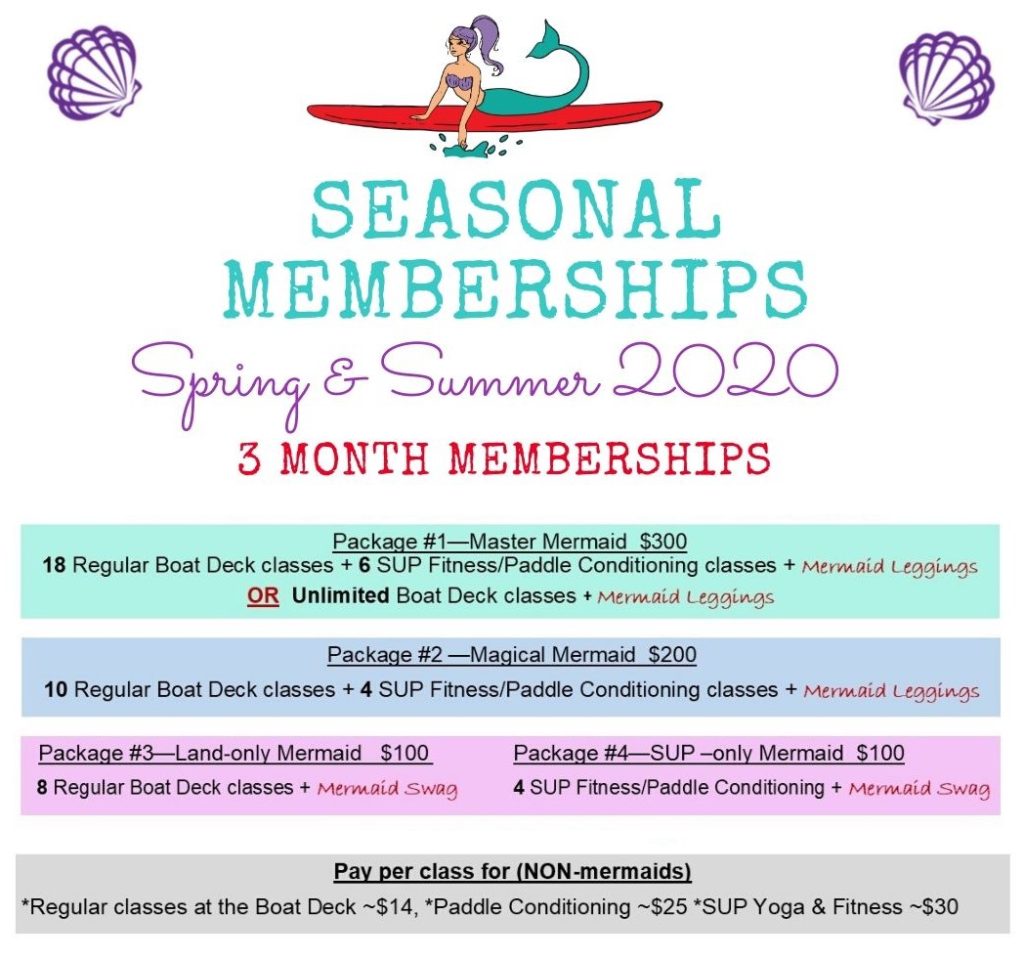 Our Spring/Summer 2020 Mermaid membership packages are now available! These packages will be good for 3 months. We have options for Deck-only, SUP-only and combinations of both to suit any type of mermaid or merdude!  Check out the Mermaid Squad tab on our website for more information and to join!
*NEW* COMING IN APRIL: POOL SUP Fit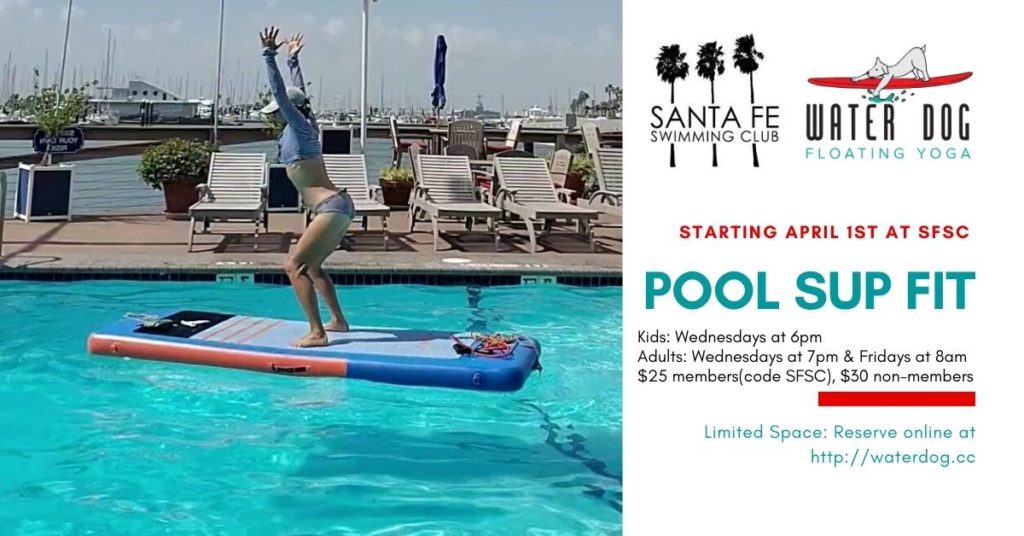 We are so excited as we have partnered with Sante Fe Swimming Pool to bring you Pool SUP Fit class.These classes are done on inflatable SUP Fit Mats which are perfect for the pool – expect to get wet as we will start out IN the water – but not to worry as Sante Fe pool is heated is the spring & fall!
Check out our class descriptions here:
Pool SUP Fit
Change up your fitness routine with our Pool SUP Fit classes. Expect a full-body workout combining elements of yoga, Pilates, fitness & fun! Find your inner peace, mixing it with planks, warriors and wobbles, using resistance bands & balls! You'll be having so much fun you won't realize how much you are toning, strengthening & stretching!
Kids Pool SUP Fit (7-15yrs)
Kids, prepare to get splashy with these high energy Kids Pool SUP Fit classes led by Water Dog Floating Yoga! We'll be mixing fun fitness moves with PLAY! Move from the mats into the water with FUN water games and competitions. Expect to use a combination of equipment like mats, noodles, rings and balls!
Water Dog Book Club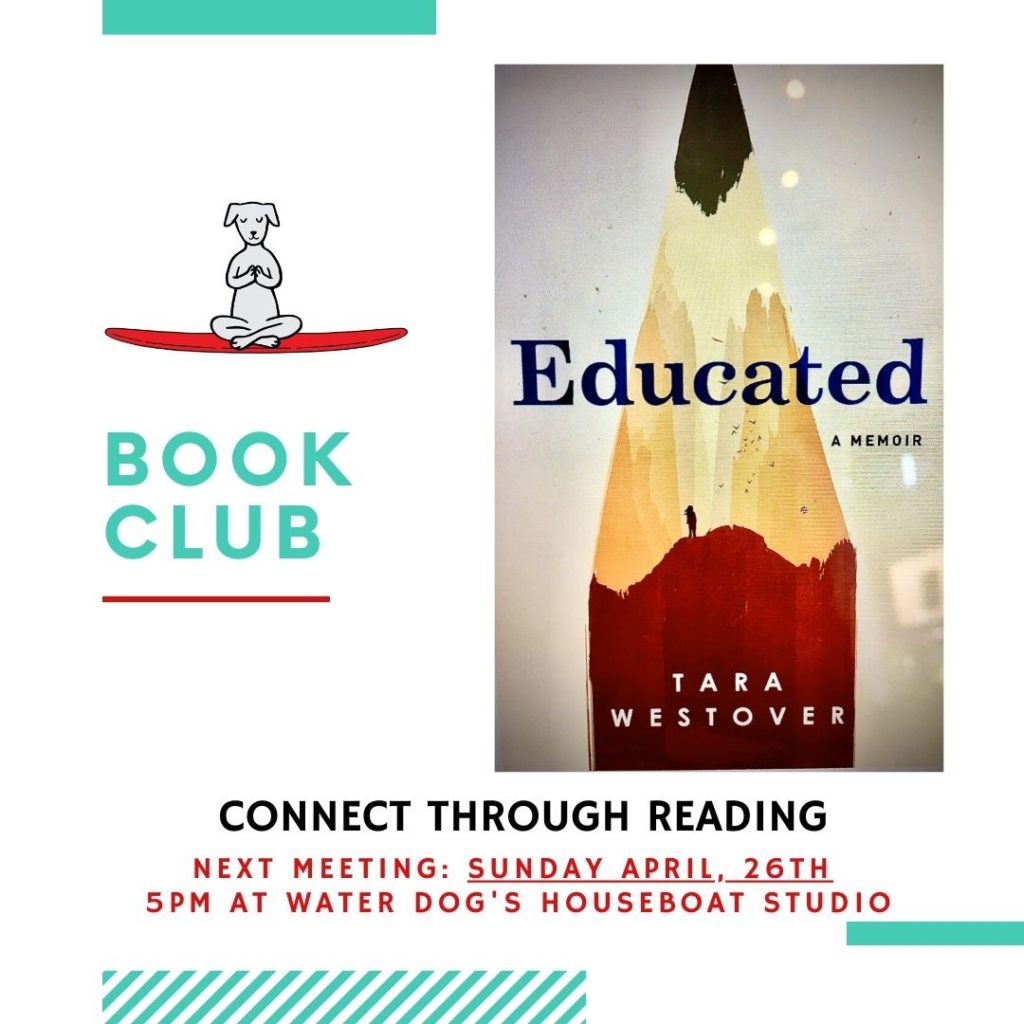 We will be holding our second book club meeting at the end of April. Our intention for this book club is to bring together our community; yogis, book (&wine;) lovers and friends. The meeting will be lighthearted and we will go through set discussion questions, but feel free to bring your own. Please come with some great book ideas and suggestions for the next meeting! **If you are interested in joining our book club group go to the 'groups' tab on our Facebook page and request to join or send us a message.
THE DETAILS:
WHEN: Sunday April 2th at 5pm
WHERE: Water Dog's Houseboat studio
WHO: Water Dog customers, fans & friends
BOOK: 'Educated' by Tara Westover
WHAT TO BRING: Snacks & wine (its a book club, duh) to share
*Call to book a private lesson or event with friends! 361-760-1050
Please check us out or come back to visit us!
Thank you again for all of your support of Water Dog!
Namaste,
Stacie & Josh Richline
Water Dog Floating Yoga