Howdy from Water Dog,
Water Dog is super excited to announce the opening of our MESQUITE STREET STUDIO this month. This is an indoor studio located in the heart of downtown Corpus Christi, less than 5 mins way from our marina location! Read below for more information.
February Schedule: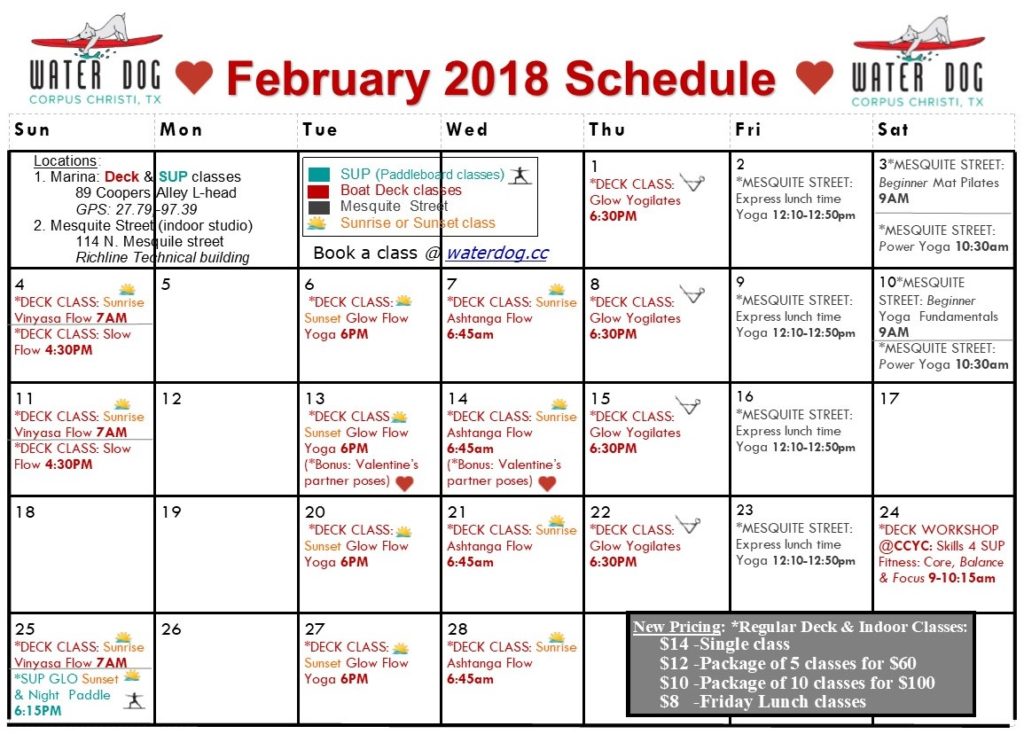 Our February schedule is attached and can be viewed in the "schedule" section of our website: Waterdog.cc. Classes are color coded below. Red indicates the Boat Deck with the option to move to the Mesquite Street Studio in cases of in-climate weather. Classes in Gray will be held at our new Mesquite Street Studio! Come check us out!
***NEW*** Mesquite Street Indoor Studio
WHERE: Richline Technical Building, 114 N Mesquite Street, next to Mama Mia's (less than 5 mins from our Marina location). Walking distance from most Downtown Office Buildings (in nice weather).
WHY: Having an outdoor studio has been a challenge during this cold winter. Water Dog has finally found a way to hold classes even when the weather is not cooperating.
WHAT: This space will serve two purposes:
1. When weather does not allow us to hold classes on the houseboat, we will hold class at Mesquite Street;
2.The Mesquite Street Studio will hold regular classes. This location be super convenient for people living and working downtown.
Friday Classes: Every Friday we will hold an Express Lunch Time Yoga classes for only $8. This class will include poses and sequences that will minimize your discomfort of sitting at a desk or being at an office throughout the day making it easier for you to focus on work. It will be from 12:10-12:50pm so you have time to get to class and back to the office without stress!
New Pricing for both the Boat Deck and Mesquite Street Studio
To keep things simple, we have made prices the same at both studio locations:
*Above is pricing for Regular Classes (Workshops and Special Events may have different prices)
*Packages can be purchased in the "Customer Area" at the bottom of our website: Waterdog.cc
*Packages can be used for both studios
*Packages are good for 6 months
Private and Semi-private class special through February
Take advantage the winter months and the small class size to really improve (or jumpstart) your practice! We are offering GREAT prices for Private or Semi-Private classes!
Choice of the Houseboat (inside or out on the deck) or the NEW Mesquite Street Studio.
PRIVATE:
$30 for 1 class OR 4 classes for $100
SEMI-PRIVATE (W/ A FRIEND):
$25 for 1 class OR 4 classes for $90
How it works: Purchase a Private or Semi-Private class or package in the "Customer Area" at the bottom of this website. You must call or email to schedule your class at a time that works best for you! Classes must be used during January and February 2018. PH: 361-760-1050 or [email protected]. If you are booking a regularly scheduled class, just go the Booking tab on our website.
Please check us out or come back to visit us! Follow us on our Facebook (WaterDog.CC) or instagram (waterdogcc) pages for updates and events! Please send us an email ([email protected]) if you have any feedback, we'd love to hear from you!
Thank you again for all of your support of Water Dog!
Namaste,
Stacie & Josh Richline
Water Dog Floating Yoga