Happy Holidays from Water Dog,
The perfect gift or way to start the New Year is with Water Dog gift certificate or membership to our Land Mermaid/Merdude Squad. Read below to find out more.
December Schedule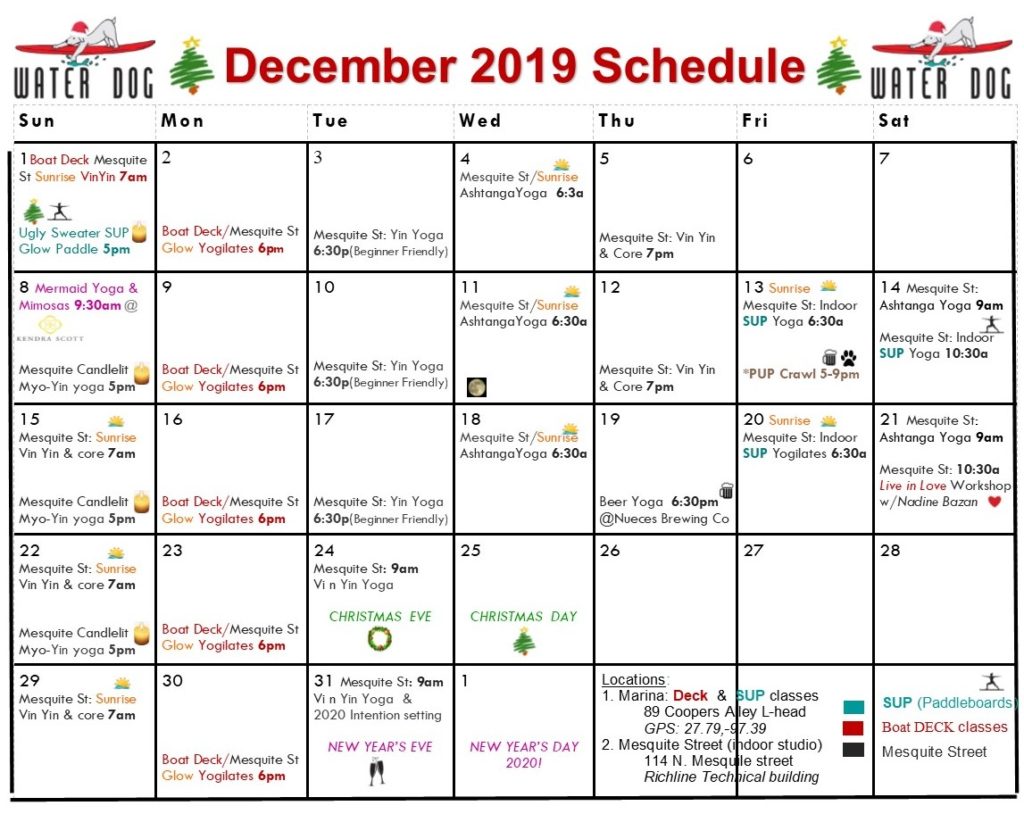 Pup Crawl: Pints with Pups on Patios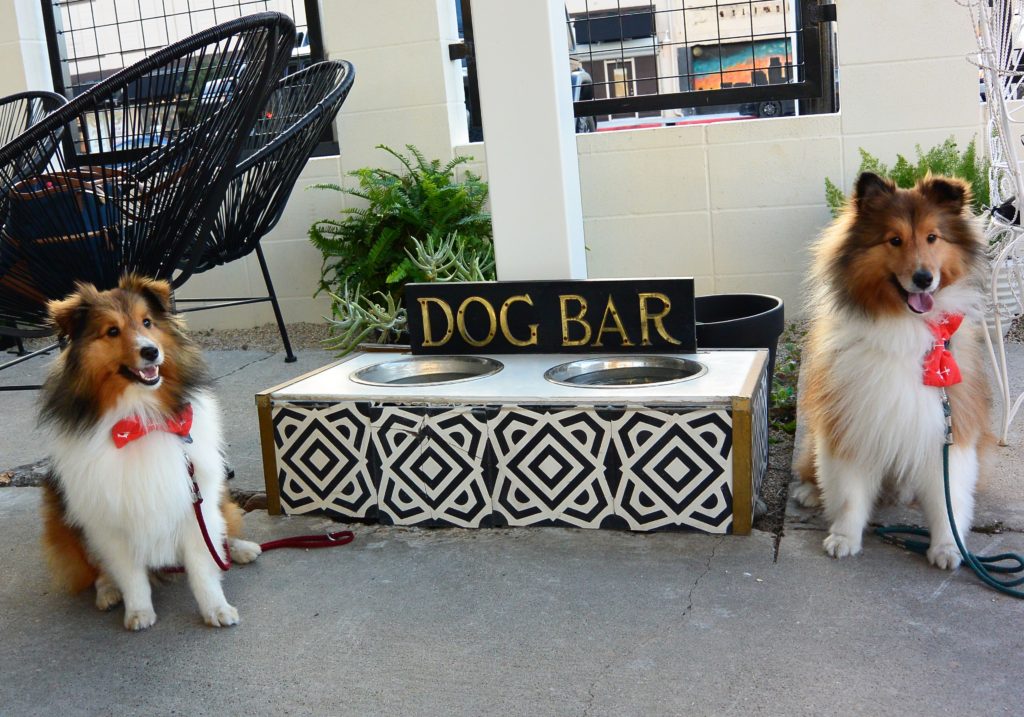 It's our 2nd Annual Pup Crawl! No, you read that right, instead of a pub crawl, we're putting on a pup crawl!?? Join us in Downtown Corpus Christi for "Pints with Pups on Patios". Bring your friends and your (well behaved) pups for a pint out in downtown Corpus Christi!?
WHEN: Friday December 13th
PARTICIPATING BARS: Executive Surf Club, Nueces Brewing, BUS and The Gold Fish
COST Free! But we will be accepting cash donations for the Gulf Coast Humane Society
COORDINATED BY: Water Dog Floating Yoga & Richline Technical Services
RUFF SCHEDULE? (45mins with 15mins in-between)
5-5:45pm – The Gold Fish
6-6:45pm – BUS
7-7:45pm – Executive Surf Club
8-9pm+ – Nueces Brewing
The Downtown Management District in the Marina Arts District is sponsoring a lighting competition and building a ?Peppermint lane? on Chapparal St. so we will stroll from dog friendly patio to patio taking in the ?lighting and decorations. Dress warmly in your favorite?sweater and bring one for your pups as this evening will be outside at all the dog-friendly patios in downtown Corpus Christi! ?
Live in Love Workshop with Nadine Bazan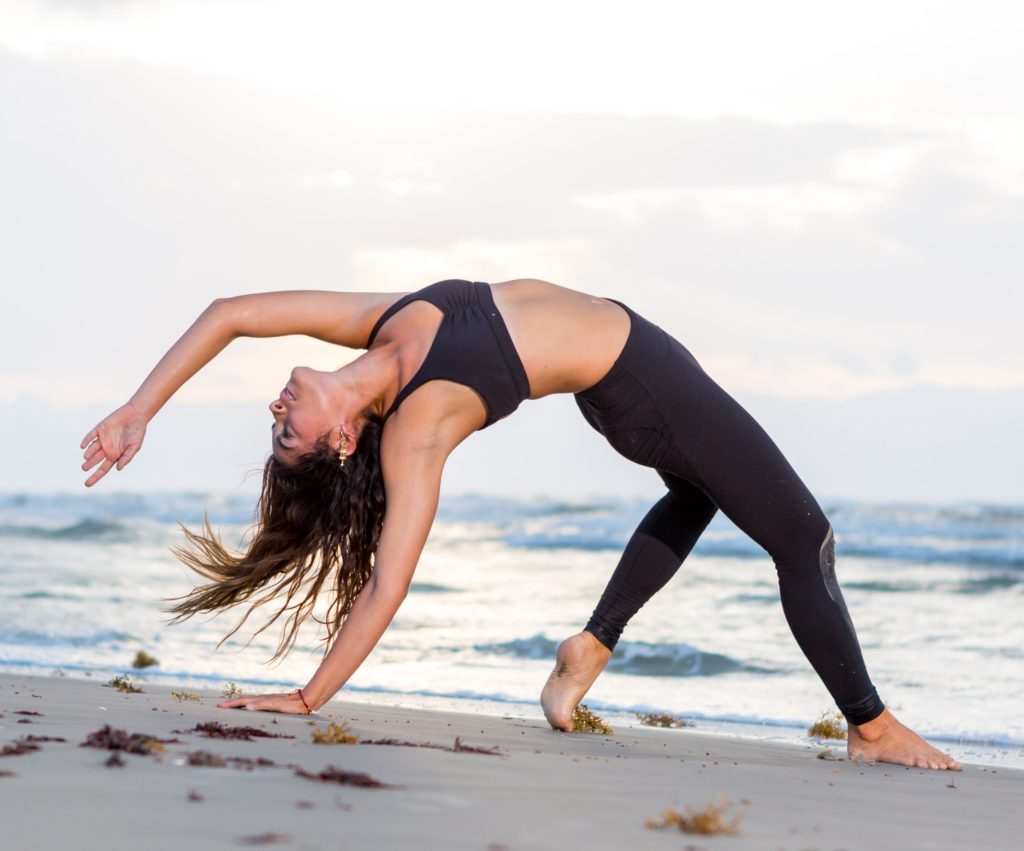 This is a creative self care workshop aimed at manifesting the life we want to live, a life we love, moving from fear into love. Enjoy a morning of mindful meditation, loving community, journaling and storytelling along with a creative flow rooted to open our bodies and minds up to receiving.
All-levels are welcome, but we will explore deep heart openers. Come take some time for you to reflect, illuminate and manifest. xoxo -N
DETAILS:
WHEN: Saturday December 21st, 10:30am-12pm
WHERE: 114 N Mesquite Street in the Richline IT building
INSTRUCTOR: Corpus Christi native & yogi, Nadine Bazan
COST: $30, includes notebooks and crystals along with coffee and/or tea.
***Only 10 spots available. Reserve your spot though the Booking tab our website
*NEW* Class: Indoor SUP Yoga & SUP Yogilates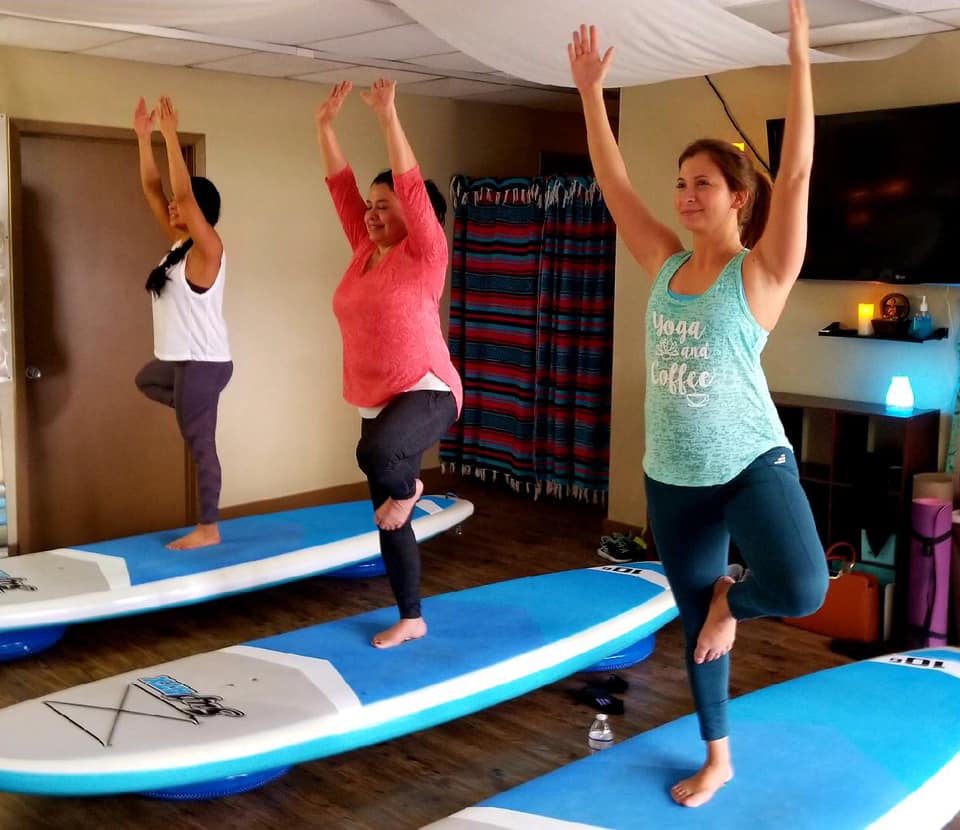 Have you been anxious to try SUP Yoga and fitness, but afraid to fall in the water?
Wanting to build your balance and core strength to take your practice to the next level?
Challenge yourself and build your confidence for Spring/Summer SUP classes with our indoor SUP fitness workshops this winter!
We will bring a limited number of our SUP Fitness boards to Mesquite Street Studio for indoor SUP yoga/fitness workshops this winter. We will use balance/stability cushions under the boards to simulate the feeling of being on the water on an unstable surface, while removing the fear of actually falling in the water!
When: Friday mornings at 6:30am and Saturday mornings at 9am
Where: Mesquite Street studio (114 N Mesquite St. in the Richline IT building)
Cost: $20 per board for a drop-in OR Indoor SUP class 6 pack for $100 (only $16 per class). *Only 5 boards available per class. You can purchase a package at the bottom of our website or in the Customer Area.
*NEW* Class: Candlelit Myo-Yin Yoga Sunday evenings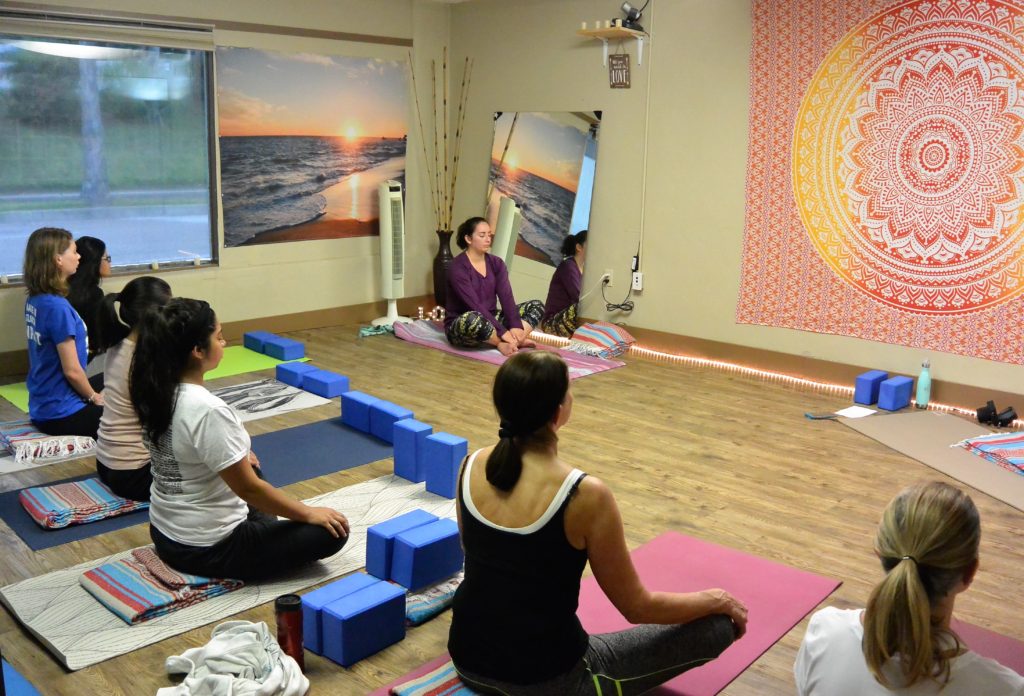 This new class will be held Sunday evenings at 5pm at our Mesquite Street Studio. This is a perfect way to unwind from the weekend and prepare for the week ahead.
Yin Yoga is a slower, more meditative approach that makes it especially beginner friendly. Poses will be held longer (3-5mins) getting into the deeper connective tissue, increasing circulation in the joints and improving flexibility.
Myo-Yin Yoga adds myofascial release techniques (working on knots and tension spots) using props like therapy balls. We will introduce 2-3 techniques per class. We will have therapy ball available at the studio and for you to purchase if you'd like to use them at home for self-massage.
*NEW* Beginner's Series Mat Pilates starting in January
January 2020 we are offering Beginners Mat Pilates classes at Water Dog. No experience is necessary, come wherever you are. These classes will focus on the basics of Mat Pilates, strengthening the core and  the entire body, working small muscles groups to make them burn, improving muscle tone and flexibility. The beginners Mat Pilates classes will be held Thursdays in January at 7pm at our Mesquite Street Studio Downtown.
Please check us out or come back to visit us!
Thank you again for all of your support of Water Dog!
Namaste,
Stacie & Josh Richline
Water Dog Floating Yoga