About 
November
: This month has the potential to be gorgeous to slightly cold in Corpus Christi, TX. The wind can be lighter which is great for paddleboarding.
Remember it is always a bit cooler on the water, so we suggest to dress in layers
Daylight savings time is November 3rd. Water Dog has deck lights and in the evening, we will flow under the lights of the boat deck, the marina and the city
If it is too cold or too rainy, we will hold class indoors at our Mesquite Street studio at 114 N Mesquite St. in the Richline Technical building. All registered participants will be notified of a change in class location by text.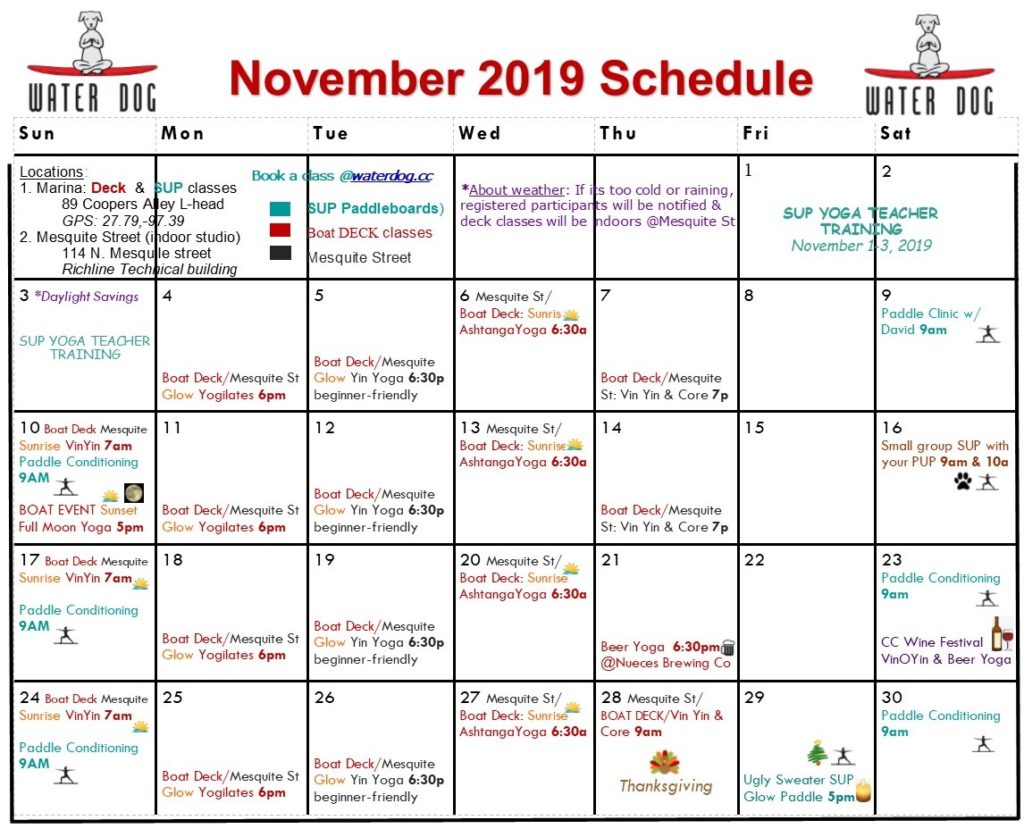 Winter 2019-20 Mermaid Membership Packages Available NOW!
HOW DO I JOIN THE MERMAID/MERDUDE SQUAD AND OTHER QUESTIONS:
How do I become a member? You can join our Squad through the "
Customer Area
" at the bottom of our website and choosing the "membership" option. What are the terms of the Mermaid Squad memberships? Our Membership packages must be paid in full up front. The classes in the package are good for 3 months from date of purchase. If I am a member, can I just show up or do I still need to register for class? You must still register online for each class. You will be given credit depending on which package you choose. Spots are still limited for the deck and Mesquite Street. Sign-ups are on a first come, first serve basis. What if I want more classes than are in my membership or what if I want to book Special Events and Workshops that are not included in my membership? As a member you will get a 10% discount on all additional classes and workshops including special events like Full Moon Yoga. Go to the
Mermaid Squad
tab on our website for more information.
About cold or inclimate weather through the winter season
We have two studio locations for Water Dog. Our primary location is in the marina on the water. Our second location is indoors at our Mesquite Street Studio. In the case of cold weather (usually low 60s or under 60 degrees for us South Texans) or rain, registered participants will be notified by text message at least an hour before class that it will be held indoors at Mesquite Street. The indoor studio is located at 114 N Mesquite Street. It is the building next to Mama Mia's with the Greetings from Corpus Christi Mural. The indoor studio is a shared space located in the Richline Technical Building which is less than 5 minutes away from the boat studio.
Special Events in November
Join us for our Special Events this month. Click here to reserve your spot:
Book Now
Paddle Clinic with David Saturday November 9th at 9am

We will work on advanced techniques including turns and placement on the board and we'll include some fun paddle races at the end. Use code BYOB15 to bring your own board at half price.

Small group SUP with your PUP Saturday November 16th at 9am & 10am

Animal Smart Training will be there again to help with your Pup. Water Dog will help with paddling and putting it all together

Full Moon Yoga, Mediation & Ceremony Sunday November 10th at 5pm

Gentle Yoga and moon salutations while watching the sunset & moon rise. Ceremony gift bag with custom macron from Moonlight Macrons. This will be the last Full Moon class of 2019!

Corpus Christi Wine Festival Saturday November 23rd

We will be holding two classes in the afternoon at the Festival: VinOYin Yoga and Beer Yoga! Check our facebook events page for more info. *Note a regular ticket to the festival must be purchased to participate in class.

Ugly/Holiday Sweater sunet & SUP Glow Paddle Friday November 29th & Sunday December 1st at 5pm

Ugly holiday sweaters are encouraged along with anything you have with lights! December 1st will be the last outdoor SUP class of the season!
Classes will start just before sunset. SUP Glow lights will be placed under your board and you get a light for on top as well! Paddle under the lights of the marina and the city. *Because this is a night class, we do not recommend it for first time paddlers
Turkey Day Vin Yin Yoga
Join us Thanksgiving morning before the festivities begin. Center yourself and get some time in for you. This class be be an hour long Vin Yin yoga session starting at 9am. Vin Yin is a combination of
Vinyasa
(flowing movement) and
Yin
(slower, more meditative yoga). Coffee and Tea will be provided along with some holiday treats. Depending on weather, we'll either be at the boat deck or indoors at our Mesquite Street Studio downtown – registered participants will get a text that morning which studio is best
Call to book a private lesson or event with friends! 361-760-1050
Please check us out or come back to visit us! Thank you again for all of your support of Water Dog! Namaste,
Stacie & Josh Richline
Water Dog Floating Yog