July 2019 Schedule
About July: We still have our Mermaid Squad membership packages available that are good for three months. You can choose deck-only classes, SUP-only classes or a combination of both! Summer is a great time to book a private or group event. Call or message us to get your date on the calendar!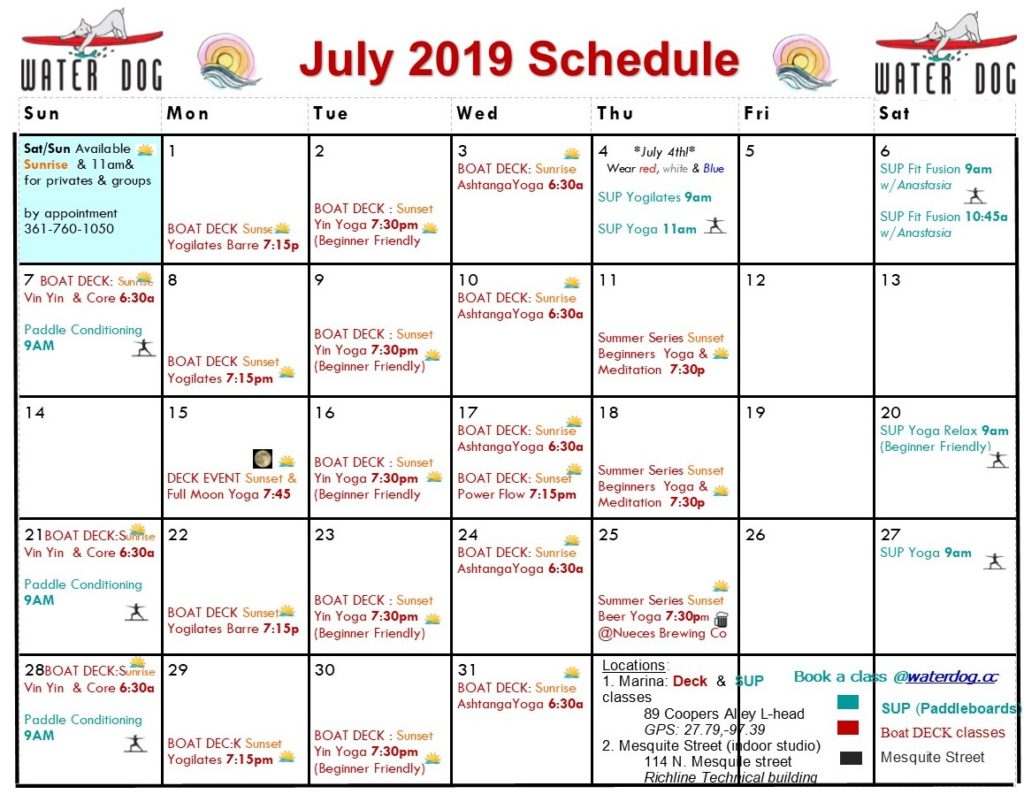 4th of July SUP Classes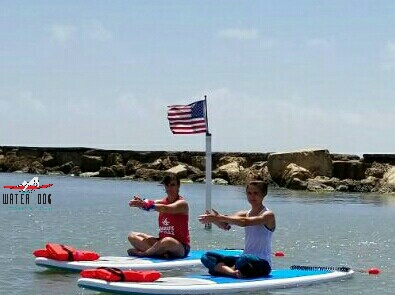 We will celebrate the 4th of July by offering two SUP classes out on the water! At 9am we are holding SUP Yogilates and at 11am SUP Yoga.
This is the perfect time to bring a friend or family member and try something new, different & fun! Don't be shy if you are a beginner- we always have on-deck safety & instruction and offer beginner-friendly options throughout class.🌊
Be sure to wear your red, white and blue and reserve your spot online as our classes usually fill up on this special holiday! http://waterdog.cc/booking
If you can't make it on the 4th, we have classes the entire weekend! Join Anastasia for SUP Fit Fusion Saturday July 6th or try a paddle conditioning class Sunday July 7th!
Yogilates Barre with Lacey Lawrence
Every other Monday we are going to add a little Boat Barre flavor to our regular Yogilates classes! But what's Yogilates Barre?!:
Yogilates Barre combines elements of Yoga + Pilates + Barre! In this class we will flow through yoga and Pilates moves along with using the boat barre as a prop for ballet inspired movements. This class will have a strong focusing on strengthening the entire core. A strong core will help you hold poses longer, achieve proper posture and improve your balance along with preventing injuries and lower back pain.
Yoga & Barre instructor, Lacey Lawrence, will be leading this class every other Monday on the deck finishing at sunset.  mark your calendars and plan to attend on July 1, 22 & August 12 & 26!
Power Flow with Randi Wiley
Strengthen and stretch your entire body in this flow-based power Vinyasa yoga class on the deck. Structured off the Baptiste 'Journey into Power' sequence this class is designed to be challenging, engaging and empowering for all levels of practitioners from beginner to advanced.
Yoga instructor, Randi Wiley, will be leading this class one Wednesday each month at 7:15pm, finishing at sunset mark your calendars and plan to attend on July 17th & August:14th
Paddle Conditioning & SUP with your PUP
Paddle Conditioning is a class where you'll get your workout in paddling on water. Josh & Stacie will lead you on a paddle tour in the marina choosing the route based on wind and weather conditions. This class is held every Sunday at 9am.
You will be given tips & paddling advice to get the most out of your workout. We will show you techniques to use your core, back & shoulders instead of your arms to paddle more efficiently & effectively. Beginners will stay with Stacie and more advanced paddlers will go with Josh.
*Price: $25 or & $10 BYOB (bring your own board): We have limited boards, so you must register through the booking tab on our website: http://waterdog.cc
Use Promo Code BYOB10 if you are bringing your own board!
SUP With Your PUP?!
Are you thinking about teaching your pup how to sup? 1.First make sure you have some experience paddling yourself. 2.Contact us and let us know about your dog, its training and temperament. 3. Either set up a private SUP with you Pup class or join a regular paddle conditioning class. 4. Be sure your pup has a lifevest!
Contact us at info@waterdog.cc or 361-760-1050
Beer Yoga at NUECES BREWING Co.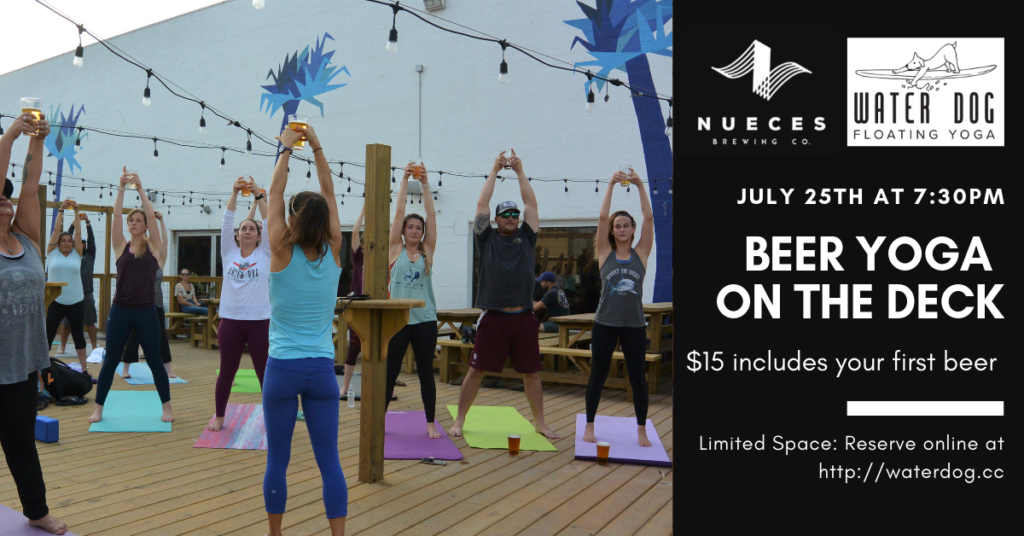 ***New location for BEER YOGA! We'll be at the brand new NUECES BREWING CO.! It will be held the last Thursday of the month. $15 includes your first beer and 60 mins of yoga, outside on the deck, finishing at sunset!
Yoga and drinking beer are both relaxing: For this special class we will focus on slowing down and being present. However, this is not a class where you sip & set your beverage down beside your mat - we will incorporate our beer into almost every single pose!! Which means you will have to heighten your focus and concentration so as not to drop your beer!
No yoga experience is necessary, just an open mind and love of beer. This is an all levels yoga class.
*Limited availability and pre-registration required: http://waterdog.cc/booking
**Note: class is not included in the membership packages
Private Groups and events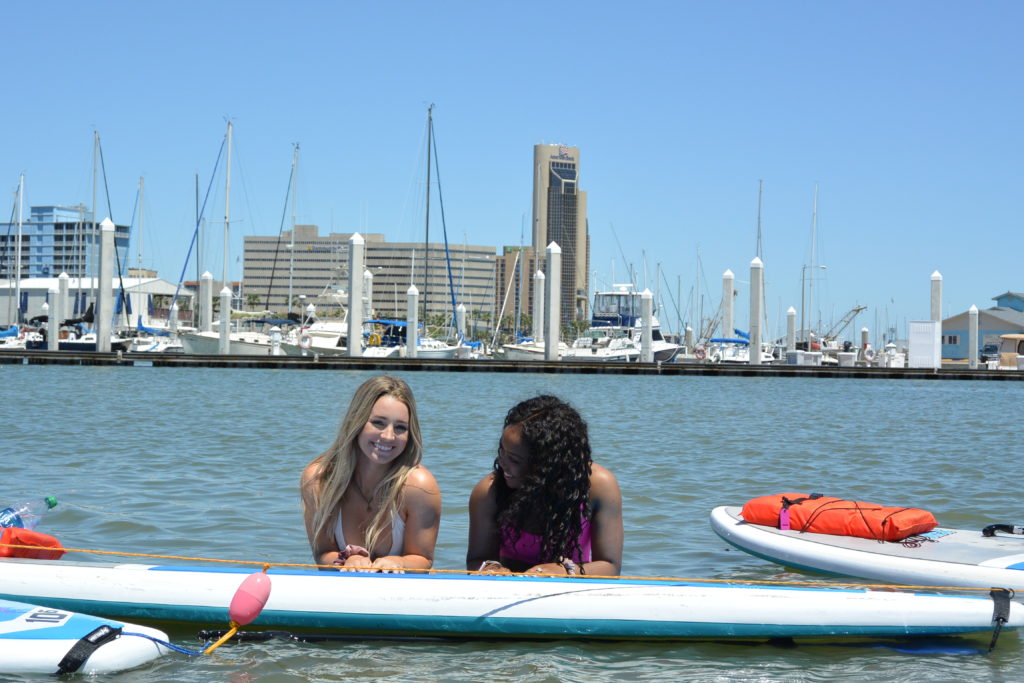 Experiences are often better when shared with friends and family. Get a group of friends together and schedule a private class with us. You can choose your style class from relaxing SUP yoga to invigorating SUP Yogilates to a paddling tour or even a class on the deck ***Generally we will have Saturday and Sunday morning available at either Sunrise or 11am. Give us a call (361-760-1050) to secure your date and schedule an event for your group.
Please check us out or come back to visit us!
Thank you again for all of your support of Water Dog!
Namaste,
Stacie & Josh Richline
Water Dog Floating Yoga