Howdy from Water Dog,
JUNE SCHEDULE
Our June schedule is attached and can be viewed in the "schedule" section of our website. Classes in Red will be held on the boat deck, unless there is in-climate weather, in which case we will inform everyone registered and move class to the Mesquite Street Studio. Classes in Gray will be held at our Mesquite Street in the Richline Technical Building (114 N Mesquite St) Aqua colored classes will be on the Paddleboards. Other colors will be at a off site locations as noted.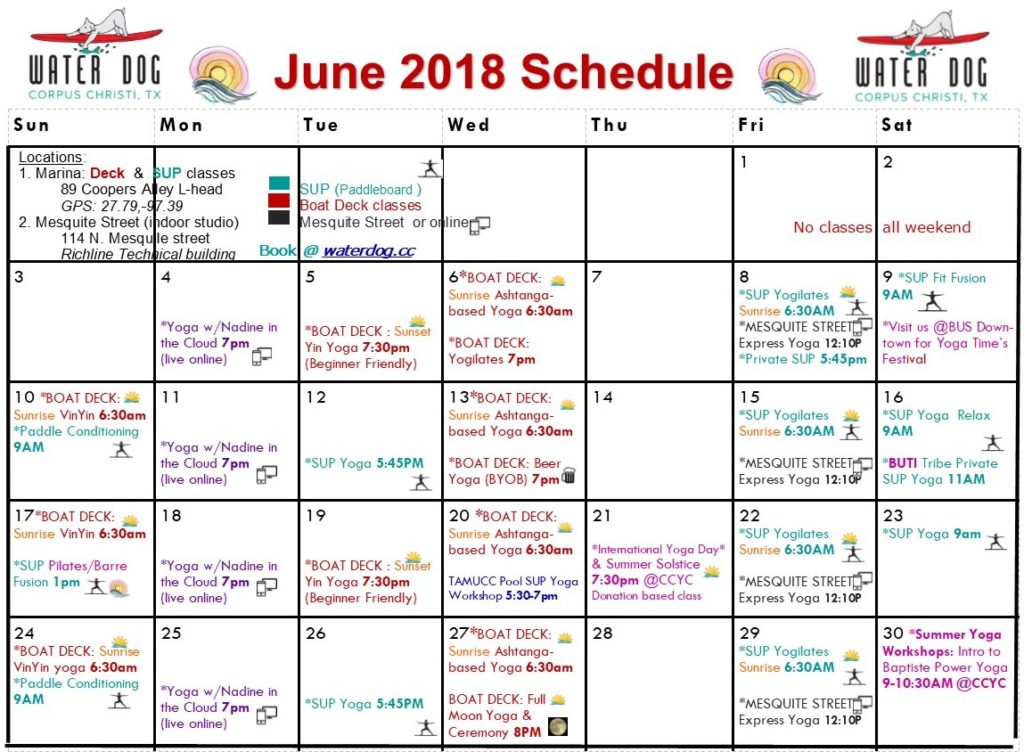 PRIVATE GROUPS AND EVENTS
Water Dog loves to host private events and groups! Our summer calendar is filling up quickly so be sure to call or email us to set up date and time for your group.
Private lessons and private group rates can be found on our website https://waterdog.cc on the RATES tab. We can host private, semi-private and group classes on the upper deck of our houseboat studio or on the paddleboards. Generally we can accommodate up to 10 people, but let us know if you have more people and other options may be available. We take photos at each event that will be sent to you.
Classes can range from beginners SUP yoga workshops to paddle tours to relaxing VinoYin on the deck or maybe you want to skip the class and have your birthday party in a unique location! Some group ideas include: birthday parties (balloons included), bachelorette parties, girls's day/night out and company parties. We have even hosted book club events on our upper deck. Options may be available for you to bring your own beverage or snacks for afterwards.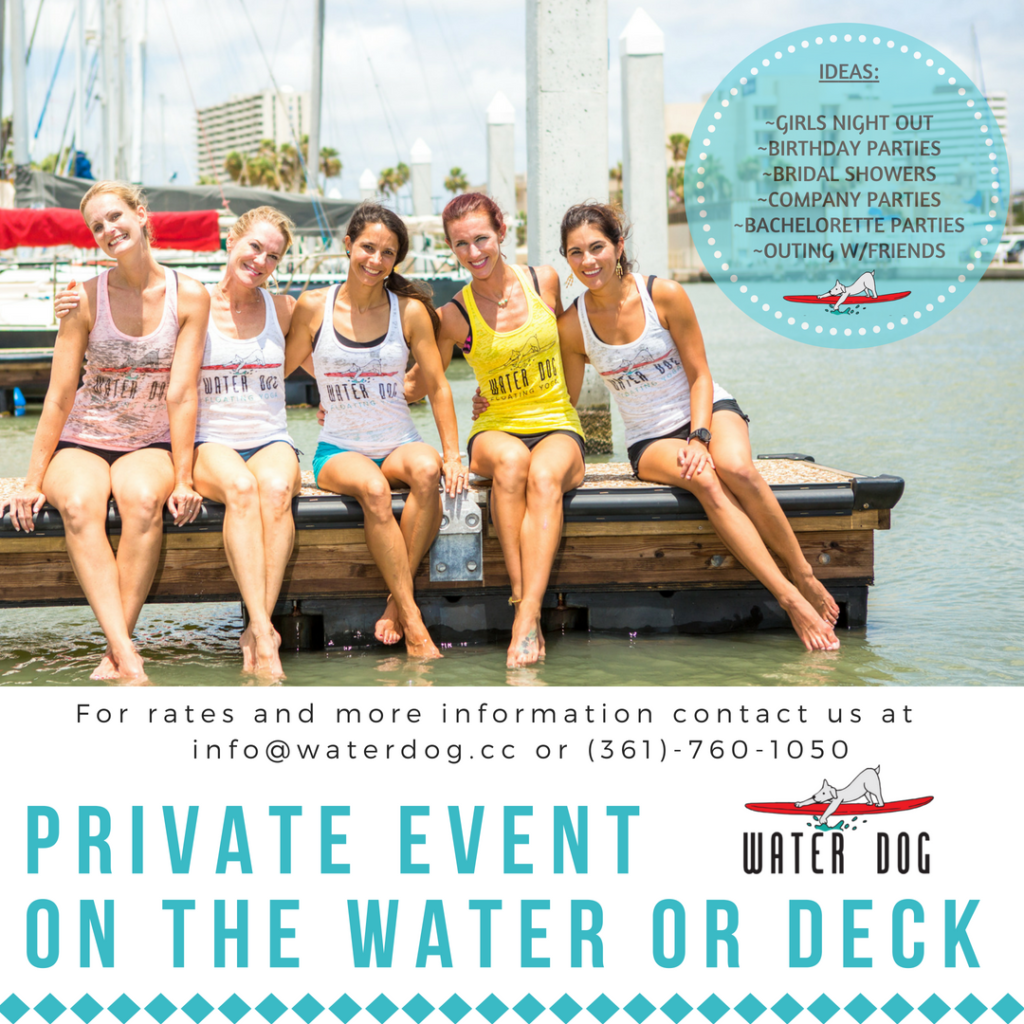 SUMMER LAND YOGA WORKSHOP SERIES WITH RANDI
If you haven't met Randi, check out her Bio on our website and come visit her at our Summer Workshop Series. Randi is trained in a power style of yoga, called Baptiste Yoga. Her summer series will include three 90 minute workshops on the following topics.
June 30th 9-10:30am at CCYC:

Intro to Baptiste Yoga: Journey into Power Sequence

July TBA: Intro to Arm Balancies Workshop
August TBA: Intro to Inversions Workshop
These workshops will be either held on the huge covered deck at CCYC (Corpus Christi Yacht Club) or at our Mesquite Street Studio. The workshops are open to ALL LEVELS including beginners. Come wherever you are on your yoga journey. Randi has a fun and playful style of teaching, yet she challenges her students to step our of their comfort zones and see what they can accomplish . You are guaranteed to learn, laugh and have fun!
If you can't make the Workshop Series, visit her for Water Dog's June Full Moon Event (Gentle Yoga, meditation & ceremony) on Wednesday June 27th at 8pm on the Boat Deck.
As the weather becomes hotter this summer, the coolest place to be outside is on the water – where it is always a few degrees cooler! Hence, we are adding more SUP classes for the summer months; June, July & August.
Our Tuesday evening SUP Yoga classes last year were popular so we will continue to hold them this summer, but every other Tuesday from 5:45-7pm. On the Tuesdays we are not holding SUP classes, we will hold Sunset Yin Yoga classes on the deck.
Friday mornings  we will hold Sunrise SUP Yogilates classes. Sunrise is one of the best times of to be out on the water, as the wind is generally calmer and it is cooler. Get your workout in before you head to the office! Classes will be held on Fridays from 6:30-7:45am.
We will continue holding regular SUP Fitness classes Saturdays mornings. Look for classes such as: SUP Yoga, SUP Yoga Relax, SUP Yoga Level 2, SUP Fit Fusion, SUP Yogilates, SUP Pilates/Barre Fusion,  along with Intro Workshops.
Paddle Conditioning classes with Josh and Stacie will continue to be held Sunday mornings at 9am.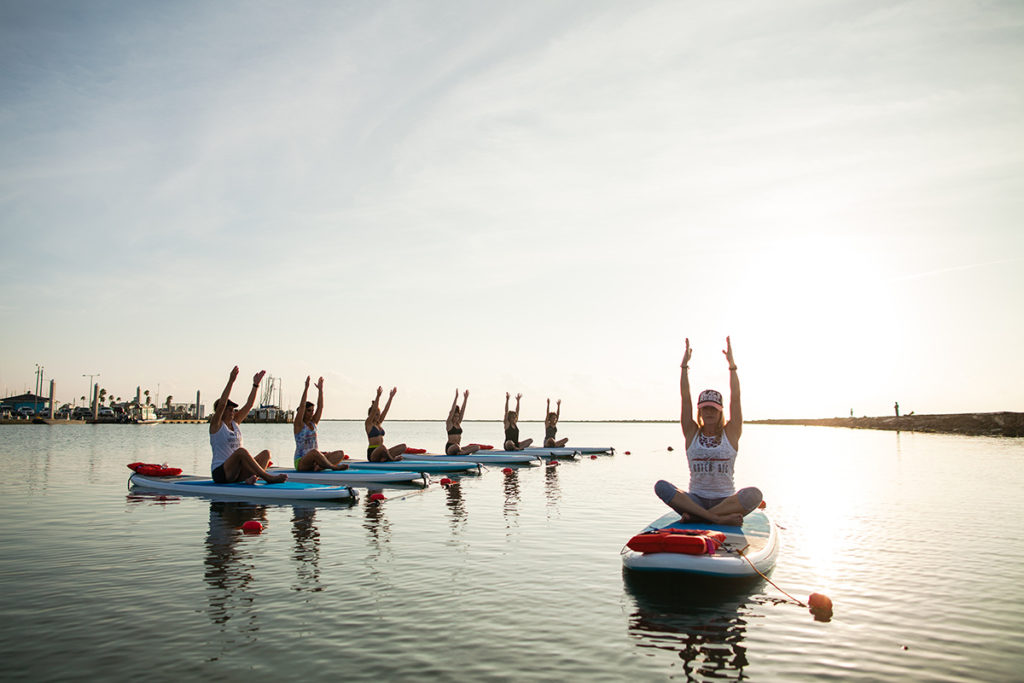 PREPAID PACKAGES AND GIFT CERTIFICATES
We offer different types of Prepaid Packages: some are good for most of our regular classes on the floating deck, Mesquite St and online and other packages that are specific to the Paddleboard (SUP) classes. All packages are good for 6 months
To purchase a package or Gift Certificate, you must go the "Customer Area" at the bottom of our website https://waterdog.cc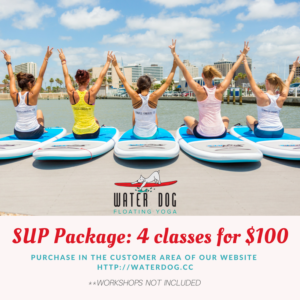 WHAT ELSE IS HAPPENING IN JUNE?
Special events in June:
Saturday June 9th – Island Yoga Time's Summer Yoga Festival at BUS! Water Dog will have a vendor spot. Come visit us or take a class held throughout the day
Wednesday June 13th 7pm – Beer Yoga is back! BYOB, bring can's only please, and watch the ending of the Wednesday evening Sailing races
Sunday June 17th 1pm – Pilates Instructor and Piloxing Master Trainer, Heather McVay, will be teaching a SUP Pilates/Barre fusion on the Paddleboards
Wednesday June 20th 5:30pm – Pool SUP Yoga Workshop at TAMUCC, available for students and staff
Thursday June 21st 7:30pm – International YOGA DAY & the summer solstice! Sunset donation based class on the deck at CCYC
Wednesday June 27th 8pm – Full Moon Gentle Yoga, Meditation & Ceremony with Randi
*Call to book a private lesson or event with friends! 361-760-1050
Please check us out or come back to visit us!
Thank you again for all of your support of Water Dog!
Namaste,
Stacie & Josh Richline
Water Dog Floating Yoga