May Schedule:
Our May schedule is attached and can be viewed in the "schedule" section of our website. Classes in Red will be held on the boat deck, unless there is inclimate weather, in which case we will inform everyone registered and move class to the Mesquite Street Studio. Classes in Gray will be held at our Mesquite Street Studio in the Richline Technical Building! Aqua colored classes will be on the Paddleboards. Other colors will be at a off site locations as noted.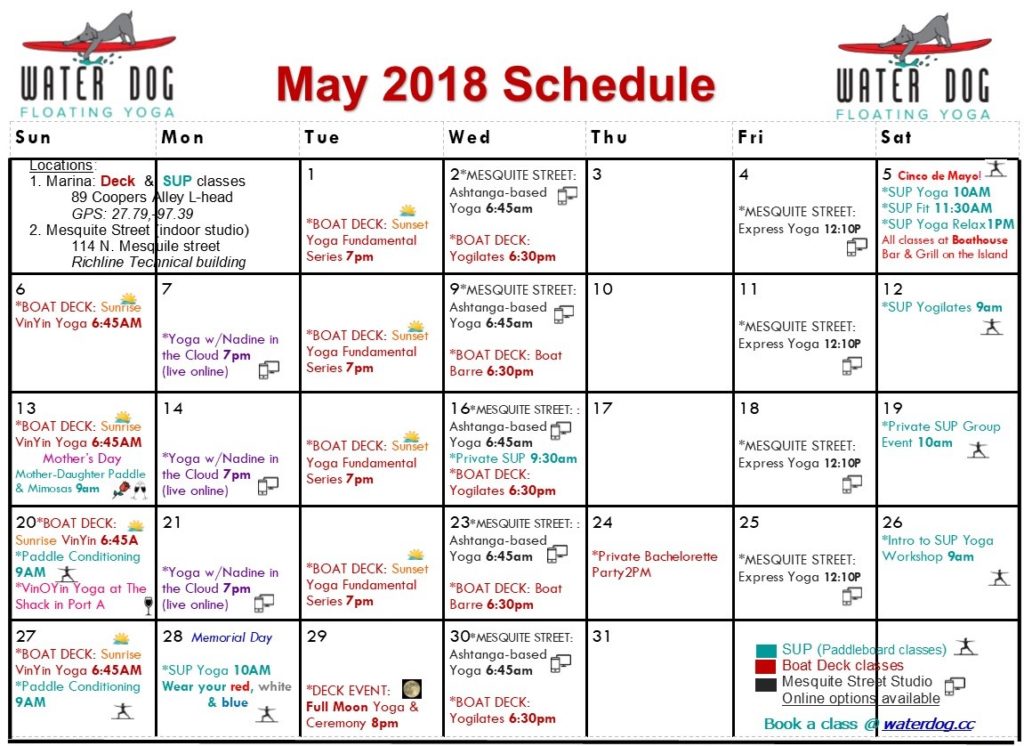 Community Yoga at Mesquite Street's New Mural:
Water Dog recently hosted a community yoga event in front of Corpus Christi's newest welcome mural. This mural is located on the Richline Technical Services building at 114 N Mesquite Street which is also the home of Water Dog's indoor studio! We wanted to thank everyone who came out to support Water Dog and help grow downtown Corpus Christi in a positive way.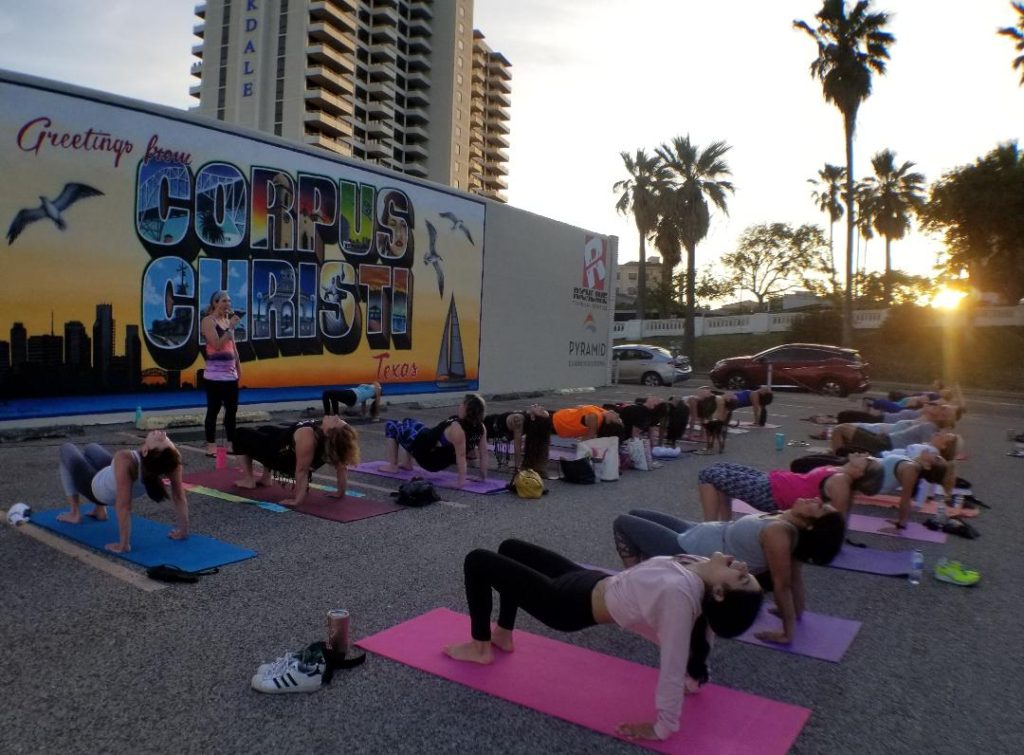 Cinco De Mayo at the Boathouse Bar & Grill on the Island: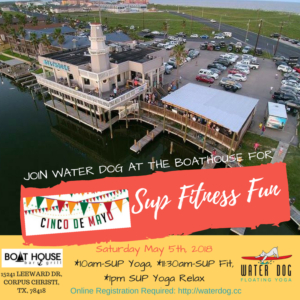 Join Water Dog on Cinco De Mayo for SUP Fitness Fun when we come to the island for the first time!! We are bringing our SUP boards to the Boathouse Bar & Grill.
There will only be 7 spots available per classes and you must register online: https://waterdog.cc/booking.
All classes will be tailored for beginners on a paddleboard. We will teach you SUP safety and basic paddling technique at the beginning of class – please arrive 10-15mins early.
May 5th Class Schedule:
10AM SUP Yoga w/ Stacie
11:30AM SUP Fit w/ Anastasia
1pm SUP Yoga Relax (tailored for beginner yogis) w/ Stacie
*Stay and enjoy the The Boathouse after class – they will be offering a coupon to all participants for a free Appetizer with the purchase of food or drink.
Yoga Fundamentals Series coming in May:
What is is? This is a series of four yoga classes focusing on the fundamentals or basics of yoga. Classes will build upon each other, but it is not necessary to take all four together. These classes will be beneficial to the beginner, but they are designed for all levels. Even if you have been practicing yoga for months or years off and on, there is much to be gained from slowing down and going back to the fundamentals.
How much? Drop in classes are $14 or you can purchase a package of 5 classes for $60 (can be used for any regular Boat Deck, Mesquite Street or Online class)
When? The first four Tuesdays in May (5/1, 5/8, 5/15, 5/22) from 7-8pm, finishing just before sunset
Where? Water Dog's Houseboat studio on the top deck, over-looking the marina and Downtown Corpus Christi. Its at 89 Cooper's Alley L head or put 27.79, -97.39 into your GPS! I the case of inclimate weather, class will be at our Mesquite Street Studio in the Richline Technical Bldg at 114 N. Mesquite St.
Each 60min Yoga class will have a weekly focus in the following topics:
5/1: Yoga fundamentals & basic poses
5/8: Meditation, mindfulness, breathing & relaxation
5/15: Sun Salutations & starting a home practice
5/22: Improving Flexibility, including gentle Yin Yoga
*NEW* Live Streaming Online option for ALL Mesquite Street classes!:
Water Dog will now be Live Streaming ALL regular classes held at their Mesquite Street Studio. What does this mean? When you book a class at Mesquite Street you will now have two options. You can take the class at the studio OR your can live stream it from the convenience of your home or office!
Where: At Mesquite Street Studio, OR ONLINE in your home or office
When: Wedneday's 6:45am Ashtanga-based Yoga and Friday's 12:10pm Express Yoga.
How it works:
-You book the class on our website the same way you book any regular class
-You will receive a confirmation email with the link and instructions to join the class
-Simply follow the link! Our easy to use Lifesize Cloud Software is provided by Richline Technical Services.
-More information about the software and a downloadable app will be sent in your confirmation email, but it is not necessary to have the App or the software to join the class.
-Any other questions? Contact [email protected] or call 361-760-1050
Other Online Classes: Mondays at 7pm is Yoga w/Nadine in the Cloud.
This class will ONLY be available ONLINE and not in the studio
Regular Weekly Schedule in May:
Mondays
7pm Live Online – Yoga w/Nadine in the Cloud
Tuesdays
7pm Boat Deck – Yoga Fundamentals Series Yoga
Wednesdays
6:45am Mesquite Street or live online – Sunrise Ashtanga-based Yoga
6:30pm Boat Deck – Yogilates or Boat Barre w/Stacie
Fridays
12:10pm Mesquite Street or live online – Express Yoga
Saturdays
9am SUP Fitness classes or check the schedule for special SUP classes, Special Events & Workshops
Sundays
6:45am Boat Deck – Sunrise VinYin Yoga
9am Paddle Conditioning
Other Special events in May:
Cinco de Mayo SUP Fitness Fun at the Boathouse May 5th, 10am, 11:30am & 1pm
Mother's Day Mother-Daughter Paddle & Mimosas Sunday May 13th at 9am
VinOYin Yoga at The Shack in Port A Sunday May 20th
Memorial Day SUP Yoga Monday May 28th at 10am
Full Moon Yoga Tuesday May 29th at 8pm
*Call to book a private lesson or event with friends! 361-760-1050
Please check us out or come back to visit us!
Thank you again for all of your support of Water Dog!
Namaste,
Stacie & Josh Richline
Water Dog Floating Yoga