OCTOBER SCHEDULE
About October: This month is generally one of the nicest times of the year for being outdoors in Corpus Christi. The winds tend to be lighter which is great for paddleboarding and the weather is starting cool off from the steamy summer months.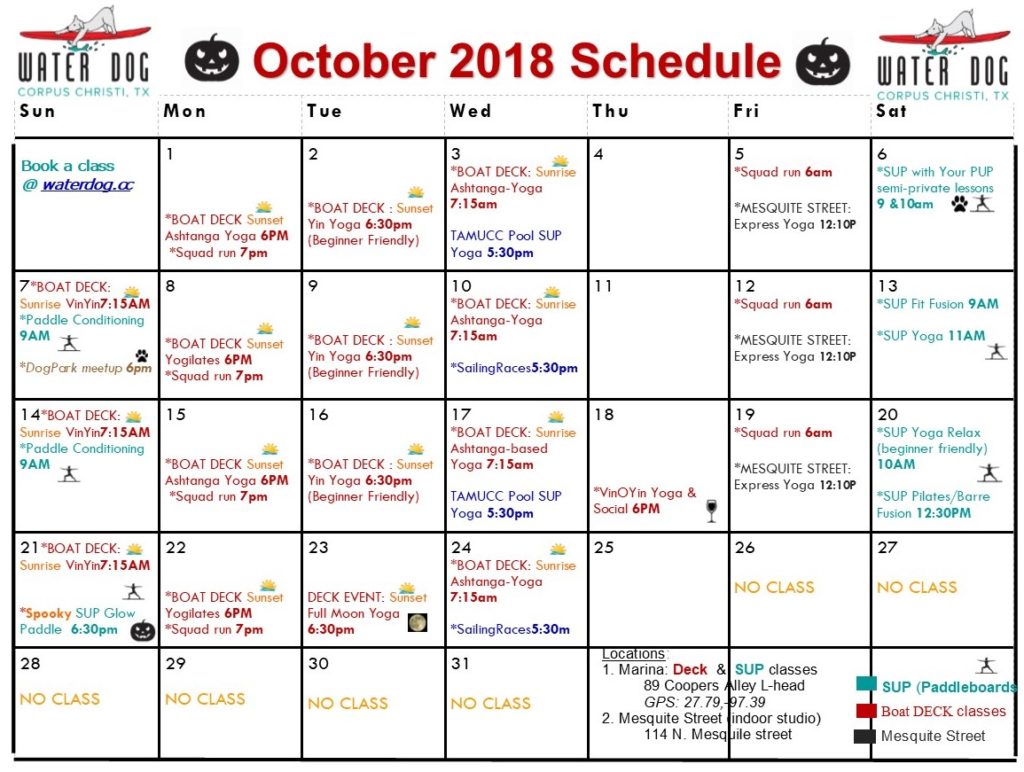 UPDATE ON OUR MERMAID SQUAD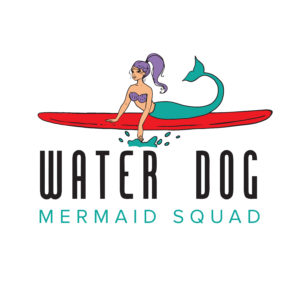 Our Fall Mermaid Squad members are off to a great start! With unlimited deck classes, squad runs and some paddling, these mermaids are on their way to reaching their goals. Through this program our mermaids work together to build a healthy work, life and home balance. The outdoors, the water, exercise, yoga and targeted relaxation play a key role in stress reduction and an overall sense of peace and well-being for our mermaids. Our online group is thriving with weekly journal topics, mantras and nutrition tips, as well as group motivation and accountability.
*If you didn't get a chance to sign up for the membership for the fall, you can still join us for classes! Keep an eye out out for our next season's membership in 2019.
PARTNERSHIP WITH THE EXCHANGE FOR SUNDAY PADDLE CONDITIONING
Grab a friend, group of friends, or your significant other for a morning out in downtown Corpus Christi! First, get your workout in on the paddleboards with a fun group paddle where we teach you how to paddle more efficiently and effectively using your core, back and shoulders. Then, get ready to head to The Exchange because each participant will get a coupon for a free mimosa with purchase of regular brunch at The Exchange afterwards!
SPOOKY SUP GLO PADDLE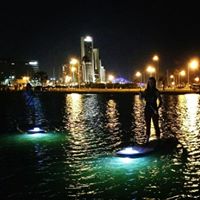 It's almost that time of year again! Get your costume ready and join us for a "spooky" night paddle. For this special class we will paddle around the protected waters of the marina, guided by the lights of the city and the bay for a night paddle and tour. We will start this class just before sunset on the deck. Like all SUP classes we will start with a discussion of the boards, paddling techniques and water safety. Each paddler will have the use of an inflatable, water proof light for visibility on their boards and SUP GLO lights for underneath their paddleboards. This class is on Sunday October 21 at 6:30pm and it will likely fill up, so be sure to reserve your spot online: Book Now
***Spooky costumes, shirts, sweaters, lights and Halloween outfits encouraged!
SUP FIT FUSION & SUP PILATES/BARRE FUSION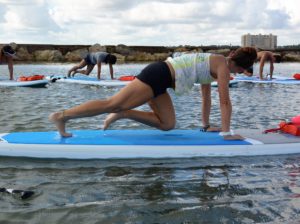 Join two of Water Dog's amazing instructors for two fusion classes this month!
These  fusion classes are a full body, core inspired workout on the SUPs! The classes combine yoga, pilates, barre, body weight, strength & fitness movements. You will use your paddles and resistance bands to take your workout to the next level. But don't worry, modifications are given for all levels (including beginners) as well as mindful transitions to ensure that you are safe and comfortable on your floating mat: Book Now
When?
Saturday Oct 13th at 9am:
-SUP Fit Fusion with yogi, surfer and personal trainer Anastasia Nichols
Saturday Oct 20th at 12:30pm:
-SUP Pilates/Barre Fusion with Pilates & Piloxing Master Trainer Heather McVay
POOL SUP YOGA  AT TAMUCC
If you are a TAMUCC student, staff or alumni and if you have a Sand Dollar ID, join Water Dog for Pool SUP Yoga from 5:30-7pm on the following Wednesdays: October 3 and October 17. You must register in the Sports Rec Office the week of the class, starting Monday. This is a workshop style class geared for beginners, but challenging for all levels. There are only 6 spots available per class, first come, first serve.
Call to book a private lesson or event with friends! 361-760-1050
Please check us out or come back to visit us!
Thank you again for all of your support of Water Dog!
Namaste,
Stacie & Josh Richline
Water Dog Floating Yoga