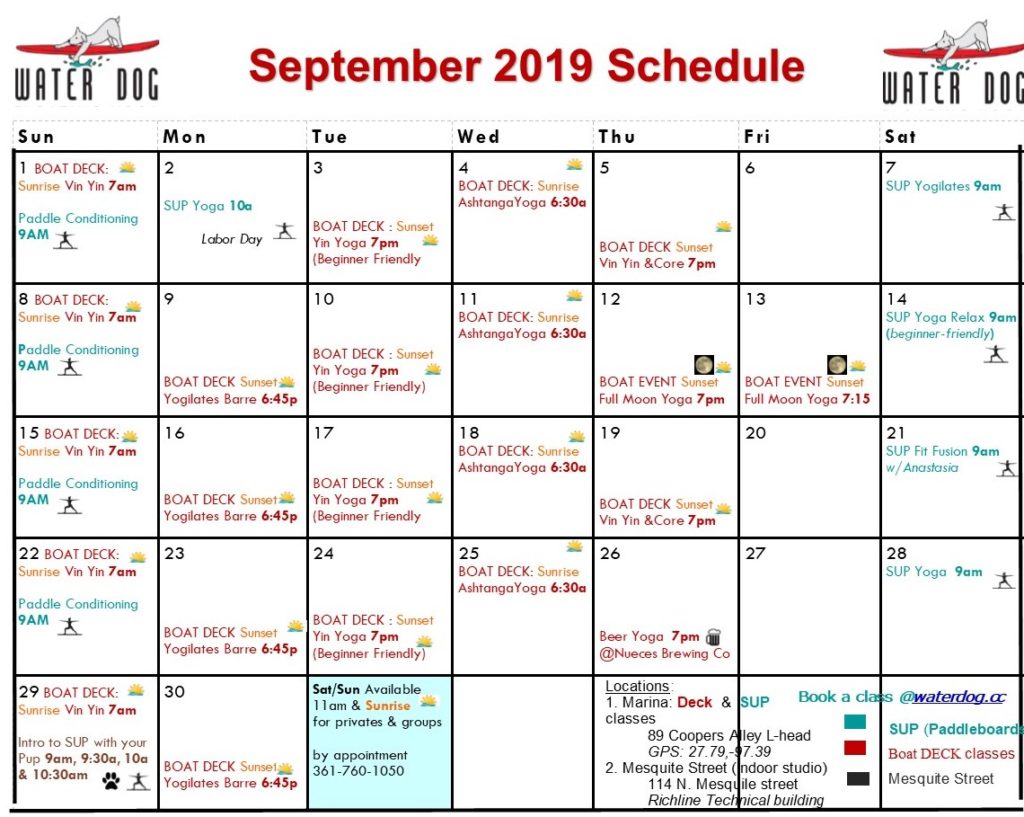 Intro to SUP with your PUP
Join Water Dog and animal trainer, Andrea Bogle, from Animal Smart Training for an ?? Intro to SUP with your Pup class!
Held on the beach ACROSS from Water Dog's Houseboat Studio, for this special class we will introduce you and your pup to the SUP board! First, your pup will get to experience some wobble and agility equipment on land to prepare them and get their balance warmed up. Then, when we introduce them to the board we start on land and then move them onto an anchored board in the water at shoreline. #Instagramworthyphotos ?
WHAT SHOULD I DO TO PREPARE?
We will work with your pup on training and gaining confidence in class, but if YOU want to be confident on the board and be equipped to go for a paddle around the lagoon (assuming water and wind conditions are in your favor), we encourage you to take a paddle conditioning class beforehand to get your paddle skills on. You can see upcoming class dates here: https://waterdog.cc/booking/
PUP REQUIREMENTS
-Your dog must get along with other dogs
– Pup must be able to swim or be comfortable around water and happy to wear a fashionable life vest (all teams going for a spin away from shore *dependent on skills, weather and water conditions* must have vest on their pup)
-Be healthy and fit and UTD on vaccines (no elderly, arthritic, injured or sick dogs)
WHAT TO BRING (FOR YOUR PUP)
-leash, water & dish, treats, dog lifevest if available (we will provide one if you don't have one), towel & wear water shoes or flip flops (for you!)
DATE & TIMES: Sunday September 29th:
9am, 9:30am, 10am & 10:30. Classes are 30 mins and there will be 5 dogs per class. **Please arrive 15 mins early to allow your dog time to play and practice on the balance props on land.
COST: $20
LOCATION & DIRECTIONS:
SEE MAP ATTACHED IN POST FEED. DO NOT GO TO WATER DOG!! If you have any questions about directions call or email us at 361-760-1050 or [email protected].
-Class will be held on the beach across from Water's Edge park on the left, this is NOT the main beach. It is across from Water Dog's Houseboat and you will have to park at Water's Edge park and walk towards the jetty.
**Please plan to arrive 15 mins early to practice with the agility props, give your dog time to play and to start on time.
SUP Yoga & SUP Fitness Teacher Training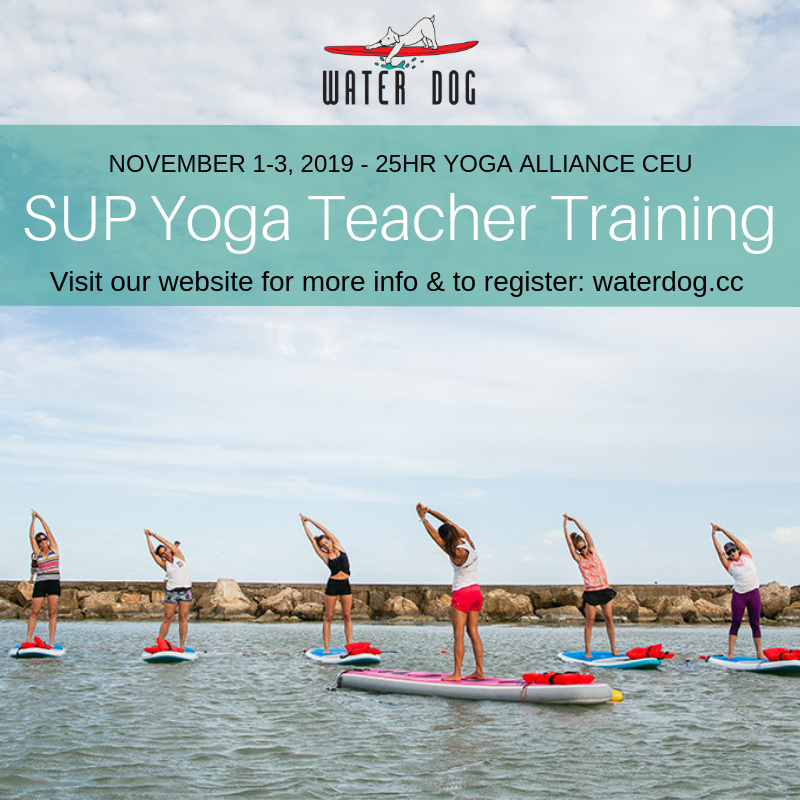 Have you dreamed of expanding your knowledge and sharing your yoga & fitness experience out on the water?
Water Dog's SUP Yoga Teacher Training is 25 hours and RYTs will receive 25 Yoga Alliance CEU credits along with their SUP Yoga Teacher Certification. Water Dog is a YACEP (Yoga Alliance Continuing Education Provider).
Training will take place Novmeber 1-3, 2019. You do NOT need to be a yoga teacher to attend this training, however should have some paddle-boarding experience and be comfortable in the water.
Check out our website for more info and to reserve your spot in the training and watch our YouTube video about the training.
**Opportunities for partnership and mentoring will be available after the training
Beer Yoga at NUECES BREWING Co.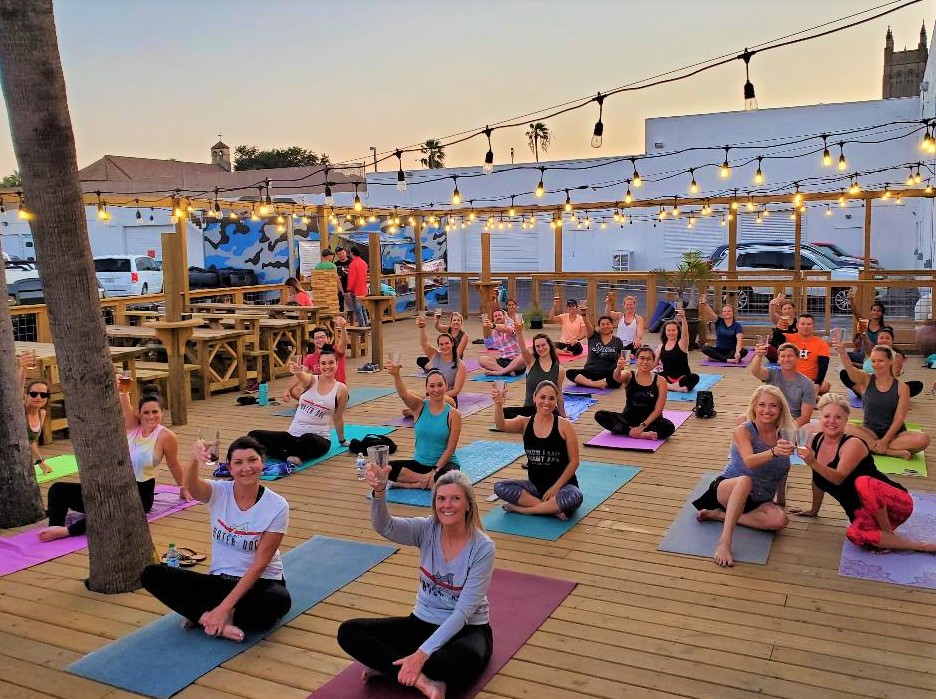 ***New location for BEER YOGA! We'll be at the brand new NUECES BREWING CO.! It will be held the last Thursday of the month. $15 includes your first beer and 60 mins of yoga, outside on the deck. Our next class is Thursday September 26th at 7pm
Yoga and drinking beer are both relaxing: For this special class we will focus on slowing down and being present. However, this is not a class where you sip & set your beverage down beside your mat – we will incorporate our beer into almost every single pose!! Which means you will have to heighten your focus and concentration so as not to drop your beer!
No yoga experience is necessary, just an open mind and love of beer. This is an all levels yoga class. Please bring your own mat.
*Limited availability and pre-registration required: https://waterdog.cc/booking
**Note: class is not included in the membership packages
Full Moon Gentle Yoga, Meditation & Ceremony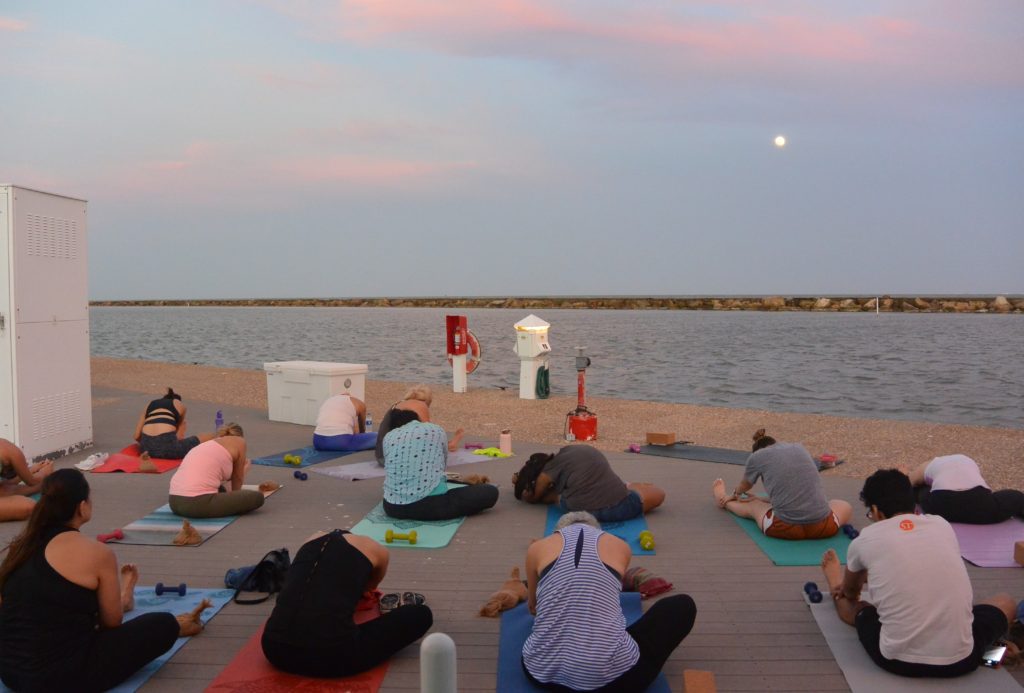 Enjoy the meditative qualities of the moon, the wind & the waves and join us each month on the deck for a special Full Moon event. Calming lights on the deck will guide you during a gentle yoga flow that includes moon salutations in honor of the moon and its energies along with a short meditation, intention setting and Full Moon Ceremony. Ceremony bags and custom macron from "Moonlight Macrons" is included.
This event has filled up and been so popular this summer that we are adding a second class this month. The September events will be on Thursday September 12th at 7pm and Friday September 13th at 7:15pm. For each class we will enjoy the experience of seeing the sun setting and the and the full moon rising!
Paddle Conditioning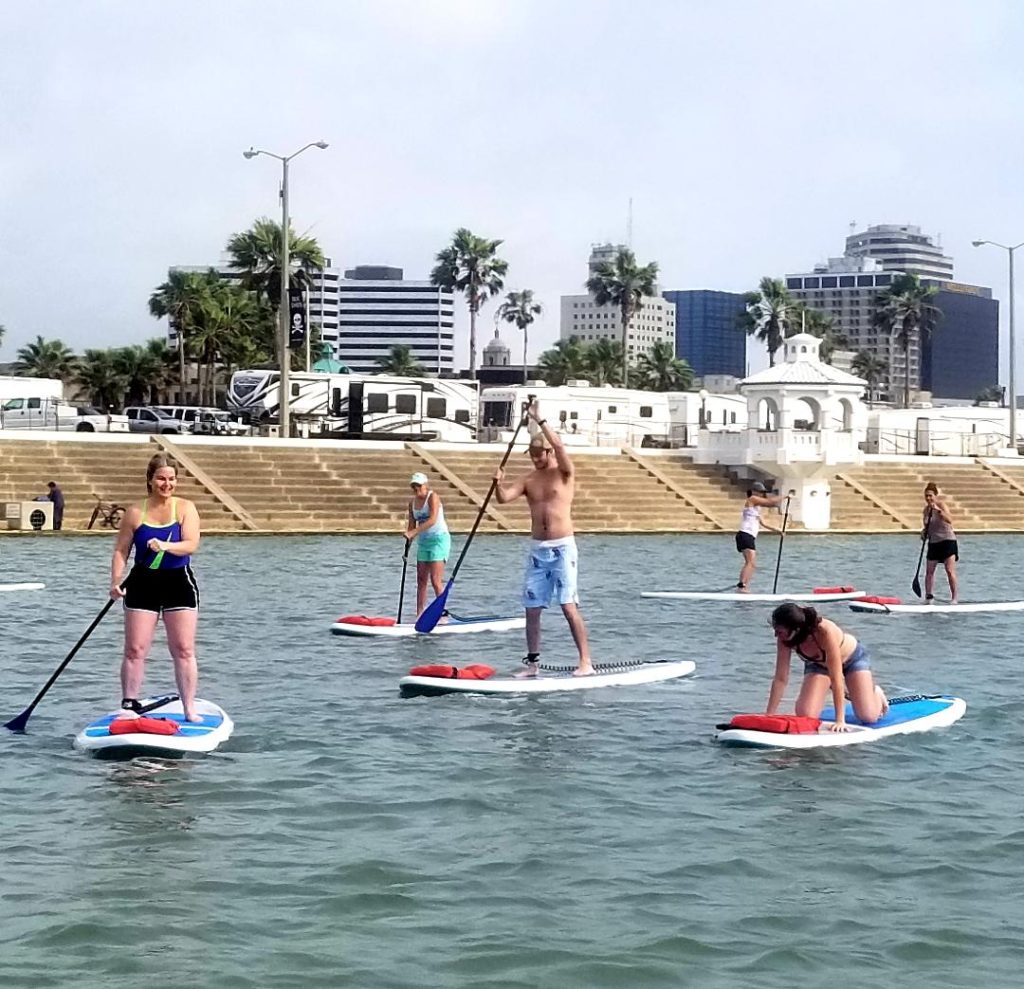 Paddle Conditioning is a class where you'll get your workout in paddling on water. Josh & Stacie will lead you on a paddle tour in the marina choosing the route based on wind and weather conditions. This class is held every Sunday at 9am.
You will be given tips & paddling advice to get the most out of your workout. We will show you techniques to use your core, back & shoulders instead of your arms to paddle more efficiently & effectively. Beginners will stay with Stacie and more advanced paddlers will go with Josh.
*Price: $25 or & $10 BYOB (bring your own board): We have limited boards, so you must register through the booking tab on our website: https://waterdog.cc
Use Promo Code BYOB10 if you are bringing your own board!
*Call to book a private lesson or event with friends! 361-760-1050
Please check us out or come back to visit us!
Thank you again for all of your support of Water Dog!
Namaste,
Stacie & Josh Richline
Water Dog Floating Yoga