? October ? 2019 Schedule
About ?October: This is a great time to be outdoors in Corpus Christi, TX. The wind is starting to calm down and there is a hint of cooler weather! *We will have a modified schedule the first few weeks due to our Yoga, Nature & Adventure Retreat.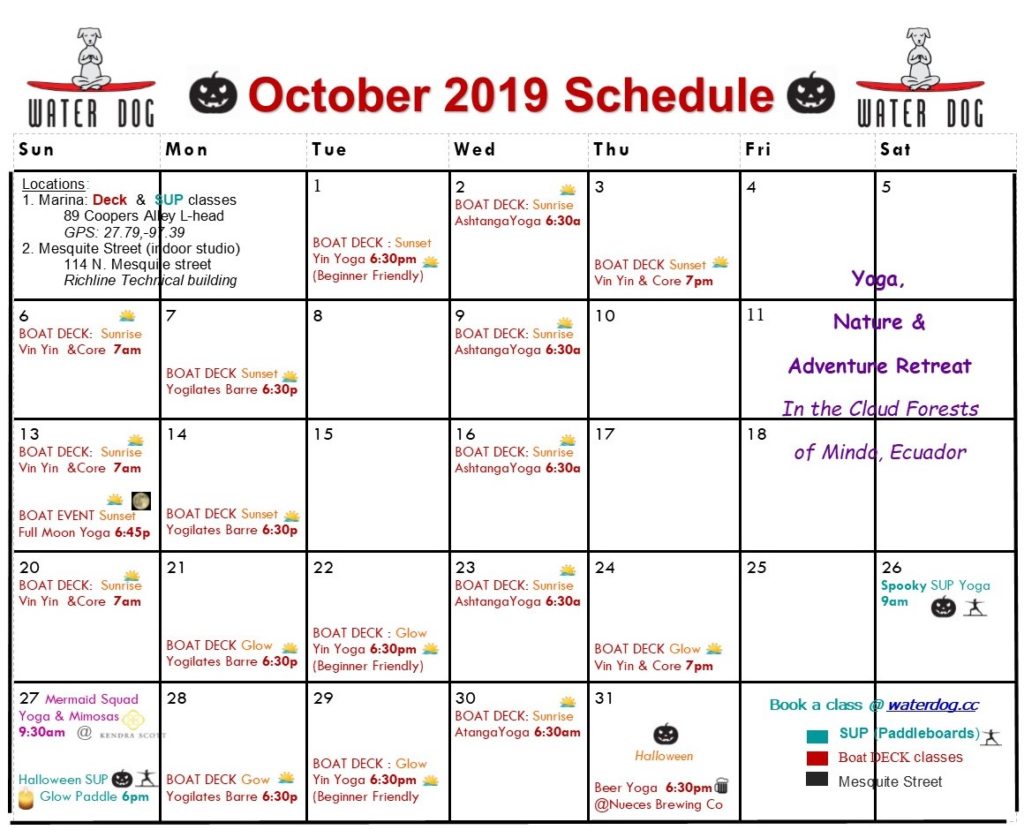 ?Spooky ?Halloween Events & Classes
Get your costumes, ?‍♀️mermaid leggings and any other fun ?Halloween inspired clothing out for some of our 'spooky' events this month! Costumes (that you can still move in!) are not required, but they are encouraged for these events.
✨Saturday October 26th at 9am is ?Spooky SUP Yoga! This is just like a regular SUP Yoga class, except we encourage you to wear any fun clothing and/or props for Halloween.
✨Sunday October 27th at 6pm is a ?Spooky SUP Glow Paddle. This paddle class will start as the sun is setting. We will have some glow lights for under the paddleboards, but we encourage you to wear or bring any extra lights for this fun night paddle. **Because this class is at night, we do not recommend it for first time paddlers.
✨Thursday October 31st at 6:30pm is Halloween ??‍♀️Beer Yoga at Nueces Brewing Co. For this fun and light-hearted class on the deck, we encourage you to wear your costumes as we incorporate beer into our yoga poses.
✨Sunset classes on the boat deck will turn into 'Glow' classes by the end of the month as the sun is setting later. We have lights on the boat deck to help guide our flow!
All classes have limited spots and require online reservation through our website
Nature, Adventure & Yoga Retreat in Ecuador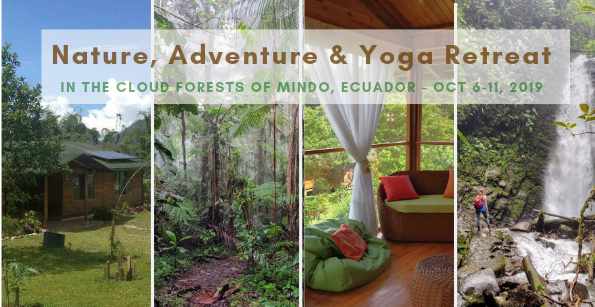 Water Dog will be taking a group of yogis on our first international retreat this month. We will not be running a full schedule at Water Dog this month, but there will be guest instructors teaching some of our deck classes and events.❤
If you are interested in following our adventures in Ecuador, follow our Instagram and Facebook stories! We will also be posting some of our photos after the retreat and making plans for 2020 retreats!
If you'd like to learn a little bit more about what we will be doing on our retreat and where we will be going, check out the Retreat tab on our website.
SUP Yoga & SUP Fitness Teacher Training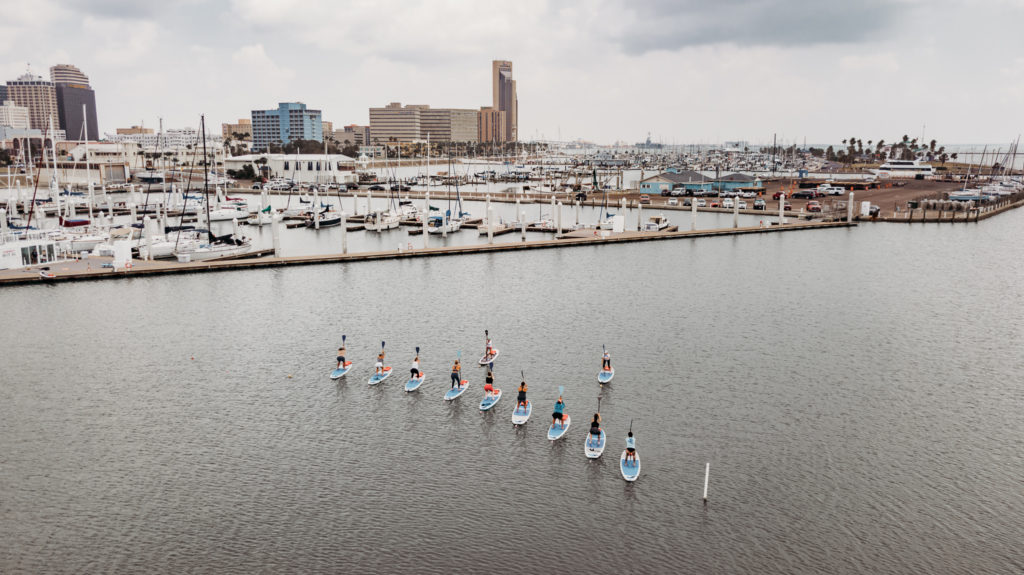 Have you dreamed of expanding your knowledge and sharing your yoga & fitness experience out on the water? ?‍♀️
Water Dog's SUP Yoga Teacher Training is 25 hours and RYTs will receive 25 Yoga Alliance CEU credits along with their SUP Yoga Teacher Certification. Water Dog is a YACEP (Yoga Alliance Continuing Education Provider).
Training will take place Novmeber 1-3, 2019. You do NOT need to be a yoga teacher to attend this training, however should have some paddle-boarding experience and be comfortable in the water. *Only 5 spots are left for this training.
Check out our website for more info and to reserve your spot in the training and watch our YouTube video about the training.
**Opportunities for partnership and mentoring will be available after the training
Call to book a private lesson or event with friends! 361-760-1050
Please check us out or come back to visit us!
Thank you again for all of your support of Water Dog!
Namaste,
Stacie & Josh Richline
Water Dog Floating Yoga